Mentor Series: Vietnam & Angkor Wat
The best images from our trek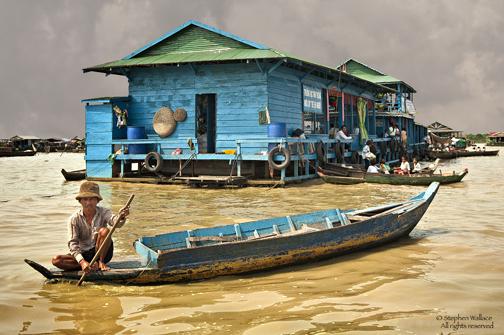 This was my first trip with the Mentor series and I did not know what to expect. Let me tell you up front that I am planning on trekking with the Mentor series again and again. This trip through Vietnam and Cambodia started off for us in Hanoi. We travelled to Ninh Binh and stopped along the way to take pictures of locals working in the rice paddies. We ate lunch at a local restaurant and then we continued on to Tam Coc and rode in sampans (boats) through caves and took pictures of the wonderful landscapes and each other. Back to Hanoi and time to download all the pictures.
The next day we went on to Halong Bay…now we were supposed to have an overnight stay on a boat in the bay, but there was an accident on the bay a day or two before we got there and the government shutdown overnight boats. I was impressed that the Mentor Series was able to overcome this issue and had very nice accommodations available for us. This really tells me that the Mentor Series is a quality operation. On the way back to Hanoi from Halong Bay we stopped again in a town to experience locals cooking a feast for a wedding party. The contrasts in life that surrounded us were spectacular.
Once back in Hanoi we prepared for an overnight train ride to Loa Cai followed by a bus ride to the mountain town of Sapa. Once in Sapa we had opportunities to photograph the locals in a couple of villages, Black Moung & Red Dao. We were able to see how the locals live and work and then made some friends as we bought wares from the locals. In the town of Sapa we took pictures in the local market and our senses were overloaded with colors, smells, sounds, and tastes of the local food.
Another overnight train ride back to Hanoi and then a tour of the city itself. We saw local landmarks and rode through the town in rickshaws. We saw more local markets and our cameras continued to get filled with incredible photographs. We prepared ourselves for our continued travels on to Cambodia.
Once in Cambodia it was a change in temperature and a change in peoples. We toured ancient temples, took time for sunrise and sunset photo opportunities. We experienced the local markets and ate at local restaurants in the town of Siem Reap. The temple complexes of Angkor Thom, Angkor Wat, and Ta Prohm provided for textures, foliage, monks, costumes, history, and tourists. We saw a part of the largest freshwater lake in Southeast Asia and saw how the locals live on the lake.
As we prepared to leave our trip, we participated in a Buddhist blessing and bath. All were experiences to remember for a lifetime. Needless to say, I came home with over 4000 photographs. Throughout the trip the Mentors joined us. Part of the success of the trek was the Mentors. We had one on one reviews with each of the Mentors (Layne Kennedy, Bill Durrance, and Dan Cox) that I know helped me to improve my photographic techniques. There was also plenty of time to be able to talk with the Mentors one on one outside of the reviews that helped to learn more about the Mentors themselves.
I met many wonderful people on this trek, some of whom have been on up to 7 previous treks. I will say it again, I am going to go on more trips with the Mentor Series!