Mentor Series: South Texas Bird Migration
The best images from our trek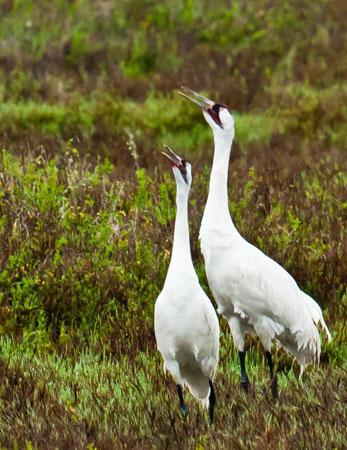 The South Texas trek started with a bang. The beginning of the trek afforded the opportunity to meet the mentors – Bob Smith and Layne Kennedy – as they shared their background and work to stimulate the senses. They also took the time to answer individual questions that ranged from basic to highly technical. Whether you are a beginner or experienced photographer, there are abundant opportunities on a trek to stretch your imagination and hone your skills and abilities.
Although the weather didn't cooperate, the mentors' expertise and adaptability to changing circumstances created a challenging and interesting learning environment. They provided a new "view" through the camera lens to make color shots look black, white and gray, interesting and moody. They showed us how to add more feeling to our shots and taught us that sometimes imperfect inclement weather is good because it affords the greatest opportunity to learn new skills and improve techniques.
Our first destination was the Port Aransas Birding Center where our camera lenses were pointed towards picturesque ponds, surrounded by marsh grasses and a multitude of birds, ducks, heron, cormorants, egrets, brown pelican and others. The flocks of birds accommodated us by flying around, flying over and then landing on the water. Intermixed with the black and white birds were some Roseate spoonbills with their brilliant pink and red plumage that really stood out against the overcast sky. The next location, Copano Bay Fishing Pier, provided interesting scenery while testing our photographic abilities with models and action shots, along with colorful bystanders. Early morning jaunts around the Fulton Marina brought challenges with unique lighting and subjects. Traveling across Aransas Bay by our own private boat to the Refuge where we found whooping cranes, javelina and other creatures. We silently floated up close to the heron rookery. We were reminded to always stay aware, for you never know when you will be delighted by a surfacing dolphin, or a hawk in flight clutching a fish. We then headed off to Goose Island State Park to photograph the oldest living oak tree, a hidden heron rookery and brown pelican. Rockport Beach had an abundance of laughing seagulls that were eagerly flying and hovering around some people in anticipation of being fed. The diversity of locations and subjects was absolutely amazing.
The Digital Review Sessions with each mentor provided two uniquely different aspects: one from an editor's viewpoint (Layne Kennedy) and the other from a stock image directors' viewpoint (Bob Smith). Per usual the reviews provided an excellent opportunity to learn from seeing everyone's images and the individual feedback. The final slideshow was magnificent, showing the diverse perspectives of the same trek.
A heartfelt thank you to our Mentors, Bob Smith and Layne Kennedy for sharing their expertise and to Erica for all of her hard work, while making her job look easy. I eagerly await the next trek.