Mentor Series: Northern Arizona, Flagstaff & Sedona
The best images from our trek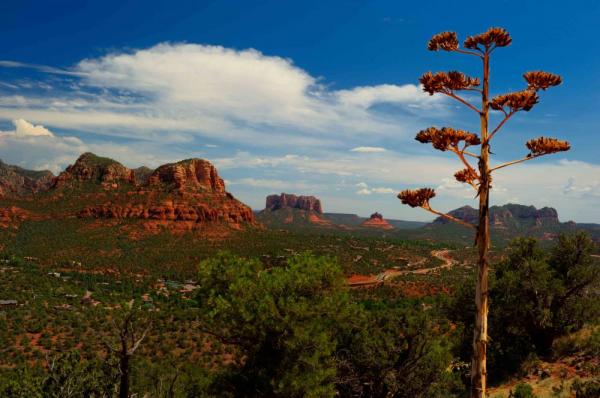 Northern Arizona is an amazing place for those of us that love photography offering many shooting options. I found it amazing that while on site shooting, how quickly time would pass. Two hours seemed like plenty of time as we would disembark the bus, only to find myself scrambling at the end to get that last shot.
The Trek began on Thursday afternoon, after meeting Mentors Mark Alberhasky and Corey Rich and reviewing their outstanding portfolios, it was time to board the bus and head to Upper Lake Mary for the sunset. Along the way we stopped for shots of the beautiful wildflowers growing along the side of the road. Friday was a day spent in Sedona, which offers a number of picturesque views. One such view is at Bell Rock. At this site, we split into groups with the Mentors and began our trek up the mountain. This provided the opportunity to spend quality time with these amazing photographers and to learn to look at your subject from different perspectives. Following lunch at Tlaquepaque, Arizona's Arts & Craft Village in Sedona, we headed to Bell Rock & Courthouse Butte Loop Trail. This stop provided yet another angle of the formations we had both seen and walked earlier in the day as well as the opportunity to see Sedona from high above at the Airport Mesa.
No trip to Sedona would be complete without visiting Red Rock Crossing. There is not time better to visit Red Rock than at sunset. Here we had the opportunity to shoot at as the setting sun bathed the rocks in a magnificent show of nature's beauty. It was difficult to choose between shooting the rocks from the closer field view or from the water view. For me, the choice was simple once I saw the reflection in the water below. Walking back to the bus, we figured that our day was over, only to turn the corner and discover a view of Red Rocks with the full moon rising beside of it. What a way to end an outstanding day. Saturday stated at the Flagstaff Arboretum. It was here that we spent time with Mark & Corey, learning about macro shots, positioning and teaching your eye to look for photo opportunities, which as I learned are all around us and are not always the most obvious. Following our first mentor review back at the hotel, it was time to board the bus and head to Arizona's crown jewel – the Grand Canyon.
The Canyon provides so many photo opportunities and this was the perfect location to learn how to shoot such breathtaking views with a purpose. Following a hike along the south rim of the Canyon, we stopped for dinner to go and then it was on to Yavapai Point, Moran Point and Desert View for a breath taking sunset. The cloudy skies above provided a beautiful light show above with the canyon providing a great view below.
Our final day began early as we headed out to Wupatki National Monument at sunrise. The early morning light provided opportunities to shoot this 800 year old monument from multiple angles and with stunning color. After a return trip to the hotel and following our mentor review and lunch, we had the opportunity to see the best of each of the trekkers. It was amazing to see how each of us, while visiting the same location, we're able to see these sites in so many different ways.
Thanks to Mark and Corey for sharing their expertise with each of us, to my fellow Trekkers for making this such an enjoyable journey and to Michelle who does an amazing job of coordinating, scouting and keeping everyone on schedule.