Mentor Series: New Mexico
The best images from our trek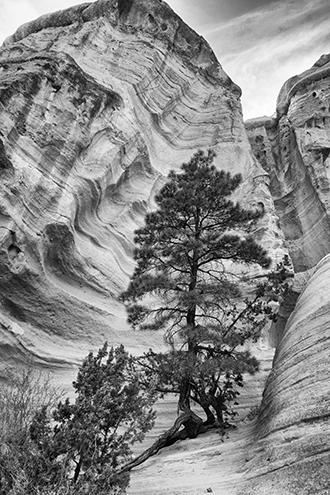 Our New Mexico trek in the "Land of Enchantment" began on Friday morning with a meet and greet with Michelle and Erica, the Mentor Series' logistical wonder women (more about them later), and our generous, and quite often humorous photography mentors, Reed Hoffman and David Tejada, two seriously accomplished and outstanding professional photographers ready to share their combined 50+ years of photographic wisdom with eager trekkers.
After our Meet your Mentors sessions with Reed and David, and an enlightening camera Q&A, we piled into our bus with all our gear, and set out under strikingly clear blue skies to photograph the scenic Kasha-Katuwe Tent Rocks National Monument. There we experienced the first of many New Mexico "dust ups" on the trek as the winds gently blew through the carved rock canyons and ravines marked by ribbons of pink and beige bands of color, re-depositing a little "enchanted" dirt along the way, sometimes in our teeth. Nothing to fear, we split into two small groups with David and Reed leading the way and navigated along the Cave Loop and Canyon trails, proceeding to photograph millions of years of nature's handiwork sculpting the white cliffs and cone shaped rocks with giant boulders balanced on the tops of pyramids of volcanic deposits, as we discussed aperture, white balance and ISO settings, oh my! David and Reed, always there to give advice or make creative suggestions about framing, lighting, or in one case, be our model for the head stuck in the hollowed tree root shot, showcasing that photography should always be fun.
Convinced we had all the best shots up at Tent Rocks, we loaded on to the bus for a trip to the scenic overlook at White Rock Canyon, where we photographed unobstructed views of the Jemez Mountains, the canyon, and the Rio Grande at sunset. There we experimented with off camera flash used to paint some of the desert flora giving a dramatic effect to the images being captured. With darkness setting in, we headed back to the hotel in the heart of Santa Fe's historic district for dinner, downloading, and prepping for our first review session with our mentors. Some trekkers opted for dinner out in Santa Fe, followed by some night time shooting in the historic district, while some decided to make it an early night as we had an o'dark thirty (4:00 am) departure time for the Albuquerque International Balloon Fiesta (and date with a hot air balloon ride for the mass ascension) in the morning.
Saturday morning we made our way to the Balloon Fiesta, but Mother Nature had other plans for us. The winds kicked up so much that the Fiesta organizers deemed it necessary to cancel the mass ascension of balloons scheduled for that morning for safety reasons. Disappointed, but not down, we settled in for some coffee and donuts in the hospitality tent, while the Mentor Series wonder women went into action, securing new prime locations for the day of shooting. In what appeared effortless to the trekkers, but we all knew was not, Erica and Michelle went into full Plan B mode and came up with an itinerary that impressed us all! We would go to the Taos Pueblo, after an impromptu walk with our mentors at our side through downtown Santa Fe shooting and enjoying the local fare for lunch, we'd also make several other scenic and opportunistic stops along the way. We were thrilled because the original schedule didn't have enough time to also make it up to Taos, so we took full advantage of our little weather mishap and spent an absolutely gorgeous afternoon (including a few more dust ups) shooting the lines and colorful doorways of adobe houses as the sun cast dramatic shadows across those homes and the other structures of the pueblo.
The final day of the trek we had what Erica called "a civilized" meet up time in the lobby at 7:30 am and off we went to the Pecos National Historical Park where we climbed down into traditional kivas (ceremonial subterranean rooms used by the Pueblo) and experimented with speed lights as David showed us how to accentuate the warm colors of the underground architecture while using the ambient light as a starting point. Above ground, Reed demonstrated how to bring out the blue in a very cloudy sky by switching the white balance to incandescent (or tungsten) while also using a speed light to emphasize the warm hues of the adobe ruins.
A quick trip back to the hotel and we started making preparations for the final reviews with Reed and David and the trek slide show. Attending these treks is such a fantastic learning opportunity and so much fun. The mentors and the Mentor Series wonder women (Erica and Michelle) always do an awesome job of coordinating and making everything seem effortless for the trekker, they really create an atmosphere where you are free to learn and grow your photography skills while you shoot some of the most spectacular scenes alongside very generous professional photographers willing to explain and share their knowledge liberally and enthusiastically!