Mentor Series: Montana & Glacier National Park
The best images from our trek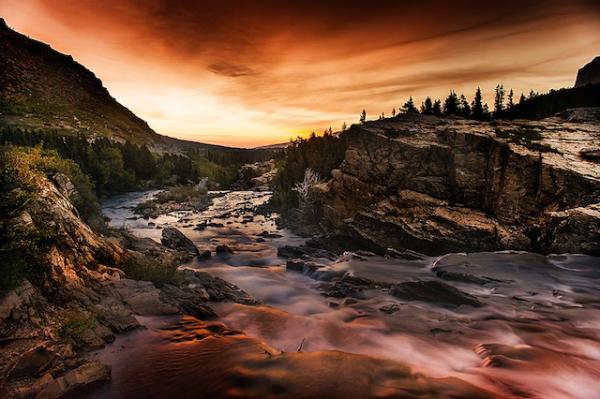 Montana is known as Big Sky Country, but it could just as easily be known as the Stunning State or the Friendly State. Our Trek to Montana included staying at the 100 year old Glacier Park Lodge which served as base camp for most of our stay. Stepping into the lodge is like stepping back in time as the staff has worked hard to maintain the feel of the past, from the grounds to bell hop uniforms. It made for a unique experience.
We arrived in Montana for the photographic opportunities that are abundant and no one left disappointed. We were welcomed each morning with stunning sun rises above beautiful lakes such as Two Medicine Lake and the lake at Many Glacier Lodge. However, many of the more beautiful locations required hiking upward, which not only provided additional photo opportunities, but also different perspectives on the locations we had just left.
The landscapes weren't the only surprises we got during our time together. You had to stay alert for photo opportunities that arose from the multitude of wildlife that could be seen. At one moment we were seeing a bull Elk walking in the water and the next we were stepping aside on the trail we were walking along to allow a local resident – a Cinnamon Brown Black Bear – to walk by.
The vistas and lakes that are cut throughout this land would have been enough to make this an unforgettable trek, but the last day took it to another level. We started the day traveling into a wooded area where the folks from the Triple D Game Farm of Kalispell, MT provided a once in a lifetime opportunity to shoot images of a grizzly bear and a cougar in a natural habitat. While the danger of being attacked by such an animal was present, it was easily forgotten as we watched these magnificent creatures move about. Needless to say, they provided boundless photo opportunities.
The final afternoon, we were treated to a visit to Flathead Lake Lodge, where the owner met us for lunch and then we spent the afternoon shooting throughout this hidden gem of Montana. The working cowgirls and the horses of the Lodge served as our models for the afternoon. These beautiful ladies exemplified the friendliness that we found throughout our stay to Montana.
Of course no Trek is complete without the Mentors who are there at every turn to teach and to bring their perspective in order to make us better at the skill we each love. Reed Hoffmann, Wolfgang Kaehler and Layne Kennedy did just that. Whether we were hiking trails up to a glacier, waiting for the sun to rise on a crisp Montana morning or working with models at the Lodge, these three professionals were there to help make you think 'outside the box' and to look at places and things in ways you wouldn't think of.
Montana is truly one of those places that should be on every photographers bucket list. For those of us that made this trek, however, its stunning beauty may keep it on many lists as many of us will want to return to take in more of what it offers.