Mentor Series: Lake Tahoe
The best images from our trek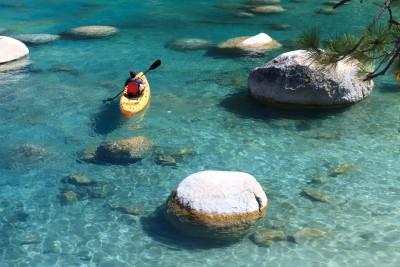 The South Lake Tahoe trek was simply "Heavenly." The planning and execution of the itinerary was excellent, a great balance between keeping us busy with lots of different adventures and photo opportunities to time for integration of knowledge and free time to explore the area or relax. And the mentors, expert photographer/educator Reed Hoffman and action, adventure videographer/photographer Lucas Gilman, were knowledgeable, friendly and always available to offer photography and camera advice no matter what time of day or night we were having an adventure.
Frankly, I approached the first day's activity rather skeptically: capturing videos of mountain bikers. However, on a loaner camera, I, and a number of other trekkers, enjoyed learning how to use a Nikon camera to record mountain bikers and was even more thrilled to see our video clips edited together for a video for Nikon with our names in the credits.
From sunrise views to a dinner cruise at sunset the varied lights on Lake Tahoe offered many wonderful photographic opportunities, and not just for scenics, as my favorite photos are the abstractions I created. I would be remiss if I did not mention the kayakers who were our models at sunset overlooking the lake and the panoramic views offered from atop Heavenly Mountain.
The digital review session with our mentors provided feedback and learning experiences to improve our photography, while the final slide show produced lots of "oohs" and "aahs" as we shared our photographs with our new friends and we saw the wide range of photographs that were created.