Mentor Series: Kelly Wiggett Finds Calm During Carnevale
A different take on classic Carnevale portraits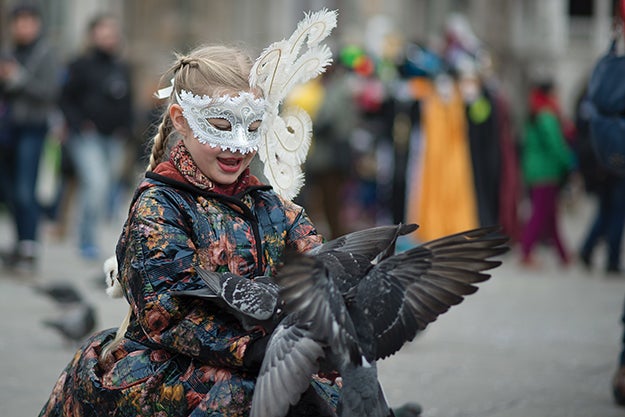 The Carnevale excitement on Venice's famous Piazza San Marco was palpable in February 2015, when Kelly Wiggett and the rest of the Mentor Series crew joined hundreds of other photographers all angling to take home memorable photos of the festivities.
"The piazza was flooded with masked individuals, groups, and various entertainers," she recalls. "This little girl caught my eye because in the middle of all the hoopla, she patiently just stood there happy to feed the pigeons and ignore the chaos going on around her!"
Wiggett, a field engineer for a major U.S. software company, wanted to capture a liveliness in her portraits of the child that would mirror the excitement of being in Venice at Carnevale's height. "I was waiting for something to actually happen when these pigeons flew up from the ground, lending the picture the added dimension of action," says this resident of Maryland's Eastern Shore. "It was worth waiting for, because I ultimately captured something more than the statically posed masked figures that everyone else was getting."
Wiggett learned a lot on this travel workshop that also included stops in Croatia and Slovenia. "I decided that Venice would be a perfect opportunity to practice portraiture with my barely used 85mm f/1.8 prime," the photographer says. I was able to focus on faces and elaborate mask details while blurring out the noisy background that would normally really detract from my shots. It worked out beautifully and I learned to love that lens."
For this shooter, though, sometimes the photography on a Mentor Series workshop takes a back seat to the adventure itself. "I thoroughly enjoyed the people on this trek. In fact, I learned just as much from my fellow trekkers as I did from the mentors," says Wiggett.