Mentor Series: Donnie Sexton's Isle of Wonder
Chasing the perfect Santorini sunset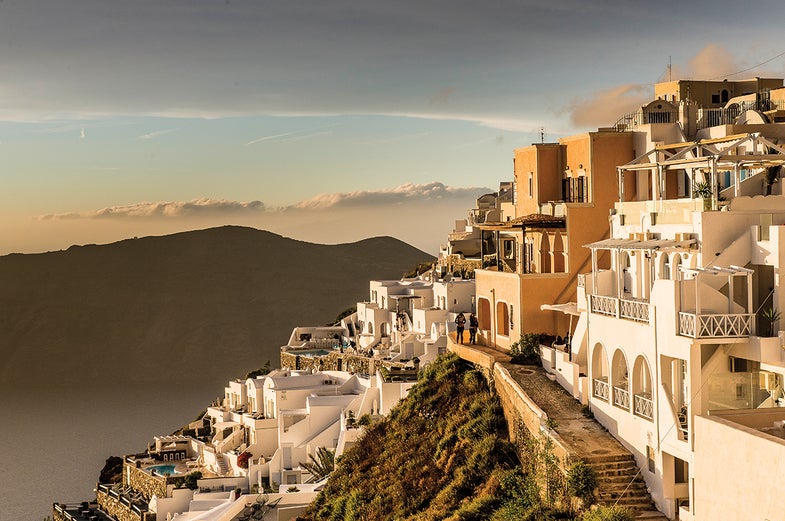 When the Mentor Series announced an adventure to Greece for the spring of 2014, Donnie Sexton of Helena, Montana, jumped at the opportunity. Greece had always been at the top of her travel wish list. So much so that she knew in advance what subjects she wanted to shoot and the angle and light she would use to capture them. At the magical island of Santorini, for example, she wanted the quintessential sunset shot of 
the blue-domed churches in the town of Oia. She envisioned photographing the rooftops and sun-bleached buildings that cascade down to the azure sea. In fact, hordes of people gather as early as 4 p.m. on a rocky bluff above the churches to stake out positions for this iconic shot. Because the Mentor Series group would be spending two nights on the island, she was hopeful that on at least one of the evenings conditions would let her capture that scene.
When she headed to the well-known bluff on the second evening, "it was obvious from the skies that the sunset I hoped for wasn't to be," she recalls. One thing she's learned while trekking? "If you're set on a picture and the stars don't align for you, put your disappointment aside and create something else," she says. To pull this off, she says, you need a bag of photo tricks. They can be equipment-related like filters or special lenses, or techniques like creative exposures or camera angles.
For the scene above, Sexton worked the camera angles. Rather than fight the crowds, she found a camera position that offered a solid composition. "I changed vantage point and ended up getting shots I was pleased with," she says, "even though that 'perfect' Santorini sunset may have eluded me."