Mentor Series: Dog Sledding Weekend Minnesota Video
The best images from our trek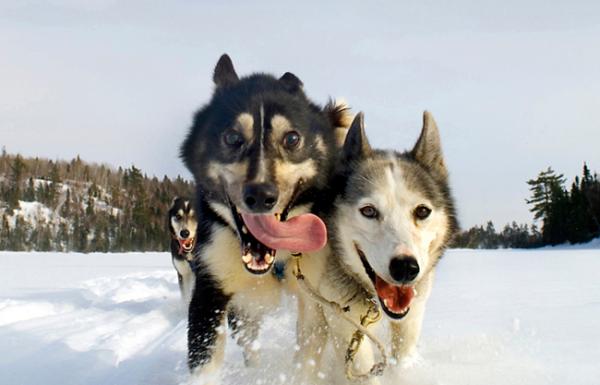 It takes a special breed of photo enthusiast to sign up for a 3-day video dog-sledding adventure in the wilds of Minnesota in late March, when icy temperatures and a profusion of snow herald the start of mushing season. Under the friendly hands-on guidance of veteran mentors Corey Rich and Layne Kennedy, and gracious input from seasoned dogsledders at the renowned Wintergreen Dogsled Lodge in Ely, our happy troupe
of intrepid trekkers learned to do two challenging fun things at the same time! 1) Manage a dogsled as it hurtled past breathtaking northern wilderness scenery. 2) Shoot broadcast-quality videos of all the incredible action with the latest Nikon HD DSLRs and high-end compact cameras! As we all discovered, there's no better way to explore the dramatic northern grandeur of frozen lakes, mountain passes, and the icy wilderness beyond than hitching a ride behind a team of huskies. And no better way to hone your skills than by capturing spectacular videos of the action as the sled dogs race along the trail, along with an entire world of sounds unique to this very special region.
The stars of the show were the magnificent Canadian Inuit sled dogs, whose interaction, enthusiasm, and engaging personalities provided another whole range of still and video opportunities that was documented in charming detail by the trekkers. After a challenging, exhausting, and totally fun day of mushing and shooting, we luxuriated in the comfort and superb accommodations of the lodge and swapped amazing stories of our day on the trail.
To give you a sense of just how unique, enjoyable, and fulfilling it was to participate in this unique video workshop, and how rapidly the trekkers were able to enhance their shooting skills, here are some brief edited comments from the trekkers themselves:
"I'm a professional transportation coordinator so I can really appreciate the superb organization that went into this event. I started out with little interest in video, and I thought I could never do this in million years, but by the end of the trek I was transformed into a video enthusiast thanks to the inspired teaching of the mentors." – Shari Haushalter
"I learned enough at the last morning video editing session to pay for the course." – Virginia Jamieson
"I came to the Minnesota video workshop really excited about capturing the sled dogs with my Canon camera and was surprised to find myself using a Nikon loaner. I enjoyed learning a new video skill set and having the chance to borrow the Nikon gear and be a part of the Minnesota video." – Stefan Jhagroo
"The excellent team of mentors made learning how to dogsled through an awesome natural environment fascinating and fun. The entire trek was outstanding and working the sled and capturing video at the same time was a thrilling once-in-a- lifetime experience." – Chauncey Davis
Once you experience a Nikon-sponsored Mentor Video Trek and the unique camaraderie of a seamlessly organized photographic adventure rolledintoa total-immersion course in visual expression, you'll definitely be back for more.