Mentor Series: Croatia & Venice Carnevale
The best images from our trek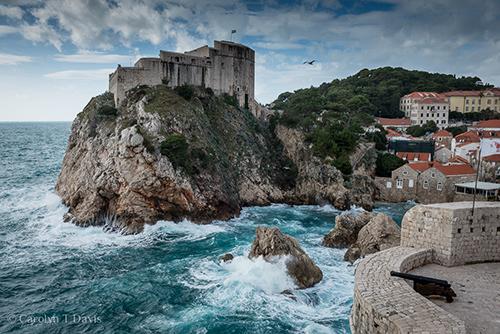 The journey began in Dubrovnik, a quaint little city in Croatia, nestled along the coast of the Adriatic sea. The Mediterranean vibes, medieval fortresses, and masses of orange tiled roofs against a backdrop of sandy beaches and sparkling water made it quite the photographers' haven.
Mornings typically consisted of guided tours, with the afternoons off for us to revisit certain attractions and explore the back alleys with our cameras. Nights often included either reviews of the days work or on location lighting lessons under the guidance of the mentors David Tejada and Reed Hoffmann. Then we would load up the bus and head off to the next destination. Soon, we began to get used to the steady rhythm of driving through winding roads, past sleepy towns, snow capped mountains, and stopping to take photos.
However, I don't think anything could have quite prepared us for the shock of falling asleep on the bus to what could almost have been a chilly summer day and waking up just as the bus pulled up to a lodge in the middle of a winter wonderland. Prior to this, we had seen photos of the Plitvice Lakes National Park and there was much talk of how stoked we were to photograph the lakes and waterfalls. As Murphy's law would have it, we arrived only to find out that the entire park was completely covered in snow. But armed with beanies, tripods and plastic bags over our feet, the shoot went on, 3 feet of snow and all.
Eager to get out of the snow, we hit the road once again, traveling through the gorgeous city of Slovenia and soon, we were Venice bound. In the blink of an eye, we found ourselves in a water taxi cruising down the Grand Canal, hyped and ready to capture every exhilarating moment of the Carnevale.
People wandered the streets dressed in elaborate Renaissance costumes and masks. Gleeful kids skipped through the San Marco square, throwing confetti in the air, adding to the festive atmosphere. The cathedrals stood tall, boasting their intricate designs, while men decked in striped shirts and boat hats manoeuvred their Gondolas through the waterways. Salesmen hung out on street corners, trying to convince passing tourists that selfie sticks were an absolute necessity. And of course, the resident pigeons had become quite the celebrities themselves. When the sun began to set, it was the perfect opportunity to bust out the ring lights, umbrellas, strobes and learn to create more interesting photos. It was pretty much a photographer's dream, save for the constant battle to protect the camera as we jostled through the endless stream of Carnevale goers.
Trekking through Croatia and Venice with a photography group was amazing. Michelle, the tour leader, ensured that logistics were taken care of, which meant that we could focus on photography. Trekking with mentors who had so much knowledge on the subject made it even better. So maybe things did not always go according to plan, we had to battle crowds, and trudge through snow in sneakers and we may even have lost a few lens caps along the way. But the point is that we made it and we got some pretty rad pictures to prove it