Mentor Series: Chicago
The best images from our trek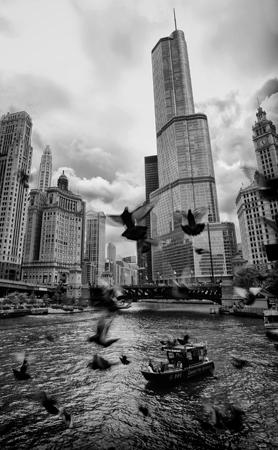 On a drizzly Friday morning with a rather ominous forecast I greeted fellow trekkers from Western Canada, Eastern Florida and everywhere in between. There were many first-timers but some seasoned trek veterans as well. Intros and instruction from our talented mentor, Reed Hoffman, inspired and excited us for the weekend to come. And despite the city living up to its windy reputation, by the time we left the hotel to shoot the sun was shining!
We boarded a double-decker bus for a whirlwind tour of Chicago's "Loop", its landmarks and its spectacular architecture. Soldier Field, The Sears Tower, The Art Institute, theaters, museums, bridges, fountains and parks made for spectacular shots. The Aqua Residential Tower designed by Jeanne Gang inspired some amazing abstract images and the Adler Planetarium gave us a wonderful vantage point from which to shoot the skyline over the high seas (it was crazy windy!) of Lake Michigan.
We headed from there over to Millennium Park, where the famous 110-ton sculpture "Cloud Gate" provided endless entertainment and creative challenges. After plenty of "reflection", we made our way back to the hotel for dinner, finding lots more photo ops along the way.
As dusk approached we returned to the lakefront which was bathed in incredible golden light. The unusually bright, almost turquoise water contrasted beautifully with the evening sky and framed glorious views of runners, fishermen and fellow photographers as well as the Planetarium and nearby Hyde Park. We shot the evening skyline, fighting a good-natured battle with the continuing high winds…only the heaviest tripods survived!
Saturday morning dawned crystal clear and private access allowed us breathtaking views of the city from the top of the Hancock Center. We returned to the hotel for image reviews with Reed and got helpful advice and some (mostly constructive) criticism on our work.
Saturday also brought us a beautiful afternoon cruise aboard the Linnea. Another tour of the city…this time by river…was followed by a trip through the famous Chicago Lock and out onto Lake Michigan. We shot gorgeous views of the skyline, the lighthouse, the boats and Navy Pier. Although some of us were a little wet when we disembarked, our spirits weren't dampened and we set our sights on a nearby graffiti mural under the tracks. Its colorful graphics and Chicago-themed images provided a great backdrop for our model shoot…2 blues musicians who gave us lots of good material in the amazing afternoon light.
Next stop, Navy Pier, just steps away and a perfect place to grab a quick bite to eat. Reed gave us great suggestions for shooting the pier highlights at night…the carousel, tilt-a-whirl and ferris wheel gave us lots of lights and motion to play with, and the nightlife, reflections and glittering city lights kept us shooting into the night. We all met near the end of the pier to set up our tripods for the fireworks and got more instruction from Reed on time-exposure and tripod technique. We had to laugh when the fireworks were launched in a completely different direction from the one we had set up to face…a great exercise in responsiveness and spontaneity.
Sunday was another fine day, slightly more overcast, perfect for our journey north to the 385-acre world-class Chicago Botanic Gardens. With miles of trails and dozens of themed gardens we were let loose to explore whatever inspired us…rose gardens, water gardens, zen gardens, wildflower gardens…or sweeping vistas of weeping willows and swimming swans.
All too soon it was time to return to the hotel for final critiques with Reed, and Erica's slide presentation of our submissions. WOW. It is always so powerful to see the work of your fellow photographers and to realize how one subject…be it a building, a face, a shoreline or a moment of light…can inspire so many varied and stunning interpretations. I can't wait for the next trek.