Mentor Series: Charleston, SC Speedlight
The best images from our trek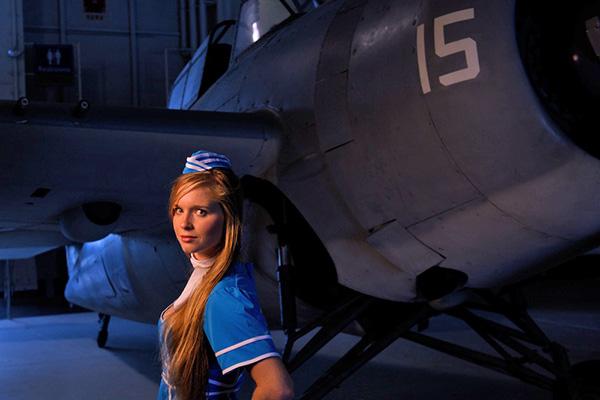 As a first-time attendee to any of the Mentor Series workshops, I had no idea what to expect. I knew how to use my flash (or so I thought), so the real attraction for me was to be able to learn from professional photographers.
Day one began with registration and presentations given by David Tejada and by David Black. The presentations were outstanding; very educational as well as informative. We learned so much about light; harsh light, soft light, colored light, lighting angles, light boxes, bouncing light and lighting scenes and lighting subjects. In addition, David and David were very patient and helpful in helping us set up our cameras for off camera flashes. After lunch we boarded our bus to the USS Yorktown for our first photo shoot. The models were dressed in aviation attire. We broke up into two groups and were shown how to set up and light the model with the airplanes in the background. While there were some problems with interference on the ship as sometimes the flashes would not sync with the cameras, this was an opportunity for professionals to show us how to work through problems and still get the shot. Flexibility, patience and perseverance got us the shots we wanted.
Day two began with a brief lighting Q&A with the pros. Next, there was a short trip to a unusual bowling alley called The Alley Charleston. David and David continued to provide us with more tips. We had to identify the type of lighting in the bowling alley and adjust our cameras and flash to compensate for the ambient light to get the shot that we wanted. We were able to practice and learn by setting up the scene with the models dressed in retro 1950s clothing: bobby socks and poodle skirts. It was a great learning session. After we completed the shoot, we toured Charleston in our private trolley; taking photographs along the route. After a brief break and short rest at the hotel we boarded our bus to a historic building: The Old Exchange for another photo shoot. This historic building; which played an integral role in our country's quest for independence, was reserved just for us. This was an awesome experience as this was a totally different environment with different lighting requirements. We had four models dressed in formal wear for this photo shoot. David and David demonstrated how to use the available light in combination with a soft box and strategically placed speed lights (one with the color jell) to create dramatic effects and awesome photographs. There was even a bonus for me as I was able to take a few dramatic shots of the sunset through the window of this historical landmark. This was an awesome day. We were all totally exhausted. Our brains were overflowing with all the knowledge we had gained this day.
Uh oh, day three. I'm a little nervous because were supposed to take all that we had learned and apply it to setting up a photo shoot on or own. After a brief Q&A we boarded our bus to Foleys beach. We broke up into smaller groups of three (4 teams of 3 attendees) and worked on setting up our shoot at the beach. It's early morning and the lighting is totally different. The sun was very bright, but we learned how to use the off-camera flash (soft box) to manage the light. We were so deeply immersed into the details of setting up the shoot that time went by quickly. We made it back to the hotel for the final slideshow, and marveled at what great photographs we had taken these last few days.
All in all it was a great workshop. The key take aways for me was that of the lighting " triangle", flexibility, being creative and thinking out-of-the-box. I don't know how this experience could have been any better. My thanks goes out to the Vanessa and Michelle, to David and David and to the great group of folks who attended the workshop. I can't wait to attend another.