Mentor Series: California Coast
The best images from our trek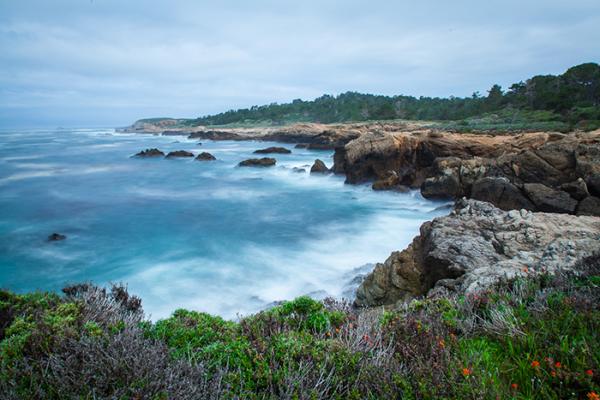 By all accounts the Trek to the California Coast was a resounding success. With a combination of great weather, spectacular locations and the expertise of our 2 excellent mentors we were able to walk away with hundreds of beautiful images of Carmel, Monterey, and Big Sur.
Day 1 got us off to a strong start with an introduction to off camera flash and experiments in lighting our surfer models on the Monterey Beach. During the afternoon we journeyed south to Big Sur, stopping briefly at the historic Carmel Mission to capture detail shots of the hallways, courtyards and (for the lucky few who managed to avoid the wedding exiting the Mission) the chapel itself.
From the Mission we headed for the Julia Pfeiffer Burns State Park, known for the McWay waterfall that plunges from the cliffs 80 feet into the beach. This was followed by stops to shoot the Point Sur lighthouse and historic Bixby Bridge in the deepening California Sunset. Bixby Bridge also set the stage for some truly amazing traffic trail images that we were able to capture to finish off our day.
Day 2 saw us spending the morning in Point Lobos Reserve, where the pounding surf, rocky cliffs and narrow sandy inlets combine to form photographic nirvana for any landscape photographer. Our afternoon involved us shooting the exterior of the Carmelite Monastery before closing the evening at Garrapata Beach to capture the quintessential Pacific sunset over gigantic salty-spray-tipped waves. We even made time to have an unscheduled stop in between to shoot even more of the coastline at Big Sur.
The shooting agenda for Day 3 was a sunrise session with the 250 year old Lone Cypress on 17 Mile Drive – a simple yet profound exercise in capturing the changing light on a singularly beautiful natural landmark before we wrapped for our final slideshow and reviews.
This was my first Trek and it was nothing short of excellent, our mentors provided constant guidance and helpful tips for our captures and provided exceedingly good feedback and recommendations for our reviews. Michelle was also exceptional at providing us with a plan that put shooting time first and foremost – adding locations where possible and providing amazing alternatives where necessary. Whether or not you've been to this part of California, you haven't seen it like this. Highly recommended.