The Photographer's Guide to Black Friday and Cyber Monday Gear Shopping
If your'e going to miss out on leftovers and family time this year, at least make sure it's worth your time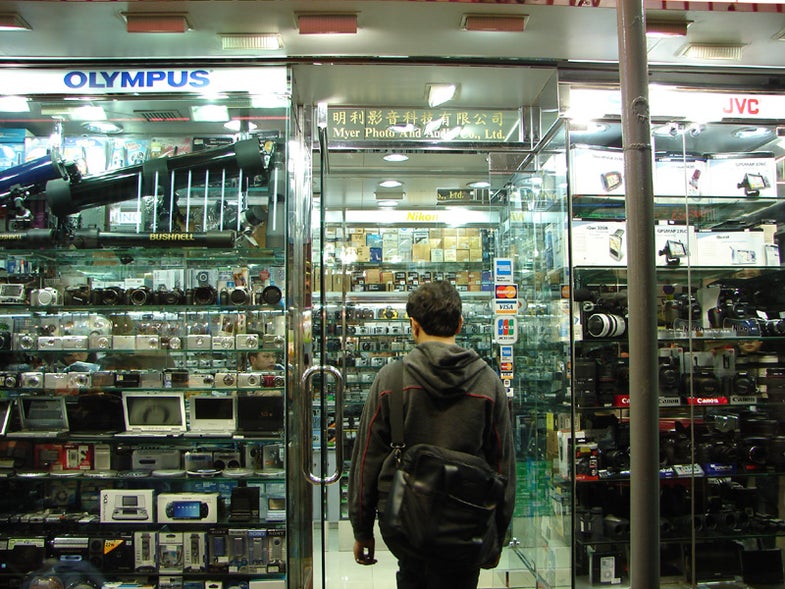 The season of stuff is upon us once again. The biggest shopping days of the year bring big bargains, but what's out there for us, the photography obsessed? Luckily, there are plenty of deals to be had, but there are also some pitfalls trying to separate you from your money. Here's a look at some of the stuff worth buying over the next week or so.
[Note: I'm not linking to specific deals here in the article because they go out of date so quickly. We will be posting deal alerts to our Twitter feed, though, so be sure to follow us there and save some dough.]
Some simple tips for the most efficient shopping:
1. Know what you want or need
The draw of Black Friday is that you save money, but a deal isn't going to save you much if you didn't need the product in the first place. Before you get all fired up and hit the sale flyers and websites, make a list of stuff you actually need or really want. You should still keep an eye out for stuff you may not have thought of, but concentrate on getting a good deal on something that will actually get used. If there's nothing to meet your list, just save your money and put it toward the gear you really want.
2. Watch out for the bundle
Instead of dropping prices on products, some stores will put together bundles. They can be a good deal if you need everything in the bundle, but if that cheap camera comes packaged with a cheap all-in-one lens you don't really want, it's not a good purchase. A free item only ads value if you can actually use it. Sure, that bag they're throwing in may cuts $80 in the store, but if you already have a bag and weren't going to buy it anyway, it's not much of a bonus.
3. Use Twitter and Facebook
Liking brands on social media sites can be frustrating, especially when they clutter up your feeds with their stuff. But, this time of year, it's often the fastest way to find out about deals. And with limited quantities of stuff going out, being first can be the difference between getting the goods and missing out.
4. Don't expect to get a great deal on your new primary gear
If you need a compact camera or even a low-end DSLR, chances are you'll get pretty lucky in your search for cheap stuff. If you're looking for something on the higher-end, though, you'll likely be a bit disappointed. There are a ton of rebates going on at all times from Canon, Nikon, and Sony, so you're probably better off waiting on buying important stuff like bodies and lenses until another time. February is generally a great time to get deals as new stuff is usually about to roll out and stores clear out old stock.
5. Keep your eyes on the used market
People buy new cameras this time of year, which means their old cameras and gear might be hitting the second hand market. This is a great time to pick up equipment, too, because people sometimes sell their stuff to make money for the holidays. Check your local Craigslist and eBay, too for stuff you want.
STUFF TO WATCH FOR
Memory Cards
As a gift, a memory card is the photographer's equivalent to a package of tube socks, but they're necessary and they can get pricy. You'll have a harder time finding deals on CF cards now that SD cards are more common
Frames
Check the ads for the local department stores and you'll find tons of frames on sale for ridiculously cheap prices. Of course, they aren't great frames, or even good ones, but if you're looking for a high volume of things to display prints for something like a photo wall, you can't beat the deal. Both Walmart and Target offer big bundles of frames in various sizes, too in case you don't want to limit yourself to 4×6.
A second camera body
There are tons of rebates going on right now, and you'd be hard-pressed to find a retailer not offering serious price reductions on the Canon T3. While the big pro cameras likely won't be receiving much of the Black Friday treatment, the lower-end cameras will see drastic cuts.
Props and wardrobe
The best time for picking up props on the cheap is right after Halloween, but if you shoot a lot of portraits, this can be a great time to pick up some extra clothing, toys and whatever else you might want to have on-hand for shoots. If you're a wedding shooter, fall colors can be very popular for fall weddings, so picking up non-turkey themed Thanksgiving decorations can come in handy for dressing sets or using during photo booths.
Hard Drives
Storage is another one of those things that isn't fun to buy, but as your digital photo collection grows, you need enough space to back everything up — at least twice. This is a great time of year to get hard drives on the cheap. If you're not already using a network-connected device with two drives that can be mirrored, now is a good time to keep an eye out for one. You'll get more access to your files and more security thanks to the doubling up of the data.
Site memberships
This is more or a Cyber Monday deal than it is a Black Friday deal, but tons of photo services and sites tend to drop their prices for a day. Last year, 500PX dropped the price of their "Awesome" membership by half and other hosting solutions will sometimes offer similar deals. Keep an eye out on the sites you've been looking to join or services you've been waiting to use.
Printing
If you have a little extra down time on Thanksgiving night, it might be worth it to get together some images you've been hoping to get printed. Many printers drop prices on certain sizes and finishes in order to get you roped into using their site in hopes that you'll come back. Specialty print materials tend to get the most discount love, so if you're in the market for a canvas, a metallic print, or something like that, you'll likely be rewarded for staying vigilant.
Books
Whether you're looking for how-to books or art books, there's a good chance you'll be able to find them on sale over Black Friday. Big box book stores like Barnes and Noble usually offer blanket discounts across everything in the store. If you sign up for their email blasts, you can also sometimes get a one-time coupon for a certain percentage off of one item. That can be a good savings if you're buying an expensive book.
You can also check directly without he publishers like Peach Pit, who sometimes offer big discounts. It's not a sure thing, but you have to know what you want.
Batteries
You probably won't get a great deal on camera batteries, but those plain old AAs you use for flashes, radio triggers and all kinds of other things will likely be part of the "door busting" festivities.