How To: Imitate the TV
Black netting makes for great vignetting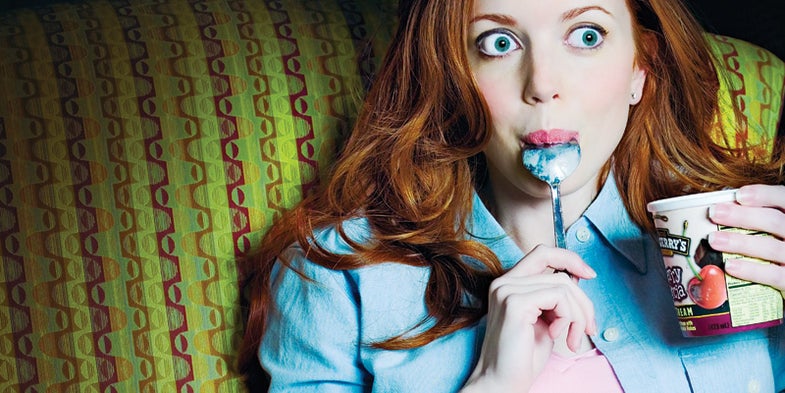 A few years ago, Stephen Austin Welch, an advertising photographer and commercial director, did a series of images for Hilton Garden Inn hotels. This one shows a guest relaxing in her room with some ice cream, seemingly watching some great television. The lighting seems straightforward, but Welch relied on a varied set of cool techniques, including:
CREATIVE LIGHT SHAPING
To produce a flattering light, Welch used a piece of equipment familiar to all portraitists: a large softbox placed close to his subject. However, this lit the model, the couch, and the whole room. The hotel guest didn't seem to be illuminated by a TV (Welch's main goal) nor photographed at night (a secondary intent).
To contain his softbox output so that it mimicked the light of a television, Welch baffled its front surface with multiple Matthews flags held in place by "a forest" of light stands (see diagram). Through expermentation, he eventually reduced the light source from 36×48 to "just the right size for her face," or about 14×11 inches.
Next, to create the smooth, vignetted transition from highlight on the subject's face to shadow on the left, Welch placed black netting between the light and the model. This cut the overall light, softened it, and produced a bit of negative fill by reflecting black back onto the set.
The most significant effect of the netting, though, came when the photographer tilted it slightly. This feathering caused the light to fall off more quickly from right to left, increasing the vignetting on the left side of the frame and drawing attention to the model.
CONTRASTING COLOR TEMPERATURES
Because the softbox was supposed to suggest the slight blue tint of the television light, Welch hired a red-haired model. By lighting her with bluish daylight, and surrounding her with cool tones (green sofa, blue blouse), Welch could use the contrasting color temperatures (which he later enhanced in postproduction) to attract attention to her auburn hair, pink complexion, and riveted facial expression.
FINE-TUNED EXPOSURE
By slightly overexposing the shot, Welch also managed to draw our eyes to the brightly lit face, which his makeup artist styled to hold detail, despite the overexposure.
To create a light source that suggested his model was illuminated by a television screen, Welch flagged the output of his Profoto head (A) and Chimera Pro II Lightbank (B) with two Matthews light baffles (C). He juiced the head with Profoto's Acute 2 2400 power pack (D) and fired it with a set of PocketWizard Plus II transceivers (not shown). To feather, soften, and dim this illlumination, he placed Matthews netting in the lightpath (E). Welch mounted his Hasselbald H1 camera and Leaf Aptus back (F) on a Gitzo Series 5 tripod (G) and tethered them to an Apple Mac Pro tower (H). The shoot took place in an actual hotel room and—though not illustrated here—the camera was positioned in the bathtub.
Stephen Austin Welch is based in San Francisco, and his clients include Corona, Levi's, Adobe, Best Buy, Intel and Microsoft. For more of his work: saw-art.com and www.knsaw.com.