You Can Do It: Design and Build Your Own Subject
Can find a good subject? Make one!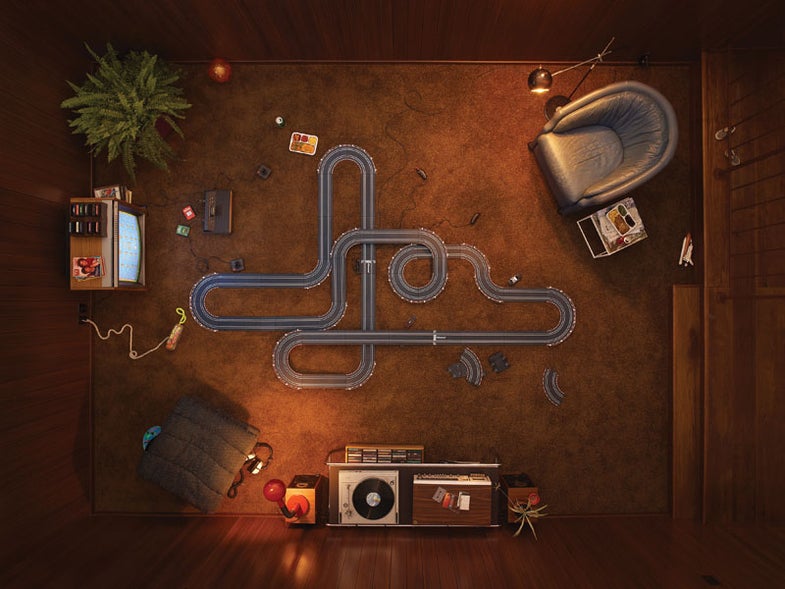 A rite of passage occurs when you move beyond photographing what you see and begin to actively manipulate a scene or subject to produce better photos. Some photographers go even farther, building their subjects from scratch. Dwight Eschliman created the photographic time capsule shown here—a note-perfect facsimile of a family room from the 1980s. As Eschliman jokingly explains it, he and his San Fransciso-based crew of designers did it "because we were looking for an excuse to listen to Journey."
Why construct an entire room? "We wanted to shoot on location, but couldn't find the right room," Eschliman answers. "It needed to be intimate, but with a 16-foot ceiling. That proved hard to find." He needed the height to shoot straight down and capture the full space.
Of course, the underlying reason Eschliman built the room was to build his portfolio. The photograph shows off his studio's impressive project management skills and the teeming fertility of their combined imaginations. These are excellent reasons to try to "build" instead of simply "take" your next photo, too.
Follow the steps below to replicate Eschliman's process:
Step 1
Design and build your set. "We first mapped out the size of a typical family room of the '80s as we remembered them," says Eschliman. Erecting the panelled walls on a framework of two-by-fours is fairly easy. Concern yourself only with what the camera can see.
Step 2
Gather props. Eschliman's stylist populated the set with vintage items. "We wanted brown carpet and brown wood paneling in a room filled with everything '80s, from spider plants to a hamster ball," says the photographer.
Step 3
Hang the lights. Because he and his crew were shooting video as well as stills, Eschliman opted for HMI continuous lights. He placed two orange-gelled Broncolor HMI units centrally over the set, aiming one upward at a white ceiling for overall fill, and the other downward to mimic a central ceiling light. He then added lamps to create pools of tungsten light for authenticity and lighting texture.
Step 4
Mount the camera. Eschliman positioned the wirelessly fired still camera on the ceiling about 16 feet above the floor, presetting focus and a starting exposure.
Final Step Bracket your exposures. This HDR composite of bracketed exposures was difficult because the camera could jiggle between shots. "Perfect pixel-for-pixel matching [between exposures] is a beautiful thing," he laughs.