Behind the Scenes: Artists & Alchemists
Don't miss this upcoming documentary on ancient photo processes and artists who are reviving them.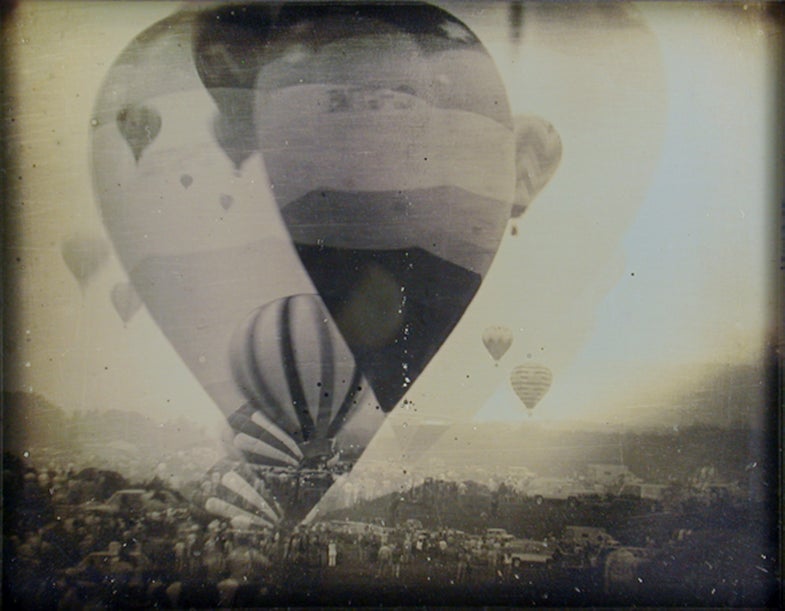 When we first came across the trailer for_ Artists & Alchemists_, we were intrigued, so much so, that we decided to dig a little deeper and see what can else we could find out about this upcoming documentary film.
A call to Market Street Productions, the company behind the film, introduced us to producer, Stacy Ekstein. At the end of our conversation one thing about this film was very cleary: It's a labor of love.
_ Artists & Alchemists_ is a full-length documentary, set to be released sometime in the near future, that revolves around 10 influential photographers, each one dedicated to reviving 19th century photographic techniques in an prodominantly digital time.It features the work of Sally Mann, Mark Osterman, Irving Pobboravsky, Mark Kessell, France Scully Osterman, Jayne Hinds Bidaut, Adam Fuss, John Coffer, Jerry Spagnoli and Chuck Close.
Where did the inspiration from the film come from? How did Market Street get involved?
We saw a daguerreotype by the artist Mark Kessell around 2002. It was new and the silver so polished you could only see your reflection until you stepped away to reveal this face staring back at you from what seemed like behind the glass. I'd never seen anything like it.
That's when we contacted Mark.
It was a natural progression.Artists & Alchemists started as an exploration between Chris and myself. Chris is a cinematographer and both of his parents are photographers. His mother, E.F. Kitchen is a fine art 8×10 platinum photographer. We founded Market Street Productions in 2005 and this documentary has been a passion project for both of us.
When did you start shooting?
This has certainly been a passion project. We did our first interview in 2003 with Mark. We were just on a mission of discovery at the time. Chris had gradated from Tisch NYU and we were both living in New York where Mark works. Since that time, we grew as professionals in film. Chris is a DP with an MFA from the American Film Institute and some awards under his belt. I have been producing for the past five years. It's been exciting to see so many share our passion on this topic. We put a rough teaser up on youtube for a few friends to view and in a little over a week, we had 4500 views and e-mails from all over the world… as well as this interview.

Untitled from the series The Last Great Daguerreian Survey by Jerry Spagnoli.
What is the story behind the name of the film? Did it start off with this title, or is it something that we conceived after the project started?
When we first started filming the artists we didn't have a title for the film. It developed as we progressed. First and foremost, we believe these photographers are artists and photography itself is an art. We also thought of these photographers as alchemists; often building elaborate darkroom labs to experiment with photochemistry and revisiting 19th century manuals to find chemical recipes to produce their art.
Our film was influenced by a book by author Lyle Rexer: The Antiquarian Avant-Guarde… and that was the working title of the film for awhile. Coincidentally, after we decided on the Artists & Alchemists title; we found out the art show at the Sarah Morthland Gallery in NY that inspired Lyle was called "Inventors & Alchemists," so I guess it was destiny. Lyle and Sarah both appear in the film and offer great insight.
How did you determine which ten artists would be used for the film?
That's a hard one. There were more we would have loved to include. These artists are instrumental in bringing back these antiquated processes into the art world. We are not saying that these were the only artists responsible for bringing back the process, but they play a major role in its revival in photography today. The artist's in the documentary worked together in the most dynamic way.
Whare are some of the processes represented in the film?
The documentary essentially focuses on three types of photography processes: daguerreotype, collodion and tintypes (ferrotypes) and their relation to photography today. Most of our artists use large format view cameras, but some use pinhole cameras and others do camera-less work.
Tell me a little bit about the struggles you had with receiving permission to use certain images in the film.
Fortunately for us, we have an amazing clearance team with Miss Information. In Artists & Alchemists, we discuss the current state of film and the future digital and 3D world. As a documentary filmmaker you would hope that it would be a little easier and a less expensive to get clips for a documentary that also educates. Unfortunately, that's rarely the case post public domain time frame.
Any ideas who may narrate?
We are excited about this one and you will be one of the first to know. I can tell you this: it will be a known talent that shares a passion for photography.
What kind of impact do you hope the film will have on photographers? How about non-photographers?
Speaking as a "non-photographer," this film has opened my eyes to how influential photography is in our culture and our history. I think photographers will enjoy seeing these types of processes and how the artists utilize them to tell their own story. I think it might give a sense of a validation to photographers working with antiquated processes and even those in digital. Photography has had a long road of getting recognition as an art, especially the digital and nontraditional.
You said that you do not come from a photography background, how did working on this film impact your view of photography?
It has been interesting to see what the word photograph means to different generations. For example, people today might think it's primitive that Native Americans thought that photography stole the soul. However, when you see a daguerreotype in person- you see your own reflection until you angle it just right to see this most exquisite detailed image staring at you from behind a mirrored surface. It's still amazing today. I can't imagine how shocking it must have been when daguerreotypes were first introduced. Can you imagine the first photography you ever experience being what some call "a mirror with a memory"?
When do you think the film will be out? How will it be released?
We will go through the traditional film festival route to premiere the film first.
Additional Note
We've had some responses about our belief in digital photography. We are not anti-digital; the documentary is shot in HD. In Artists and Alchemists, we are exploring photography that goes in a completely different direction. However, I do think viewers might be surprised at some of our conclusions.
For the latest information on the release of Artists and Alchemists check out MarketStreetProductions.com.