Behind the Shot: Working With Weimaraners
Cute is easy, getting precise color and sheen is tough.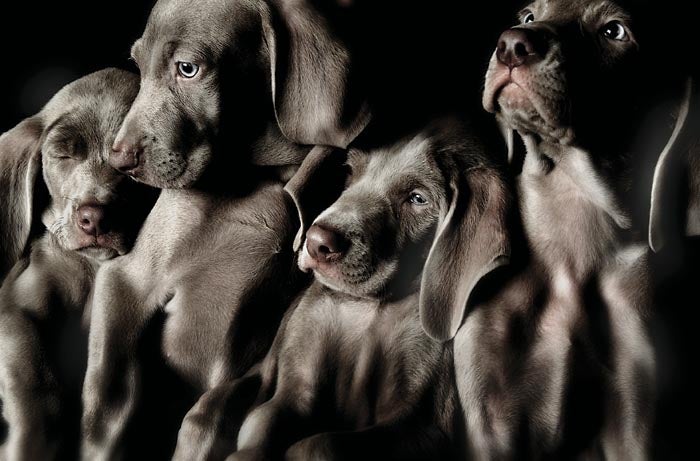 Thinking of moonlighting in pet photography? Don't start with Weimaraners: William Wegman made a career with them, but they're among the most difficult dogs to photograph. Not only do they tend to be high-strung, but their luxurious, tawny gray-brown fur can be difficult to reproduce with absolute accuracy. And given that Weimaraner breeders and owners take great pride in their distinctive coats, pity the photographer who renders them overly contrasty and coarse, or a little too red or too blue.
Pittsburgh pro Harry Giglio knew this after years of shooting pets for Del Monte Foods, whose brands include Milk-Bone, Kibbles 'n Bits, and Pup-Peroni. So how did he meet the challenge when the American Kennel Club Gazette magazine approached him to photograph one of the world's top Weimaraner breeders with a litter of 7-week-old pups? With very careful lighting.
"I knew I had to put the key strobe as far back as possible," says Giglio. "Weimaraners are too easily annoyed or disturbed by popping flashes, so a close light would have been counterproductive. My key light, a Speedotron head, was 10 to 15 feet back from the subjects."
Still, strobes were a must. While a continuous tungsten source wouldn't distract the puppies, "they're far too bright, and too hot for the dogs to relax," he says. "Besides, I needed to work fast. The puppies are in constant motion, so I wanted fast-firing, short-duration strobes that can freeze action."
To reproduce the texture of dogs' coats with precision, Giglio's lighting had to allow for optimum contrast control. He achieved this by using a free-standing main light that could be moved independently of the diffuser. This allowed for subtle shifts in contrast by placing the strobe closer to or further back from his Rosco spun-glass diffusion panel. The closer the strobe head was to the diffusion panel, the harder the light became.
Capturing the puppies' color accurately required perfect chromatic sync among the color temperature of the strobe light, the camera capture (set to a Flash white balance), and the monitor used in postprocessing. "You have to watch out for color shifts introduced by non-neutral diffusion materials or colorful objects in the studio that can reflect strobe output and shift its color temperature," Giglio warns. To get better color accuracy, he relies on Apple's Display Calibrator Assistant.
Giglio's final tip? Whenever you're photographing puppies, no matter what breed, always have a lint brush and plenty of paper towels on hand.