Flickr Creative Showcase: Art For Life's Sake
Three Flickr members use photography to explore and share their inner thoughts.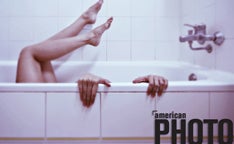 If Flickr proves one thing, it's that a fine-art sensibility in photography doesn't require formal education in the arts — or even technical training in our favorite medium. Those sharing their images on the Flickr site are as likely to be self-taught as they are to have had at least a modicum of photo instruction. How to decide whether their work is art? It's in the eye of the beholder, of course, but the focus and dedication of the photographer are other important measures of artistic merit.
Besides showing their work on their Flickr photostreams and in Flickr's American Photo Creative Showcase group, the three very different photographers featured on the following pages have one thing in common: a determination to make arresting images, driven by their curiosity about the world within and without. We think that shared impulse makes their work art.
Day At A Time
An Intimate look at Lisa Kimberly's yearlong photo diary
In September 2008, hardly a year after she started experimenting on her own with photography, Lisa Kimberly began a yearlong, photo-a-day documentary. Lots of photographers have undertaken this strenuous self-assignment, of course, but Kimberly's highly graphic, surreal-yet-warm images make her project one of the best examples we've seen.
The self-taught photographer posted her daily images on Flickr. "If it hadn't been for Flickr, I probably would never have started the project," says Kimberly, a radiology technician and U.S. military wife. "It inspired me to try new techniques and photograph different types of subjects." Kimberly's pictures are "50 percent made in my head," she says, and are often tweaked or highly manipulated in post-processing. "But even when I'm doing something major, like cloning images, I strive to get the image right in the camera first."
Digital technology aside, Kimberly enjoys the process of inquiry that is part of making pictures. "I still consider myself a photographer in the traditional sense," she explains. "I get inspired by simple things like song lyrics, a piece of clothing or the way the sun comes through my bedroom window. I started the 365-days project to keep my creative juices flowing and just sort of document my year. Pretty soon I found that I was more interested in creating images with personal meaning."
Nowhere is this more evident than in the project's self-portraits, a dreamy chronicle of the inner and outer life of a young woman. "I didn't photograph myself too often at first," says Kimberly. "But eventually I learned a way to show a version of myself that exists only in my imagination."
****Close Up: Lisa Kimberly****
Hometown: Rota, Spain
Camera: Canon EOS 400D (Digital Rebel XTi in U.S.)
Flickr member since: 2007
Flickr page: flickr.com/photos/lisak24a
HOLE WORLD
For Brian Krummel, almost anything can be a pinhole camera
A trained photographer and professional Web designer, Pittsburgh area-based Brian Krummel takes full advantage of his Flickr account. He has posted more than 70 sets of photographs in the past three years, their subjects ranging from the architectural remains of Pittsburgh's industrial glory days to the homemade cameras with which he shoots many of his pictures. Though some of Krummel's unconventional cameras have cobbled-on optics (everything from crisp, large-format glass to "simple" plastic lenses), the work featured here was shot with his many pinhole cameras — built with everything from pumpkins to Starbucks coffee cups.
The long-exposure images the photographer makes with his pinhole cameras appear to be less about the real world than glimpses into dreams. "Wonderful things happen when you relinquish exact control over your pictures," he says. "Pinhole images remind us that creativity doesn't depend on bigger or faster equipment."
His pinhole pictures are made either on film or by directly exposing sheets of printing paper inside the camera. Darkroom processing turns the latter into paper negatives. If chemical improvisation contributes to the low-tech quality of his images, says Krummel, digital post-processing gets the photos ready for prime time, when he scans and Photoshops his paper and film negatives to create final inkjet prints — or Flickr-ready files.
Krummel has made and discarded more pinhole cameras than he can count. (He details his working methods in The Pinhole Camera, a how-to book available through thepinholecamera.com.) If his approach has a guiding philosophy, it is that technology is not the point. "It doesn't make you an artist," he says. "Pinhole photography removes the obstacles of camera and lens, making more room for enthusiasm about your art."
Hometown: Bethel Park, PA
Cameras: Homemade pinhole
Flickr member since: 2007
Flickr page: flickr.com/photos/forgottenpittsburgh
CITY LIGHT
For Valery Rizzo, home is where the Holga is
Brooklyn-born Valery Rizzo has been shooting professionally for 11 years, selling much of her work through stock agencies. A lot of the work she shares on Flickr, though, is devoted to an evolving book project close to her heart: a photographic portrait of the New York City borough she still calls home, shot with plastic cameras.
Rizzo finds her lightweight, medium-format Holga and Woca cameras perfect for the project's combination of street photography and portraiture. "I probably have 10 cameras, but I rely on four or five that I've customized," she says. "Three of these I use all the time, one of them I use in low-light situations on a bulb setting, and another I customized for macro shots."
The cheap cameras' simple lenses produce relatively soft images with shallow focus and vignetted corners — pictures that mirror the unique, abiding spirit of Brooklyn, says Rizzo. "People are not intimidated by the cameras, and I can take them anywhere — in bad weather, to bad neighborhoods, you name it. I also love the Holga because it's a rule breaker."
The rule Rizzo does not break is that of classic street photography: the direct capture of a decisive moment on film. "I don't alter my images digitally in any way," she says. "My final prints are made from the color negatives in a darkroom and retouched by hand." She scans the negatives of photos she wants to upload to Flickr.
While she acknowledges the many advantages of digital capture, Rizzo believes it can't replicate some of the essential qualities of film. "A digital image is always trying to look as if it were printed traditionally," she says. "I think most people can feel the difference between an unaltered real moment caught on film in-camera and a digitally created photograph."
****Close Up:****** Valery Rizzo**
Hometown: Brooklyn, NY
Cameras: Holga, Woca
Flickr member since: 2007
Flickr page: flickr.com/photos/valeryrizzo
Images from Flickr's American Photo Creative Showcase, clockwise from left: A rare stop-action pinhole photograph by Brian Krummel, with the low-angle point of view often seen in the technique; a self-portrait from Lisa Kimberly's photo-a-day visual diary, with Photoshopped commentary; a boardwalk band at Brooklyn's Brighton Beach by Valery Rizzo, shot with a plastic camera as part of a hometown portrait.
Be sure to join our American Photo Creative Showcase on Flickr**. As a Showcase member, you can post your best images and give advice and encouragement to our other avid users. And since the magazine showcases a different Flickr photographer in every issue, you just may see your contributions end up on the pages of American Photo!**
Plus, we want you to give us a piece of your mind, so don't forget to come back often to fuel our discussion section!
*The statements and images posted on PopPhoto.com are the views and responsibility of those who posted them and do not necessarily represent the views of FUJIFILM.