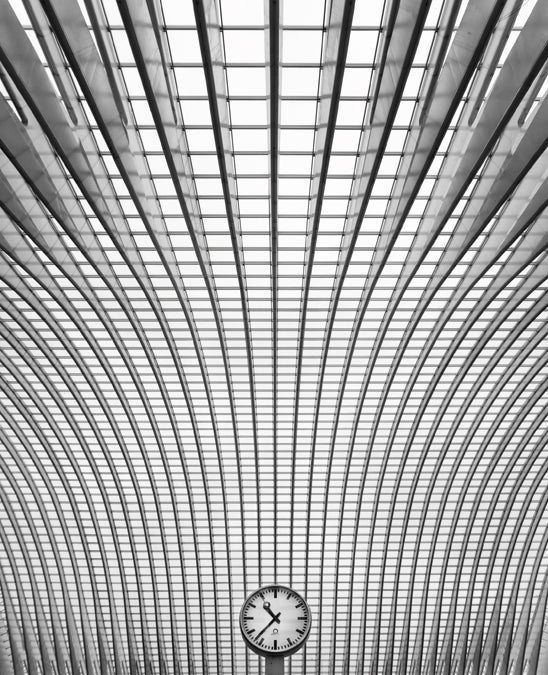 An ardent admirer of starkly futuristic architecture, Philipp Klinger spent much of the past decade following the design and construction of Santiago Calatrava's breathtaking Liège-Guillemins train station in eastern Belgium. Located about 190 miles from Klinger's home near Frankfurt, Germany, the building opened to the public in the late summer of 2009—and Klinger was on hand to photograph it.
How to capture such complexly designed, highly linear subjects? The 25-year-old computer-science student suggests taking a very exacting camera position, for starters. For a symmetrical shot like his image of the station's ceiling, if the camera position is off just a tad, the lines go askew and ruin the photo.
Sharpness is also an absolute must, so Klinger shoots at low ISOs, works from a tripod, and uses only midrange apertures such as f/8 or f/11—the sharpest openings for most lenses. Using a lens that controls linear distortion well is equally important, he says.
To see more of Klinger's architectural images, visit www.klinger-photography.com.
Step 1: Search online. To locate exciting architecture, Klinger uses searchable photo resources such as Flickr. He looks for buildings he feels passionate about and confirms that other photographers have gained access to a variety of compelling angles—and that tripods are permitted.
Step 2: Plan when to shoot. Determine what time of day and what type of lighting will work best. For example, Klinger knew that if he shot this train station's ceiling on a clear day, the blue sky would have been tonally too similar to the roofing struts once he converted to monochrome, so he waited for an overcast, white sky.
Step 3: Slow down. "When I arrive at a building, I walk around without my camera—it forces me to focus on the whole site without distraction," Klinger says. "Once I pull out the camera, I obsess about individual pictures and don't really take in the whole."
Final Step: Set up carefully. "I'd rather work methodically and get 50 shots that I can work with than rush to get 200 that I ultimately discard," he says. To build sharp, precise compositions, Klinger uses a tripod. And if your camera has an LCD grid overlay, he advises using it to ensure that your lines are level.