Flickr Creative Showcase: Vision Quest
Ad agencies are finding a freshness on Flickr you can't get with stock photography.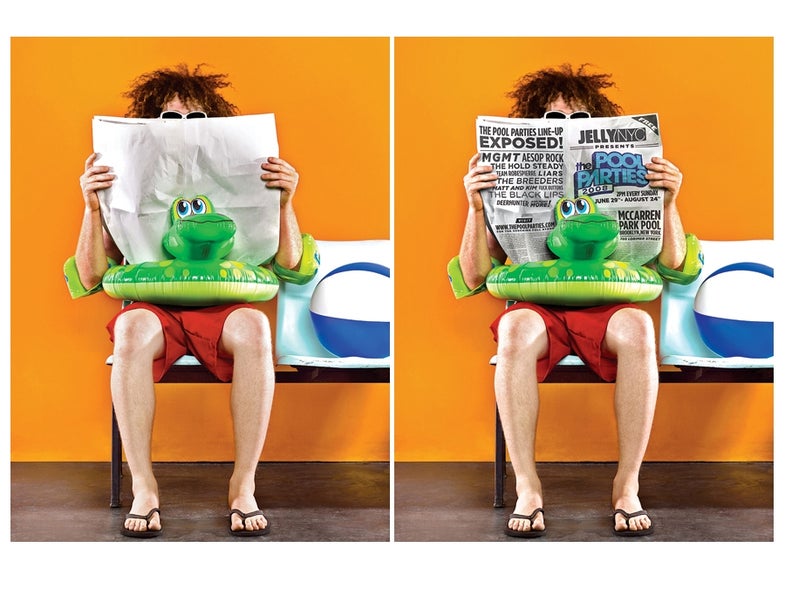 When Seattle-based Darien Chin began posting his personal photographs on Flickr four years ago, he had no idea what it would lead to. "When I first started on Flickr, it was only to share work that I had done and to learn more about photography," recalls Chin, 30. "I hadn't shot anything professionally. I just loved photography and making images."
Chin soon discovered the power of Flickr's social-networking reach. By prolifically updating his Flickr photostream, he developed a fan base on the globally popular photo-sharing site – and commercial interest in his work soon followed. "People started writing me through Flickr with job offers and image-licensing requests," says Chin. "When you gain a presence and more people pay attention to your work, they tend to think of you when some opportunity comes up that they think fits your style. They try to put you in touch with the right people to make things happen."
That's exactly how Chin ended up having his work used in a campaign for cellular-phone giant T-Mobile, created by Seattle ad agency Publicis in the West. "I heard about Darien's work through a mutual friend on Flickr," says Lauren Burks, formerly a recruiter for the agency who regularly scouted the site for talent. "[Creative director] Lindsay Daniels and I agreed that his work would be perfect for the T-Mobile 3G Sidekick LX campaign, because we were looking for someone capturing break dancing in a fun and innovative way." The client ended up buying yearlong unlimited rights to Chin's break-dancing self-portrait, "Footloose" (seen on the next page). The image, which is actually a composite of two shots, appeared on a Seattle-area billboard, and nationally on Web-based flash ads and even Xbox Live Wallpapers. "He's all over the campaign," says Burks.
"Art directors and creative directors are using Flickr a lot for visual research," says Cheryl Masaitis, an art buyer at the JWT agency (formerly J. Walter Thompson) in New York City. "I think we go to Flickr to experience something that is not stock photography, and that's what we get. You can find a breadth of photography that is fresh, unpolished or unique, and that may reflect the vibe your campaign is after. It's a spontaneous place for creative thinking – a visual melting pot without reservations."
Flickr often brings like-minded collaborators together. "I use Flickr on a daily basis to discover new photographers and artists," says Matthew Genitempo, a freelance photographer and art director based in Austin, Texas. "I've met many other photographers who I wouldn't have known otherwise if it weren't for Flickr." One such case was fellow Austinite Jay B. Sauceda. Sauceda collaborated with Genitempo on a campaign for Jelly NYC, a hip New York Citybased show-staging agency, which ran nationally in The Fader and Spin magazines. "His style is exactly what we were going for," says Genitempo. "We came across Jay's work on Flickr, and the rest is pretty much history."
Masaitis points out that because many images posted on Flickr are taken by amateur photographers, problems can arise with commercial usage. "Once we fell in love with an image of a rock-concert crowd and used it in a design comp for a campaign we were working on," she recalls. "It was perfectly spontaneous and rough around the edges like we wanted. But the image was not high-res enough, the people in the image were underage and not model-released, and there was at least a two-day lag in discussions with the photographer – all red flags that make an image unlicensable. At this point, though, our client was in love with the image, and so were we. So we found another way: We licensed the idea and composition of the photograph and then recreated it, with released talent and proper resolution."
In other cases, agencies buy photographs on Flickr that are already up to spec for commercial use. Take the photograph of a woman in a lounge chair in the middle of what seems to be an overgrown field. It was shot by Montreal, Canada-based Jonathan Laberge of his wife, who happens to be a model. "There is a certain commercial quality that's inherently a part of this photo, which uses artificial lighting in an outdoor situation," says Steve Smothers, art director at the Thomas Agency in Lubbock, Texas. Smothers used the shot in a billboard campaign for Lubbock's Kingsgate Center shopping complex. "What attracted me to the image was not only the subject matter but also the amount of lighting and post-production work. Those two things delivered a surreal image that worked with the campaign – and a level of polish not always seen in the scrapbook shots on Flickr."
The size and scope of Flickr can be intimidating even to an experienced user of photography. "You can use keywords to search for particular kinds of images," says Masaitis. "But with image authors all choosing their own keywords, it can be a crapshoot. The work all tends to blend together.
"Still, I love the fact that Flickr is such a huge ocean of imagery. You know it's not filtered through a stock agency. In the end, it gives you a more authentic outcome – if you have the patience and your project allows for it. And it certainly can be fun!"
Be sure to join our American Photo Creative Showcase on Flickr**. As a Showcase member, you can post your best images and give advice and encouragement to our other avid users. And since the magazine showcases a different Flickr photographer in every issue, you just may see your contributions end up on the pages of American Photo!**
Plus, we want you to give us a piece of your mind, so don't forget to come back often to fuel our discussion section!
*The statements and images posted on PopPhoto.com are the views and responsibility of those who posted them and do not necessarily represent the views of FUJIFILM.