6 Apps For Printing From Your iPhone
These 6 Apps Make Printing From an iPhone Easy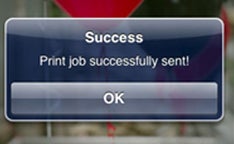 Your iPhone photos may not be making it into a gallery any time soon, but its camera has enough juice to make small prints that can be totally acceptable. Here are a few apps to check out if you're sick of dumping your images to your computer before they're spit out of the printer. These apps make printing from an iPhone a breeze.
Air Photo Wifi Printing
Price: $2.99
You'll need to install a server version of the software to a local machine before you do any printing from an iPhone using Air Photo WiFi, but once you're up and running, you'll have access to a pretty wide variety of features. There are basic editing tools like rotation and scaling. The interface is extremely basic, which makes it simple to use. Since it uses remote access to a local machine, it will work with just about any printer, making it the most versatile, photo-specific app in the group.
EuroSmartz Print n Share
Price: $6.99
Print n Share is extremely full-featured, offering a whole slew of options for printing from an iPhone, everything from documents, to web pages to photos. Because it's so big, the photo utility options are somewhat limited when compared to Air Photo WiFi. It also requires a version of the software to be running on a local PC, so there' no printing on the fly. One of the big advantages though, is that it allows you to print to your home machine over WiFi or 3G so you can print photos for your family at home while you're traveling. It is the highest-priced app on the list, though. So, if you only plan to print photos, all of the extra features might just be overkill. www.eurosmartz.com
HP iPrint Photo
Price: Free
HP's proprietary app lets you jump onto a local wireless network and survey all of the connected HP printers that are currently available. From there, you can print 4″ x 6″ photos right from the iPhone's photo gallery. The interface is basic and extremely simple, which is great for operation. But you're limited when it comes to the size of the photo you're printing from an iPhone. It is, however, a big plus that it doesn't require you to install any software onto a local machine. www.hp.com
Kodak Pic Flick
Price: Free
Kodak expanded their print app to include support for their WiFi-enabled digital photo frames like the W820 and the W1020. Unfortunately, the added utility is almost canceled out by the fact that the selection of printers with which its compatible is limited to the Kodak ESP 5250. We assume Kodak is working to make their app more versatile, but until then it's only useful to a very specific group of equipment owners. http://itunes.apple.com/
Canon Easy-PhotoPrint for iPhone
Price: Free
Currently, the only printers supported by Canon's free iPhone app are the PIXMA MP990, MP640 and MP560 Wireless Photo All-in-One. The limited selection has caused something of a backlash on the app's page in the store. But, if you are using one of those printers, you'll be able to print images up to 8.5″ x 11″ with up to 20 copies at a time. You can also start the iPhone's camera from within the app and immediately print photos as you take them in case you're in a hurry to get your hands on some photographs.
Lexmark LexPrint
Price: Free
Lexmark is one of the latest entrants into the printing app pool and it seems like the extra time spent has paid off. Their app works with any of their printers, though some require the help of a local application. The feature set is also extremely broad, offering up features like zoom, pan and rotation. It supports a wide variety of print sizes and even allows you to change your printer settings from your phone. Ultimately, it sets the high water mark for free apps for printing from an iPhone.