5 Powerhouse Compact Printers
For these little printers, small prints are big business.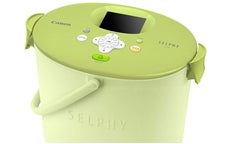 We may earn revenue from the products available on this page and participate in affiliate programs. Learn more ›
Ideally, we would all have access to professional-grade, wide-format printers at all times. Until that day comes, we'll have to rely on compact printers like these to fulfill our never-ending photographic lust when we take to the streets.
Epson PictureMate Dash PM 260 $179
Epson's lunchbox-like printer has a big, 3.6-inch LCD screen to preview images before you print them. It also lets you perform a series of simple edits, like cropping, red-eye removal and color tweaks. Its big handle makes it easy for lugging around, but its lack of Bluetooth (available through an optional add-on) and WiFi limits your connectivity. The all-inclusive print packs are fairly convenient, though, coming with 100 sheets of paper and a cartridge full of enough ink to cover them all with pictures. Border-free 4″ x 6″ prints can take as little as 37-seconds and Epson claims the prints will last up to 96 years before degrading in a glass frame under indoor conditions.
Epson.com
Polaroid PoGo $60
It may not fill the void left by the death of Polaroid's instant film, but the PoGo maintains a similar spirit. The PoGo uses ZINK technology rather than ink, which means the pigment is contained within the paper and is activated by heat. It churns out 2″ x 3″ prints in about 60 seconds and is powered by a rechargeable lithium ion battery. While the images are small, it makes them ideal for printing cell phone photos. You'll only get about 15 prints per full charge though, so a long night of partying will probably require a stop off at an outlet for some juice.
Polaroid.com
Canon SELPHY CP790 $179
Canon's bucket-shaped set-up is the most versatile little printer around. The paper and ink come in a self-contained cartridge that can be stored in the bucket, along with the AC adapter. Optional add-ons like a rechargeable battery and a Bluetooth dongle make it capable of cranking out prints up to 4″ x 6″ just about anywhere. Borderless prints can take as little as 47-seconds and the whole package weighs in at just over three-pounds. Plus, the 3-inch LCD display lets you access Canon's Creative Options like frames and calendars.
Canon.com
HP Photosmart A646 $150
A 3.5-inch screen is a nice addition to a portable printer, but HP equipped theirs with TouchSmart technology for previewing images and navigating a selection of more than 300 built-in editing options. It comes with Bluetooth built-in so it can print photos directly from a phone. In true HP style, the printer itself, as well as the carrying case, sports a fancy design. Plus, the printer is made from 32% recycled material and the tote is made of recycled bottles. Combine that with its Energy Star compliance and that makes this the greenest printer in the bunch.
HP.com
Sony S-Frame $200 (January 2010)
It could almost pass for a normal digital picture frame, but Sony crammed a full-featured compact printer in beneath that beautiful 7-inch, 800 x 480 LCD screen. Load pictures into its 1 GB of on-board memory and you can print 4″ x 6″ versions of what you see on-screen in about 47 seconds. It sports a grip of editing options, like cropping and contrast, as well as a Creative Print mode, which lets you apply one of 30 templates. It even allows you to combine multiple images onto a single print. Of course, it's not the most portable printer in the group, but its ability to pull double duty more than makes up for it.
Sonystyle.com