Essential Gear For A Nature Photographer
We asked our favorite pro nature photographers what they just can't do without.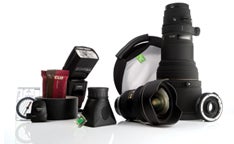 We may earn revenue from the products available on this page and participate in affiliate programs. Learn more ›
What accessories-and other stuff-should you bring for a successful excursion into the wild? We asked more than a dozen of our favorite pro nature photographers to tell us what they just can't do without, and we were surprised by their creativity.
Your Must-Haves
Trekking in the Badlands of South Dakota or the wilderness of Yosemite can yield hundreds of great photos. But first you have to pack.
Start with:
[1] A compass to keep your bearings Scoutstyle. (Silva Type 7 ER (discontinued). Current model: Silva Polaris 177 Type 7, $15, www.silvacompass.com.)
[2] GPS dongle to geotag your shots. (Nikon GP-1 GPS Unit, $220, www.nikonusa.com.)
[3] Energy bars to keep you going. (Clif Bar, $2 each, www.clifbar.com.)
[4] Gaffer tape, which can hold an entire shoot together. (Shurtape Gaffer Tape, from $8 (depending on width/length), www.shurtape.com.)
[5] A hot-shoe flash for fill or for a main light for insects and flowers. (Canon 580EX II, $420, www.usa.canon.com.)
[6] A bubble level to keep horizons in line. (Hama Camera Spirit Level, $30, www.hama.com.de.)
[7] An LCD loupe to nail focus. (Hoodman HoodLoupe Professional 3.0, $80,.) www.hoodmanusa.com
[8] An ultrawideangle lens to get the full landscape. (Nikon 14-24mm f/2.8G ED Nikkor AF, $1,830, www.nikonusa.com.)
[9] A collapsible reflector/diffuser to tame direct sun. (Creative Light Reflector Deluxe, from $46 (depending on size), www.creativelight.com.)
[10] A supertele lens with [11] teleconverter to bring you eyeball-to-eyeball with faraway fauna. (Sigma 300mm f/2.8 EX DG HSM APO, $3,300, www.sigmaphoto.com and Sigma 1.4X DG EX APO teleconverter, $250, www.sigmaphoto.com.)
Pack Right, Pack Light
Size doesn't correlate to value, and often the smallest tools prove the most useful. Little things to bring along:
[1] A waterresistant notepad for jotting down data, thoughts, and prime locations come rain or shine. (Rite in the Rain Outdoor Journal, $5, www.riteintherain.com.)
[2] A 1:1 macro lens to get truly close up. (Pentax SMC P-D FA 100mm f/2.8 Macro lens, $540, www.pentaximaging.com.)
[3] A polarizing filter to turn blue skies bluer. (B+W 77mm Kaesemann Polarizer, $125, www.schneideroptics.com.)
[4] A headlamp for finding subjects-and your way- after dark. (Petzl Tikka Plus Headlamp, $35, www.petzl.com.)
[5] A camera remote to trigger your shutter without shake. (Sony Remote Commander for the Alpha 700 and Alpha 900, $27, www.sonystyle.com.)
[6] A light, full-movement tripod head to reach every angle. (Acratech Ultimate Ballhead with Quick Release Plate, $300, www.acratech.net.)
[7] Polarizing sunglasses to preview the effects of that polarizing filter. (Ray-Ban Cobalt Blue Clubmaster frame with Polarized lenses, $169, www.ray-ban.com.)
Make Room for More
Other tools to pack:
[1] An umbrella to soften sunlight for close-ups and, in a pinch, protect your DSLR from drizzle. (Photek Goodliter 60-inch umbrella, $70, www.photekusa.com.)
[2] A high-speed, stabilized tele zoom for sharp handheld pictures, even in low light. (Canon 70-200mm f/2.8L IS USM, $1,900, www.usa.canon.com.)
[3] A universal system that lets one filter fit many lenses, with a split neutral-density filter to balance a bright sky and dark foreground. (Cokin P-Series Filter Holder CBP400A, $16, www.omegasatter.com.)
[4] Insect repellent. (Off Active Insect Repellent, $6 for 9 oz., www.offprotects.com.)
[5] A multipurpose tool. (The model shown is no longer available. A good substitute: Gerber 05500 Multi-Plier 400 Compact Sport tool, $37, www.gerbertools.com.)
[6] Portable memory to back up your images. (Wolverine 320GB PicPac Portable Backup Drive, $200, www.wolverinedata.com.)
[7] An L-style tripod bracket for flipping your camera from horizontal to vertical while holding the optical center. (Really Right Stuff BD3-L, $183 direct, www.reallyrightstuff.com.)
[8] A macro focusing rail for shooting tiny subjects. (Kirk Enterprises Focusing Rail FR-1, $270, www.kirkphoto.com.)
[9] Maps. (DeLorme Atlas & Gazetter, $20 per state, www.delorme.com.)
[10] ND filters for slow shutter speeds in bright light. (Tiffen 77mm ND filters (0.3, 0.6, 0.9), $29 each, www.tiffen.com.)
[11] A carbon-fiber tripod that's light enough to lug. (CGitzo GT3530LS, $725, www.gitzo.com.)
[12] A lightning trigger, which automatically fires your DSLR when lightning strikes. (Lightning Trigger, $329 direct, www.lightningtrigger.com.)
[13] A gimbal-style tripod head to aim your monster tele easily. (Wimberley Head II, $595, www.tripodhead.com.)
Our sources: Marc Adamus, Daniel Beltrá, Richard Bernabe, Steve Bloom, Ian Frazier, Tom Leeson, Michael Penn, Ian Plant, Julie Quarry, Joe Rossbach, Nye Simmons, George Stocking, and Guy Tal.