Photography's Sure-Fire Shots
Five fantastic photos you can't mess up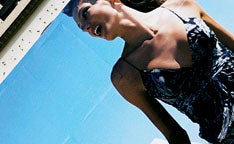 Some great photos are the product of impeccable timing. Other great pictures are the culmination of years of experience or pounds of expensive equipment. Then there's another type of great photo-also arresting, also surprising, but totally easy to make.
Here are five pictures that, despite their simplicity to achieve, will leave your friends and family mighty impressed.
STREETSCAPE
© Lester Weiss
The photo: A brightly colored and larger-than-life ad, a skewed camera angle, and a stooped man combine to create a strange and witty image. Shot by Lester Weiss, 53, of San Francisco (www.pbase.com/ojoblanco) this photo was the product of a lot of careful composition. He spotted the ad first, then twisted and turned his camera until he captured not only the ad but its reflection in the truck's window. Once he had a composition he liked, he waited. The incoming pedestrian was perfect-his bent posture contrasts with the youth of the towering models, and his evident effort fools your eye into thinking he's climbing a steep hill.
The trick: This kind of picture works because the scale is confusing. To shoot one like it, start by finding a huge billboard or poster, preferably one whose content clashes with its environment. Then, make your composition. Use your surroundings to frame an imaginary person, and wait for one to amble into the frame. You may have to be extremely patient, but, hey, so was Cartier-Bresson.
Tech specs: Olympus C8080 WZ. Exposure, 1/160 sec at f/7.1, ISO 100.
GRID
© Thomas Hawk
The photo: Pictures are everywhere, especially in places where you go to see other pictures. Thomas Hawk (www.thomashawk.com), 40, shot this photo, a close-up of an umbrella stand at the San Francisco Museum of Modern Art. The high-contrast black-and-white is eye-catching, and the repeating pattern holds your attention as it disappears from the corner of the frame.
The trick: Patterns are always interesting-an affinity for repetition seems hardwired into our brain. To get a shot like this, look for a repeating pattern, then get in close. Angle your camera to emphasize a skewed perspective, and fill the frame. Look for patterns that offer a lot of contrast. After you shoot, use software to go b&w for extra effect.
Tech specs: Canon EOS 5D with 14mm f/2.8L Canon EF lens. Exposure, 1/25 sec at f/2.8, ISO 1600.
SINGULAR SILHOUETTE
© John D. Carnessiotis
The photo: Greek shooter John D. Carnessiotis (www.flickr.com/photos/aster-oid) loves silhouettes, so when, on a ferry to Mykonos, he spotted two girls backlit by the reflective water and setting sun, he aimed his camera accordingly.
In his original shot, this girl's profile was perfectly sideways, but the other was slightly turned. Using Google's simple and free Picasa software, he cropped for the nicer profile, and added enough contrast to completely lose all highlight and shadow detail. The result? A highly graphic and sweet silhouette.
The trick: Though this shot was candid, a picture like this is easy to set up using natural light. Head outside when the sun is fading, and frame your subject against the sky with the sun behind her. Make sure no clouds intersect with her face, and shoot, exposing for the sky. Then do the rest in your image-editing software: Use the blunt force of the brightness/contrast slider to go high-contrast and high-brightness, and quickly zap out any remaining color by desaturating.
Tech specs: Nikon D80 with 70-300mm f/4-5.6 Sigma APO DG lens. Exposure, 1/500 sec at f/11, ISO 100.
LONG NIGHTTIME EXPOSURE
© Jolyn Hecht
The photo: Leave your shutter open long enough after the sun goes down, and you'll be surprised how different the night looks to your camera than it does to your eye. Pretty soon the sky goes from black to royal blue, and artificially lit trees take on an otherworldly glow. Jolyn Hecht, 31, of Chicago (www.jolynphoto.com), shot this image on a windy night. She knew that the swiftly moving clouds would make for a dramatic blur, so she framed the trees to balance the sky.
The trick: Because long-exposure nighttime images transform reality, they are surprisingly forgiving and easy to make-just be careful not to wiggle the camera. If you have a tripod, use it. If not, any flat surface will do. Set your camera on manual and start with a low ISO to minimize noise.
Use a remote trigger if you have one (if not, set the camera's self-timer), trip the shutter, then wait. Start by exposing for a minute, and if that's not enough light, keep adding more time.
If your camera won't expose for more than 30 seconds or so, set it on Bulb and use the remote to keep the shutter open while looking at your watch. Don't rely on your meter-because the look is subjective, trial-and-error is your friend.
Tech specs: Tripod-mounted Nikon D80 with 10-20mm f/4-5.6g Sigma lens. Exposure, 228 sec at f/4, ISO 100.
URBAN CANYON
© Tom Haymes
The photo: Images of the concrete jungle rarely surprise, but Tom Haymes (www.haymesimages.com) of Katy, TX, found a way to make this shot of Pennzoil Place in Houston truly cool. In photographing Houston's 25 tallest buildings, Haymes challenged himself to find creative ways to depict the city. This one works because the negative space is strikingly small, transforming a skyscraper into an abstraction.
The trick: Counterintuitive perhaps, but when shooting architecture, don't spend too much time looking at buildings. Instead, try to find interesting shapes between them. If your meter reading for the architecture is very different from that for the sky, expose for whichever takes up the most space in the frame.
Tech specs: Nikon D70s with 18-70mm f/3.5-4.5G Nikkor IF-ED DX lens. Exposure, 1/30 sec at f/5.6, ISO 200.