Your Vision… Not Your Investment
Who says you've got to buy high-priced gear to get the shot? Rent your way to fanastic photos.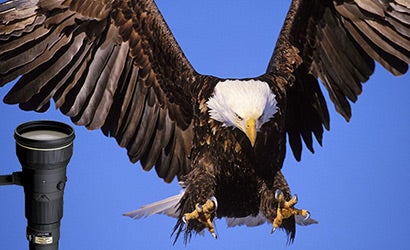 Want to supercharge your creativity and take photos that are gloriously different from your usual style? Forget the cameras and lenses already in your bag, and consider unusual, specialized equipment — perhaps a super telephoto lens, a large-format camera, or a softbox as big as a car.
You don't have to invest in a lot of new gear that you'll use only occasionally. Instead, do what the pros do — rent it for a day or a week from one of the full-service rental houses in metro areas across the U.S. The cost is reasonable, and the payoff can be huge.
Besides helping you capture new subjects and see familiar ones in new ways, there are lots of practical reasons to rent: It lets you use top-quality equipment that you couldn't otherwise afford, or test-drive gear before buying. (In fact, most rental houses rebate up to 50 percent of the rental price if you buy the same item new within a specified period.) It saves you lugging or shipping heavy equipment to distant locations. It helps you imitate a specific look — especially in fashion photography, where trends rocket through the industry. Plus, if you sell your photos, the cost of renting is tax-deductible, while the cost of buying may have to be amortized over many years. And if you push yourself into the unknown, renting can uncover photographic talents you may not have realized you had.
Start by calling the rental house at least a week before you'll need the gear, or even earlier if the item is rare or very popular. For instance, 100-year-old large-format lenses can be hard to get, especially in the summer, when workshop students scoop up large-format cameras and glass. Is there a big sporting event in town? Expect super teles to be in short supply. So be sure to reserve early.
| | |
| --- | --- |
| | |
| © Todd Laffler / www.toddlaffler.com | |
| Unusual optics like fisheye, tilt/shift, soft-focus portrait, and Nikon's unique Defocus Control lenses can provide distinctive imagery not obtainable with more conventional gear. New Jersey pro Todd Laffler made this portrait of daughter Zoe using a Sigma 15mm f/2.8 fisheye on a Canon EOS-1D Mark II. | |
Before ordering, ask the rental agent for advice. For instance, an agent may recommend an 8-ounce 2X teleconverter at $15 a day instead of a 12-pound 600mm f/4 at $150 a day. If you're renting a complex piece of gear that's unfamiliar to you, an agent might suggest you rent it twice — once to learn to use it and again for the actual shoot. Some rental houses — such as Global Imaging in Dallas, TX, and Louisville, CO — also offer in-store training.
Don't see what you want on the company's website? Ask. Most rental houses also sell used equipment and they rent items from this continually changing inventory.
Consider renting over weekends and holidays, since rental houses often don't charge (or cut the rate) for days they're closed. Have to cancel a reservation? Do it 24 or even 48 hours ahead to prevent a charge.
Not surprisingly, rental outfits generally require a photo ID and collateral held in escrow to cover part or all of the gear's replacement cost. Usually this is an "authorization hold" on your credit card: No charge is made against the card, but your maximum credit limit is reduced by the replacement cost of the item until it's returned.
If the value of the equipment exceeds your credit limit, expect to provide a "certificate of insurance" from your carrier, listing the rental house as the "loss payee" if the gear is lost or damaged. (Not all homeowner's policies allow such certificates, which are more common in business policies.) Organizations such as the American Society of Media Photographers may also offer rental insurance to members.
In any event, before renting, discuss your liability with your insurance provider. Often, the insurer will add a rider or "floater" to cover the replacement cost. Such add-ons typically cost between $100 and $200 for between $5,000 and $15,000 in coverage, and are usually good for the life of the policy. The floater can be canceled if you don't intend to rent again, and you'll be rebated a portion of your payment.
If you use a premium credit card such as the American Express Platinum card to pay for the rental, the issuer may cover you automatically. It's worth checking.
Additional costs? If you can't pick up the gear in person, count on shipping fees in both directions, including shipping insurance for the full replacement value. Cameras and lenses are usually shipped in hard cases with closed-cell foam padding and exterior walls of high-impact plastic. Typical charges run between $25 and $70, but are much higher for big studio lighting setups.
Shipping insurance is provided by the carrier, but covers the gear only while in transit. Once you sign the shipping receipt, the gear's your responsibility. As soon as the item is in your hands, study it and its packaging for evidence of mishandling. Make sure everything's fully functional, and if there are problems, notify the rental house immediately. If, for example, a lens arrives without a lenscap, report it right away. (A cap for a Canon 500mm f/4 streets for $90!)
Rent Here• Adolph Gasser: 181 2nd St., San Francisco, CA 94105;415-495-3852 • Adorama: 42 W. 18th St., New York, NY 10011;212-627-8487 • Alkit: 222 Park Avenue South, New York, NY 10003;212-674-1515 ext.5 • Backscatter Underwater Video & Photo: 225 Cannery Row, Monterey, CA 93940; 831-645-1082 • Calumet Photographic: Rental locations in Boston, Chicago, Los Angeles, New York, Philadelphia, San Diego, San Francisco, Santa Ana, and Santa Barbara. • Fotocare: 136 W. 21st St.,New York, NY 10011;212-741-2990; • Global Imaging: Louisville, CO, 800-787-9801; Dallas, TX, 800-787-9802 • Lens and Repro: 33 W. 17th St., New York, NY 10011;212-675-1900 • Lensrentals: 8940 Meaghan Dr., Cordova, TN 38018; 866-472-9853 • Pro Photo Supply: 1112 NW 19th Ave., Portland, OR 97209; 503-517-3637
High-end electronic gear, such as medium-format digital backs, sometimes ship with "impact tabs" attached. Resembling a small spirit level, the impact tab is filled with a clear liquid that turns color (usually pink or, worse, red) if the item is bumped, jarred, dropped, or otherwise mishandled. If your item's impact tab is anything but clear, contact the rental house ASAP.
With the practicalities out of the way, the fun can begin. Renting unfamiliar gear can shove you out of your comfort zone and help you grow as a photographer. It lights a creative spark that improves the pictures you take with any camera.
While the rental process may sound intimidating, rental houses want you to enjoy the experience and rent again. And chances are, that's just what you'll do.
Costs Per Day
$10: Studio-grade Gitzo tripod and head.
$15: Canon or Nikon 2X teleconverter.
$35: Canon PC tilt/shift lens.
$35: Leica M6 body.
$35: Mamiya 645AFd body.
$35: Mamiya 7 with 80mm lens.
$50: Sinar P2 4×5 camera with choice of available lenses.
$50: 300mm f/2.8 AF Nikkor.
$75: Blimp to smother camera sounds in theaters, churches, etc.
$75: Gyrostabilizer for shooting from moving cars, boats, or aircraft.
$75: Profoto Octa Bank 8-foot reflector for lighting groups.
$100: Sinar P 8×10 view camera with choice of available Nikkor, Rodenstock, or Schneider lens.
$120: Profoto D4 studio lighting kit, including powerpack, three heads, stands, and softboxes.
$200: Canon EOS-1Ds Mark II body with 1GB CompactFlash card.
$300: 16MP Hasselblad or Phase One digital back for Hasselblad or Sinar 4×5.
$500: Hasselblad H3D-39 system, including camera, 80mm Hasselblad lens, and digital back.