Top 25 Best Buys
These digital cameras and lenses give you so much bang for the buck, they're practically explosive.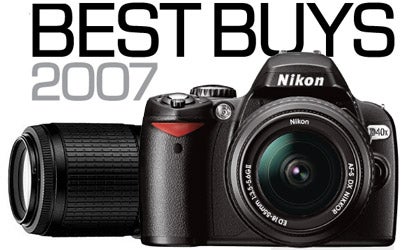 We may earn revenue from the products available on this page and participate in affiliate programs. Learn more ›
Autumn means two things for camera gear. One is that new cameras, lenses, and accessories will be introduced in time for the holiday shopping season. The other is that you can find great buys on the existing stock of photo equipment. So we've made a selection of what we think are the very best buys in cameras and lenses right now.
Star Tenner: Nikon D40x
Who? Wannabe pros who don't wanna spend. What? Nikon D40x. Why? We were doubtful when Nikon introduced this 10MP version of its entry-level D40 DSLR — how good could it be for that price? But after testing and shooting with the camera, we're believers. In Pop Photo Lab tests, it produced image-quality ratings among the best for 10MP cameras at any price. It also has image controls nearly as extensive as its upscale sibling the D80, and burst rates that defy the category: In our tests, it could do 100 highest-resolution JPEGs at faster than 3 fps with high compression. This translates into very quick single-frame capture. Yes, the polycarb body is hardly designed for expedition use, the menus can get awfully dense, and the camera will autofocus only with AF-S lenses, but it's still legal larceny. Now!****$700, street, with 18-55mm f/3.5-5.6G ED II AF-S DX zoom; $650, body only.
Straight Eight: Canon EOS Digital Rebel XT
Who? Major-league performance fans on a minor-league budget. What? Canon EOS Digital Rebel XT. Why? As Pop Photo Lab tests proved, the Rebel XT, with 8MP (rather than the 10MP of the $165-more Rebel XTi), provides Excellent image quality — as in Excellent resolution and color accuracy, plus noise no higher than Moderately Low up to ISO 400. Its very light body has a stainless-steel chassis, and it gobbles up about 65 highest-quality JPEGs at 3 fps — faster than a number of newer and pricier DSLRs. It captures in RAW. Okay, the 1.8-inch LCD is dinky by today's standards, and it lacks the XTi's self-cleaning sensor, but not much else is missing. Now! $498, street, body only; $575 with 18-55mm f/3.5-5.6 EF-S kit zoom.
Grand Deal: Olympus E-510
Who? DSLR buyers who want a full-featured outfit, right out of the box. What? Olympus E-510 with two-lens kit (14-42mm f/3.5-5.6 and 40-150mm f/4-5.6 Zuikos). Why? This is quite a bundle. First, the camera: a compact, ergonomic Four Thirds system unit whose 10MP sensor delivers Excellent image quality from ISO 100 to 1600. It offers unlimited live view and sensor-based image stabilization. Now, the lenses: With a combined focal-length range equivalent to 28-300mm, they're exceptionally light and compact. And in Pop Photo Lab tests, both put up Excellent SQF and very low, often Imperceptible, distortion numbers (except at 14mm, where barrel distortion was Visible). Now! $1,000, street.
The Un-SLR: Fujifilm FinePix S9100
Who? Performance hounds hunting for a long zoom in one tidy box. What? Fujifilm FinePix S9100. Why? Start with a 9MP Fuji Super CCD HR sensor, with good noise suppression up to a maximum of ISO 1600, then add a 2-inch tilting LCD and a 100-percent electronic viewfinder, dual memory card slots (xD and CF), fast startup and low shutter lag, and RAW file capture with Hyper-Utility software for conversion and editing. Now outfit it with a 28-300mm equivalent f/2.8-4.9 zoom lens — with macro focusing to less than half an inch. That would make for a pricey DSLR. But if you can deal with a fixed lens and an EVF, the S9100 does all that. And it gives you something no DSLR does — video. Now! $375, street.
Tank Sale: Pentax K10D
Who? DSLR types demanding more than "sturdy polycarbonate." What? Pentax K10D. Why? What would you pay for a pro-level DSLR body? $1,200? $1,400? More? Here's what you get in a K10D: a rugged, heavily sealed body with shutter mechanism rated for 100,000 cycles; a high-magnification viewfinder with glass pentaprism; in-camera image editing that allows conversion of edited RAW files into JPEGs; self-cleaning CCD sensor; sensor-based image stabilization that will work with any lens. Image quality from the camera is routinely Excellent, particularly when using RAW mode. Go on, how much? Now! $795, street, body only.
Distance Specs: Sony Cyber-shot DSC-H7
Who? Long-zoom enthusiasts. What? Sony Cyber-shot DSC-H7. Why? When we tested the $470 Sony Cyber-shot DSC-H9 (August 2007), we found it outstanding. But give up a little in the way of features, and save a lot (around a hundred bucks). With the H7, Sony subtracts the NightShot mode (of very limited use), and substitutes a 2.5-inch fixed LCD (plenty big) for the H9's 3-inch tilting one. You get the same sensor, processor, superduper 15X optical zoom with image stabilization, and accessories. The clincher is the imaging performance — the best we've seen so far in a superzoom. Expect DSLR-quality shots through ISO 800. Now! $370, street.
Steady Long Shot: Kodak EasyShare Z712 IS
Who? Distance junkies for whom a 3X (or 5X or 10X) zoom just isn't enough. What? Kodak EasyShare Z712 IS. Why? Kodak's latest long-range zoomer gives you about as much for your money as any camera in this class: 36-432mm equivalent f/2.8-4.8 Schneider 12X optical zoom, lens-based image stabilization, fast click-to-capture speed (a claimed 1/4-second), 2.5-inch LCD monitor, eye-level electronic viewfinder, 32MB internal memory backup to the SD card slot, QuickTime MPEG-4 movies with mono sound, and very adept panorama-stitching. When you're finished shooting, set it down on a Kodak Printer Dock and effortlessly pop out 4x6s. Now! $300, street.
Thin, Not Too Rich: Casio Exilim EX-Z75
Who? Stylish snapshooters shopping for a pocketable. What? Casio Exilim EX-Z75. Why? You usually pay a premium for svelteness. But this one puts the price on a spa diet, while delivering a fat menu of 7.2MP capture, VGA-res movies at 30 fps with sound, audio clips for still images, rechargeable Li-ion battery, 2.6-inch wide-screen LCD, and the usual feast of Casio scene modes: Candlelight portrait, Autumn leaves, Soft Flowing water, Retro, ID Photo, Business Card, eBay…you get the idea. And it comes in four colors, so you can accessorize accordingly. It weighs less than 5 ounces, and it's about ¾-inch thick. Lots of cameras like this cost around $300. Now! $168, street.
Big-Screen Star: Panasonic Lumix DMC-FX50
Who? Compact-cam shooters looking beyond good looks. What? Panasonic Lumix DMC-FX50. Why? While plenty of cameras have 3-inch LCD monitors these days, the FX50's just seems clearer and brighter to us. And while truckloads of compacts have optical image stabilization of one sort or another, Panasonic was a pioneer here with its lens-based Mega O.I.S. — and it's one of the most effective systems out there. The focal length, 28-100mm equivalent, is just right, and the noise suppression of the latest Venus III processing engines is greatly improved over that of older models. (Yes, you'll get noise at ISO 3200 — though you still get the full 7.2MP resolution.) Now! $300, street.
Little Black Dress: Samsung NV11
Who? Point-and-shooters who aren't too cool to care. What? Samsung NV11. Why? The NV11 is such a sexy little thang, you might overlook that it's a technological tour de force. A rundown: 10.1MP capture, 38-190mm equivalent f/2.8-4.4 Schneider 5X zoom, 2.7-inch LCD monitor, video with in-camera editing capability, face recognition (for both autofocus and autoexposure), and subject modes that include text recognition, allowing the extraction of text from pictures of printed matter. The Smart Touch interface keeps it all sorted out with an array of button keys lining the LCD, with very legible control readouts appearing on the screen. Now! $275, street.
See our Best Buys for Lenses