Take Control of Your Minilab
10 steps to getting the job done right--the first time!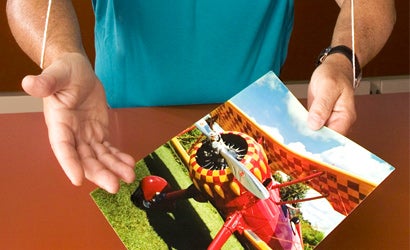 We may earn revenue from the products available on this page and participate in affiliate programs. Learn more ›
Tired of getting digital prints from your local minilab or online processor that have unusual color casts, strange skin tones, off-kilter crops, or too much contrast? Sure, you could try to do a better job on your own photo-quality inkjet printer, but it's hard to resist the incredible bargains and convenience most digital minilabs and online photo processors offer-especially for big enlargements or piles of 4x6s. So before you curse the lab for messing up your photos, why not secretly take control of their $200,000 superprinters and show them how to do it right the first time? Just follow these 10 steps.
1. Calibrate Your Monitor
It all starts here, whether you want the best print quality from your home printer, a digital minilab, or a professional photofinisher. Without a calibrated monitor to ensure that you're getting accurate colors on your screen, even a great lab can produce lousy prints. Calibrating is easy to do, takes very little time, and may not cost you a cent.
There are two ways to calibrate, either visually or with a device. Visual calibration uses built-in utilities found in the display control panels on all current Mac and Windows computers. But this method is rarely as accurate as using either a colorimeter or spectrophotometer. Colorimeters, such as the Pantone Huey ($80, street) or the more advanced ColorVision Spyder2PRO ($260, street) can help you calibrate your monitor and create accurate monitor profiles for use in color-managed imaging programs such as Adobe Photoshop CS2, Elements 4, and Corel Paint Shop Pro X.
Spectrophotometers usually cost $600-plus and may be overkill if all you need is a monitor calibrator, but they can also be used to make custom printer profiles for your home printer, published work, or even for a digital minilab (see Color Profiling sidebar).
2. Turn Off the Engine
Many online photo processors include an option to use an automated image-enhancement engine or to turn it off. You'll find a similar choice on the envelope you drop off at the local minilab. Decline the automatic fix, or else the lab's computer will mess with your images. For example, you may have intentionally dialed down the contrast in a portrait, but the automatic fix will see this as a problem and add contrast. Similarly, if you want to make a black-and-white print with a slight sepia tone, watch what happens if you turn on the lab's autofix engine!
When should you use the autofix? When you're in a hurry and know that your images may have incorrect exposures or white balance settings. You might also try it when making prints directly from the camera's memory card at a kiosk.
3. Set Your Color Space
Normally, we recommend setting your digital camera to the Adobe RGB color space (if supported) to help capture images with better color fidelity and a wider color gamut than the default sRGB space. Adobe RGB is the best setting for most photographers (although some prefer Wide Gamut RGB) when using Adobe Photoshop CS2 and inkjet printers with six or more color inks.
However, most digital minilabs are set to receive images that have been stored and manipulated by programs using the narrower sRGB color space (based on the color gamut of older Mac and PC monitors). So if you send images that were retouched in Photoshop and tagged as Adobe RGB, your prints will probably be one or two stops too dark, with muted colors. Since we had you turn off the autofix engine in Step 2, the minilab's auto exposure correction won't help, and even if it did, the results would be subpar.
To avoid this problem, set your color-managed imaging program to the sRGB working color space before opening digital photos. A warning should appear if you try to open images previously corrected in, or saved using a camera set to, the Adobe RGB working space. In the pop-up window, choose to convert the images to the working sRGB color space. Later, after retouching or cropping, save the images under different file names (so you don't write over the originals), and be sure not to select the "Embed Color Profile: sRGB" in Photoshop's JPEG dialog. With some digital labs and kiosks, tagged images can't be opened or don't even appear in their designated folders.
4. Do Your Homework
Before handing your photos to a local or online lab, spend time fixing them up. This should be easier now that you're working on a calibrated monitor. Try to remove any apparent color casts, tweak contrast to your liking, and apply mild amounts of sharpening as needed. Also, zoom in to 100% and look for any dust specs that might show up on your prints (especially enlargements), but don't spend too much time retouching fine details if you're only ordering a 4×6-inch print.
Some online labs offer free, downloadable retouching programs. They might not have all the sophistication of a program like Photoshop, but they could streamline fixing problems such as redeye or minor over- and underexposure. Just beware of the sharpening tools in free or online imaging programs-they tend to oversharpen.
5. Get Creative at Home
Your ability to create artistic borders and special effects is much greater when working from an imaging program at home. Most of the borders and special effects offered online or at photo kiosks are gimmicky, so only use them as a last resort. If you are adding creative borders to your prints, just realize that, if you select borderless prints, some of your creative border edges might be cropped.
On your home or office system, you'll also have greater text control (including text wraps, shadows, and colors) and a wider choice of fonts for adding messages or even watermarked copyright notices to your images. If you are adding text in Photoshop or any program that uses layers, make sure you rasterize the text and flatten the image file before saving the image.
6. Size & Crop
One of the biggest problems with using an online processor is the time it takes to upload your images. And if you rely on a commercial lab to crop your full-res images to print sizes such as 5×7 or 8×10 inches, you may also have trouble, since they don't match standard sensor (or 35mm film) ratios.
The solution? Crop your images on your computer to match the format for the prints you want. Then, adjust the image file resolution to provide just the right amount of detail, so that your image files transfer or upload quickly. For example, if you want to make an 8×10-inch print (a 4:5 aspect ratio) from a photo taken with a 6MP DSLR (which captures a 2:3 aspect ratio), you'll have to trim it on the long sides or zoom in and then crop.
After cropping, go into the image size dialogue and set the dimensions to 8×10 inches. Next, reduce the file's pixels per inch (in some older programs this may be called dots per inch) to 200-250 ppi. That's all you really need to make a photo-quality print. Higher resolution will inflate the file size and take longer to upload and process at the lab.
Of course, if you cropped tightly or shot with a lower-res digital camera, your ppi setting might be below 200, making for fuzzier prints at that size. (Most online labs now warn you if your file lacks the image resolution for the print size you requested.) In that case, go for a smaller print.
Tip: Nothing slows down a print kiosk like full-resolution images from an 8MP or higher DSLR (especially if you store in RAW + JPEG mode or have the color space set to Adobe RGB). So resize them first and save as JPEG.
7. Don't Squeeze Too Tight
Once image size and resolution are right, it's time to save the images. For best compatibility and faster uploads to an online processor, the JPEG file format is the best choice. (Don't ever send RAW files!) JPEG is a compressed format, with compression levels from very low (about 2:1 ratio) to extreme (50:1).
If you're using Photoshop or Elements, the optimum setting is 8 (high quality, with roughly 7:1 compression). You won't notice JPEG artifacts at this level, and less compression will slow down image transfers and uploads. However, if you're giving a CD-R or memory card to a lab, you can opt for less compression.
In either case, select the "Baseline Standard" method of JPEG compression for the greatest compatibility and image quality, and make sure your file names all have a .jpg extension.
8. Get Organized
To speed up multiple image uploads or to keep track of images sent out for printing, save your files in separate folders prior to writing them to a CD or sending them to a lab. For example, if you plan to send out a 4×6 order, store all of your retouched and sized images in a folder called "4×6 prints." You may also add a date or lab name to the name of the folder. When you go online to place your order, select "Print folder" if given that as an option, or navigate to the folder you've created, open it, and hit "Select all images."
Tip: If you're writing your images to a CD or memory card to be printed at a kiosk, first create a master folder called DCIM, and then store all your print-size folders containing images in it. Most kiosks will look for images contained in the DCIM folder created by every digital camera, but some may overlook other folders even if they contain JPEGs.
9. Make a Trial Run
Don't send 100 images to a lab on your first order; send 5 to 10 that cover the spectrum of your images, including high key, low key, supersaturated, low contrast, and high contrast. Then modify your settings based on the results, or move on to the next lab.
As a rule, the contrast on most digital minilab prints is fairly high (a holdover from film printing days and preferred by most consumers), resulting in blocked-up shadows and blown-out highlight detail. You may want to send a contrast series of one image to the lab to see which setting works the best. Start with a portrait or scenic photo with lots of shadow, midtone, and highlight detail evident on your computer monitor. Adjust the contrast and save five versions from low to moderately high contrast (layer a different letter or number into each version of the image to identify it later).
10. Assert Yourself
If, after following these steps, your prints still come back looking like they were developed by a blind monkey, it's time to either find a new lab or talk with a lab supervisor. Don't expect the person behind the counter or running the machine to be able to help you, since novices may not know the difference between a cyan and a blue color cast. But, in most cases, someone at your lab does; that's who you should talk with. Bring a copy of the image files for viewing on the lab's monitor. Usually, the lab will offer to fix and reprint any of your problem photos.
Color Profiling
The color gamut of silver-halide papers used in most digital minilabs is noticeably smaller than the gamut of typical six- to eight-color inkjet printers. That means that certain colors (such as violets and deep reds) may appear washed out or radically different in the prints you get.
Knowing which colors fall outside the gamut of a minilab can be helpful and allows you to make adjustments to improve the image quality of your photos. For instance, Photoshop's Proof Colors tool can give you a screen preview of your lab's color gamut if you have a profile loaded on your system.
Some minilabs or pro labs in your area might be able to provide you with color profiles for their specific printing systems. You can also use a device such as the ColorVision PrintFIX PRO (see The Goods) to generate a color profile from your lab or any color printer you use.
If you use the minilab's profile as the working space in Photoshop and then send images to the lab as untagged JPEGs, you'll get a very accurate match to your screen images. Warning: If you then send the same image files to other labs, even ones using the same equipment, colors might be off.