Switching Sides
CNN anchor Miles O'Brien describes his secret life on the other side of the lens.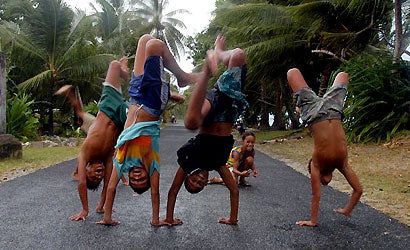 We were surprised and flattered to hear CNN's anchor Miles O'Brien, of American Morning, tell us that Popular Photography & Imaging was his very first magazine subscription. Turns out that the broadcast journalist has also been shooting since the age of 14, and once even seriously considered photography as a career.
Coming at it "strictly from a journalist's point of view," O'Brien now brings his equipment around with him at all times, catching behind-the-scenes footage of his work for CNN and capturing the story, as he puts it, "of getting the story."
How long have you been shooting?
|| |—| | Photo Gallery| I have been taking pictures since around 8 th grade. I found an old Argus C44 that my dad had used and became instantly fascinated by it and taking pictures. I had a good friend who had a similar interest. Before too long his dad was upgrading to the Honeywell Pentax, and I got interested in the SLR. So I saved my money and bought a Ricoh Singlex. Back in the day when we shot with kerosene lanterns…
Then I got the darkroom bug and got all that equipment. And, eventually, I got into business. I started taking family portraits and weddings. I made quite a bit of money because I was 16, 17 years old. I also would shoot a golf tournament, stay up all night and have processed pictures of all the foursomes on the board. I made a killing on that!
And I never stopped. Later, when I went to college, I was a news editor at Georgetown and would take a lot of pictures for that as well. And it was good preparation for doing what I'm doing now.
Getting used to being on the other side of the camera?
Well, when it came time for my first on-camera job, in St. Joseph , Missouri, I had to shoot the stories also. And I was comfortable with cameras. None of the rest of the reporters had ever operated a camera. In 1982, one-man operations are more common. There was an eight-person news staff, and we'd go out on teams and shoot for each other, or we'd shoot our interviews ourselves. I'd set up a lightstand at my height, hit the record button on the tripod. Record myself. I was comfortable with it because of photography, I knew how to tell a story visually.
But they don't make you do that at CNN, do they?
Now, when I go out [on assignments], I have a still and a little DV camera-a Sony PD170, but soon I'll have Sony HVR-A1U , which is really high-def. I'm always augmenting the stuff I do for CNN with my own stuff.
I recently did a documentary on the Discovery space-shuttle, very intensive [Terminal Count: What It Takes to Make the Space Shuttle Fly, 2001]. It would have been a budget-buster if we'd had a crew, but there I was, crawling around inside, and I ended up shooting about 75% of that documentary. Just by virtue of the logistics of going down to the Cape, there were some occasions where we would hire a crew, but if I could handle it on my own, it would save a lot of time and money.
What kind of equipment do you use?
Well, for the documentary, I went to CNN and got equipment from them. You go into this warehouse in Atlanta and it's like Indiana Jones-gear everywhere…I used a Sony camcorder DSR-300, and Canon YH18x6HSD lens.
What about on your own time?
A Nikon D100 and 16-35mm zoom and the 80-200mm. I've always been a Nikon guy, and when I was buying the Nikon gear I have now, all the guys at CNN were Nikon guys so I thought, great, I'll be able to use some of their equipment with my setup. But no sooner than I bought the D100, they switched over to Canon. I've thought about making the switch too…but it's sort of like changing religions, I feel kind of weird about it.
How would you describe the shooting you do now?
I try not to make the pictures I take a big deal, I like it to just be a part of what I'm doing, so when something happens I'm ready. That goes for work and for my family time. Of course that's how you get good pictures.
I remember growing up my grandfather every year would take this big family picture he'd put it on a timer and I've never seen them to this day.
What I enjoy about digital photography, it's reminded me how much I enjoyed the whole process of being in the darkroom – with out using the fixer. I'll be sitting there at the end of the day, really should be going to bed, find myself compelled to just get in there and start tweaking and start cropping this. There's a certain creative aspect to that that I really enjoy. I think of the camera as just an extension of life and of work.
And your stuff behind-the-scenes at CNN?
Well, what I've found really fun, is we have this incredible website (www.cnn.com) that's always interested in getting features for the stories, and slideshows. I bring [my camera] just because I want to capture things, but it turns out to be a good way of telling the story of getting the story. There are certain things that work well on television, and there's certain things that don't. But those things can really work well on the web, with the right still and the right copy and the right text. It's allowed me to explore other media, and an easy outgrowth.
It's…corporate synergy.
I do a TV piece, I love doing a nice TV piece, but to me, there's nothing like posting a really well-written column and then marrying that with pictures. That's a tremendous amount of satisfaction.
And there's a certain permanence that doesn't exist on TV-it's on it's way to Pluto.
I'm in a very fast-paced medium, so it's nice to have something with you that gives a sense of permanence. It's kind of a natural thing.
So there's a gratification in photography that you don't get from broadcast?
To me, the goal was kind of the same, to somehow, as best I can, explain what it's like to be there. TV is a great way to provide impact and emotion. But if you really want to delve into a complicated issue or something that takes reflection…
And so images are…
When I'm doing a piece and I think god I wish I could put that into words, I have a way of doing it.
Do you find yourself capturing things with your Nikon that you could never catch on-screen?
Occasions where I've captured moments, alone, with my Nikon, that I never could have captured otherwise. I think what happens is-when you come with big TV cameras and sound guys, people act so differently. When you come with a still camera, it's much less intimidating. And I think you can capture people more as you are, when you have that.
What other kind of shooting do you do? Outside of on the job for CNN?
Well, I love taking pictures of my kids, but there's things unrelated to photography there. I come at [photography] clearly from a journalist's point of view. I'm capturing things in the moment-the action or the mood of a moment, I'm happy.
I don't think I could ever sit down and work in a studio, setting lights and doing still lifes. I think capturing, trying to reduce a mood or a moment or an action to a frame is what I'm after each time. And that leaves a broad array. Whether it's professional or just family, it's always journalism.