Super Bowl XLII: The Ultimate Shoot-out
At the big game, it's photographer versus photographer. And every split second counts.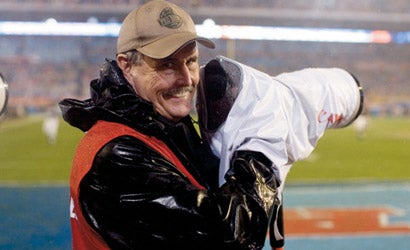 As the opening kickoff of Super Bowl XLII spirals over the University of Phoenix stadium on Sunday, February 3, you might think the most exciting action is exclusively on the gridiron.
Not for photographers.
Just off-field, sports shooters and their assistants will dash upfield and down following the plays. Runners will rapidly ferry memory cards from sideline DSLRs to the nearby media trailers. There, images will be transmitted almost instantaneously to the home offices of the Associated Press, Getty Images, Reuters, Sports Illustrated, and other news organizations.
The goal: To be the first and fastest to deliver images of the game to their print- and web-based clients — and the world. This intense off-field action carries with it potential rewards just as significant as those of the big game itself.
"At the Super Bowl, all the photographers are trying to get their pictures out first," explains Gary Hershorn, News Pictures Editor of the Reuters wire service. "AP, Getty, and Reuters all take the Super Bowl very seriously. A 30-second lead can make the difference between your picture ending up on MSNBC's home page and someone else's."
To cover the Super Bowl, the major news services may field as many as 12 to 15 photographers, four in each end zone and two on each sideline who roam with the action. Two more shooters work from the stands for more elevated views.
Their digital cameras, almost exclusively Canons, are technical marvels — but in some ways make the job tougher. The latest EOS DSLRs capture more pictures at faster framing rates, with higher burst capacities, and the images have much larger file sizes than before due to the ever-increasing resolution of the EOS sensors.
Media conglomerates such as Time Warner (the parent company of Sports Illustrated) need both easily transmittable JPEG files, and also full-info RAW files that can deliver the highest image quality possible for poster, merchandise, and even billboard-size use down the road. This dual system, JPEGs and RAW, greatly complicates the job of transmitting images out of the stadium to a waiting public.
Greg Choat, deputy picture editor for technology at Sports Illustrated, expects the amount of pure data flowing from the sidelines of this year's Super Bowl to be double that of last year. "RAW files from the Canon EOS-1D Mark III, at 15MB, are nearly twice the size of those captured by the Mark II n's we used in 2007," he says. "And with a maximum framing rate of 10 fps, the 1D Mark III will produce nearly twice as many of them."
More Super Bowl LinksPopPhoto Covers Super Bowl XLI How to shoot the halftime show Top cameras for shooting from the stands Audio Interview: Peter Reed MillerClick here to launch a slideshow with the interview, or right click here [option click on mac] and "Save as…" to download.Audio Interview: Joe DiLoraAssistant Manager of Canon Professional ServicesClick here to launch a slideshow with the interview, or right click here and "Save as…" to download.Subscribe to our podcast feeds here.
So how do the news services cope with ever-greater numbers of ever-larger files? First, they deploy their photographers as efficiently as possible. Peter Reed Miller, an SI shooter who has covered more than 30 Super Bowls, offers an example of this efficiency: "All Sports Illustrated shooters use the same system for dealing with memory cards," he says. "We have clear plastic cases that each hold four cards. If the cards are loaded face-down, they're used; face-up, they're clean. Runners don't have to actually speak with the photographers, but they immediately see which cards go back to the trailer for downloading and transmitting."
Second, editing has gotten more efficient. In past Super Bowls, SI's director of photography, Steve Fine, and his assistant would look at some 20,000 images during and immediately after the Super Bowl. This year, because of the Mark III's increased framing rates, Fine expects to be editing well in excess of that 20,000 figure.
At the opening kick-off, Fine and his staff typically sit back and join the rest of the country, watching the game on network television. When the first important play goes down, his runners spring into action, collecting the (usually) 2-gigabyte CompactFlash cards from any photographer who had a clear view of the play. Within minutes the cards are dumped, duped, "washed," and redeployed (that is, downloaded, backed-up, reformatted, and returned to the photographers).
As a card's contents are uploaded to the system, the images are automatically tagged with the date, stadium, photographer's name, names of the teams, and the photographer's "X-number" indicating his or her field position.
"We edit almost in real time, while the play is still fresh in our minds," says Fine. He and his assistant view files rapid-fire, first separating out a set of Roughs (about 450 shots per game) and then winnowing down to Selects — about 100 action, and 20 "color" shots (halftime, celebrities, players on the sidelines, etc.) per game. In 2007, only the Selects were transmitted back to the magazine's office in New York.
Fine, who will be covering his 22nd Super Bowl this month, says, "As fast as I can hit the 'Next' key is how long it takes me to edit."
Thanks to breakthroughs in technology, SI and the wire services are employing new and faster ways of getting pictures into their clients' hands this year. Most are highly secret, proprietary systems that the wire services refuse to discuss on the record. AP's involves Wi-Fi; Sports Illustrated uses optimized file sizing and sophisticated transmission protocols; and Reuters' involves photographers and editors sharing access to a single file server.
For the 2008 Super Bowl, more and more news agencies are opting for offsite editing. Instead of selecting pictures in Phoenix, most of the editors will work at their corporate headquarters back in New York and Washington, DC — even, in some cases, in the picture editors' own homes.
Having to send fewer editorial staffers "has a streamlining effect," explains SI's Choat. "Setup is faster with fewer people to coordinate, and there's a huge cost savings with fewer bodies to fly, house, transport, and feed. Last year, we had 15 people covering the Super Bowl [not including photographers]. This year we'll have maybe three."
According to Gary Hershorn, Reuters employs a similar strategy. "Our first stab at offsite editing made use of the remote desktop capability that's built into the Windows operating system," he says. "Picture files were loaded onto an unmanned computer at the game and edited with remote desktop control. It put all the content of the computer at the stadium onto the desktops of our editors at Reuters headquarters in DC. Editing was done remotely, and only final selects of about 100 pictures were transmitted from the stadium directly to clients."
More Super Bowl LinksPopPhoto Covers Super Bowl XLI How to shoot the halftime show Top cameras for shooting from the stands Audio Interview: Peter Reed MillerA veteran of 31 Super Bowls, legendary Sports Illustrated photographer Peter Reed Miller shares his experiences shooting the big game and talks about how photographic equipment has changed over the years. He also offers vital tips every photographer can use to make stronger sports photos, whether they're shooting the Super Bowl or a Pop Warner game.Click here to launch a slideshow with the interview, or right click here [option click on mac] and "Save as…" to download.Audio Interview: Joe DiLoraAssistant Manager of Canon Professional Services Joe DiLora tells us what goes on behind the scene to help the photographers get the winning shots.Click here to launch a slideshow with the interview, or right click here [option click on mac] and "Save as…" to download.Subscribe to our podcast feeds here.
For Super Bowl XLII, however, Reuters will use a new server-based editing system that allows photographers and editors anywhere in the world to simultaneously connect to a single server to both upload and edit pictures. Editors select and pull only the files they want to use from the server. "The system is so efficient," says Hershorn, "that we're editing almost in real time. Within 2 or 3 minutes of a play, the pictures are on our clients' screens."
This speed results from having certain Reuters photographers shooting directly to hard-wired palmtop computers stashed in their coat pockets (see the Future Tech sidebar on the page that follows). As each picture is taken, it's automatically routed to Reuters' shared server, where it's immediately editable and transmittable.
SI has developed a different but analogous system for offsite editing. Every image shot will be downsized and rapidly transmitted back to its New York offices, where they will be edited, still almost in real time. "Within 6 seconds of dumping a card in Phoenix," says Choat, "the editors in New York start receiving files." Instead of seven case loads of equipment as in the past, this year he will fit all the computing power he needs (three laptops) in the single bag he'll roll onto the Phoenix-bound plane.
Offsite editing owes its existence to faster computing and transmission systems. Computers are pulling image data off memory cards more quickly due to the extremely fast bus speeds of the latest laptops. Bandwidth is also broader, making for shorter transmission times. And since many of the media outlets publishing the images now are websites, file sizes can be smaller for many clients and subscribers.
Better and faster cameras are making a difference, too. "We're seeing faster write times," says Hershorn. "Also, the size of in-camera buffers has grown so that the time it takes to write an image to card isn't that significant anymore."
What new technologies do the pros see coming down the pike for Super Bowl XLIII in 2009? "I don't think it's going to be about resolution any more," Choat says. "Last year's 10- or 12-megabyte RAW files [from the 8.2MP Canon EOS-1D Mark II n] gave us more than enough resolution, and 15 megabytes is probably overkill. Instead, I think the next big thing will be interoperability — the ease with which cameras plug into larger digital systems and mate up with peripherals. We need systemwide plug-and-play."
He continues, "A good example of this is today's Wi-Fi technology for Canon and Nikon cameras. They require too much configuration and setting up. You've got to understand static IP addresses and other technicalities that lie far beyond the typical skill set of most sports shooters."
Hershorn sees something different for Super Bowl XLIII: the elimination of cables. "We're all looking at ways of moving data more quickly from camera to editor. I think the new Wireless USB technology will let us link cameras and nearby computer systems with more stable connections at an attractive price and faster."
And with the Super Bowl, faster — on-field or off — is the name of the game.
The most common rig among pros covering the Super Bowl XLII in Phoenix this year? It'll probably be the Canon EOS-1D Mark III and 400mm f/2.8L IS (image-stabilized) Canon lens. Peter Reed Miller, staff photographer for Sports Illustrated, explains why: "The Canon 1D Mark III makes beautiful files. They're the best I've seen from a non-full-frame camera. I like the larger screen, and the fact that you can access every feature from the menus — including the personal functions, which before you could only set with a computer."
Miller also likes the ease with which he can change crucial settings without missing a moment of action on the field. "There's a single button for setting the ISO, and you can see the ISO in the viewfinder. This means you can change it without removing your eye from the finder," he says. "With film, you were locked into an ISO for an entire roll, and you had two ways of controlling exposure: changing aperture and/or shutter speed. With digital, though, you can switch ISO, too. To be able to change all three — aperture, shutter speed, and ISO — with equal ease is a major step forward for this camera."
The logistics of shooting a game haven't changed much for Miller, with one important exception: "Because of the 1.3X lens-conversion factor with the 1D cameras, I no longer need my 600mm lens as often. Being able to shoot with a 500mm and get the same angle of view as with a 600mm lens, has made it much easier for me to shoot long."
As photographers discovered in the rain-soaked Super Bowl XLI in Miami last year, the 1D Mark III and 400mm f/2.8L combo performs well in bad weather. "The amazing thing was that of the hundreds of photographers covering the game, only two came to us with damaged cameras," says David Carlson, East Coast manager for Canon's Professional Product Marketing division. "Both froze up for the same reason: As the photographers opened the memory card doors to switch out CompactFlash cards, water poured into the cameras from their raincoats!"
Future Tech
OQO mini palmtop computer.
What technology will be big in 2009 for Super Bowl XLIII? Wireless, certainly, but not Wi-Fi, whose limited frequency and interference from other radio transmitters is likely to cause a "data traffic jam," in the words of Sports Illustrated's Greg Choat.
Instead, Gary Hershorn of Reuters is excited about hard-wired connections between DSLRs and miniature PCs, as well as not-yet-available Wireless USB connectivity (it now works only between computers and printers).
Reuters is already making extensive use of the OQO Model 02 Windows palmtop. This tiny machine runs full versions of Microsoft's Vista or XP operating system, yet is small enough to fit in a jacket pocket. With a USB cable connecting a DSLR to the OQO, the photographer shoots directly to the device's hard drive, where files can be automatically resized and transmitted to a network (preferably using a Wireless USB transmitter). The OQO Model 2 has a battery life of up to 6 hours of continuous use and a hard drive of up to 120GB. It also sports 1GB of internal RAM and a 1.6GHz processor. It measures 5.6×3.3 inches and weighs only a pound.
Wireless USB is similar to Bluetooth, but transmission speeds can be up to 500 times faster. Although it requires more power than Bluetooth, when not in use, it enters a sleep mode that requires minimal power.
In the future, Wireless USB will use an Ultra-WideBand (UWB) platform to transmit data at speeds of up to 480 Mbit/sec at a range of up to almost 10 feet. At first, dongles will plug into a camera and nearby computer for a slower image transmission rate. Later, transmitters are expected to be built into cameras — these embedded systems will permit super-high-speed image flow.