Sky's the Limit
Klaus Leidorf offers a bird's eye view from his Cessna 172.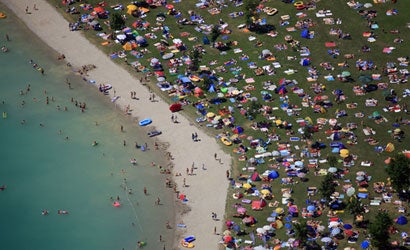 "Ever since iI was a young boy I liked to take photos," Klaus Leidorf says. "Now I do it from the air."
The 50-year-old shooter, from Bonn, Germany, is an aerial archaeologist, meaning he conducts archaeological surveys from the window of his Cessna 172.
Overhead photos of a site are invaluable for putting it in a wider context and discerning details invisible from ground level. But the details and context Leidorf sees aren't just archaeological, they're also human: multicolored bathers lined up on a beach like jellybeans, or shiny truck cabs parked neatly like Legos.
The advent of new image-stabilization technologies over the past few years has afforded Leidorf with unlimited opportunities. Starting out in 1989, he found it impossible to capture small features while handholding a Contax camera. Now, using a Canon EOS 5D with 24-105mm f/4 or 100-400mm f/4.5-5.6 zoom lenses, both of which have Canon's Optical Image Stabilization (OIS), Leidorf can shoot details as precise as a tennis ball flying across a court.
Acting on a friend's advice a few years ago, Leidorf's joined Corbis and now sells images regularly to academic publishers, newspapers, and a major insurance company. He's since put together a blog (leidorf.blogspot.com), which, with the help of his assistant Jenny Mejia, he updates constantly with his images.
Though his main photographic occupation is still archaeological, it's his personal work that brings things into context for Leidorf — not sites, but his own particular place on the planet. It, well, grounds him. "I'm glad to have this overview of things on the earth," he says. "When I'm flying and see things from above, I don't care anymore about the small things. It gives me peace."