PopPhoto.com's College Photo Contest Grand Prize Winner
Julie Goodwin of Middlesex Community College in Connecticut wins the grand prize.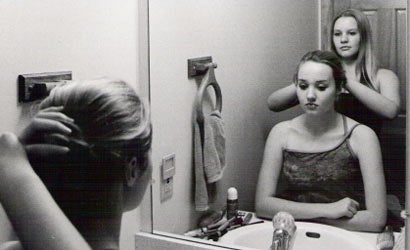 Julie Goodwin's top two passions are photography and dance, so it stands to reason that good things would result from the combination of the two.
Indeed, Goodwin's black and white photo of a ballerina in a quiet moment of reflection is the Grand Prize winner in this year's PopPhoto.com College Photo Contest. For being the top vote-getter with more than 2,000 online ballots cast in her favor, Goodwin will receive a 7.2MP Sony DSC-H5 digital camera, complete with a Carl Zeiss Vario-Tessar lens with 12x optical zoom, sensitivity up to ISO 1000, a 3-inch LCD and Super Steady Shot optical image stabilization.
Goodwin, who just finished a stint at Middlesex Community College in Connecticut, first became interested in photography during her junior year of high school while taking a basic black and white photography course.
"I think the best part was developing my own pictures and watching them show up on paper in the darkroom for the first time," Goodwin says. "Afterwards, I found myself spending most of my time in the photography classroom and darkroom."
When asked about her photography aspirations, Goodwin says she'd like to pursue a career behind the camera, with a focus on commercial, fashion or portraiture photography. She is currently in the process of looking for a four-year college that specializes in a photography degree.
As for the ballerina in the photo, Goodwin says she's actually one of her two sisters. The winning image is but one image in a stunning black and white photo essay that reflects the inner concentration and grace of ballerinas. "Dance is my second passion and I like to show it through my photography," she says. " This project was part of my final exam project for school. I spent about two weeks on it, which includes the time I spent on developing the film and printing."
So how did she rustle up more than 2000 votes? "I told my sisters about it and they pretty much promoted it for me by contacting everyone they know," Goodwin says.
The sponsor of the College Photo Contest, Sony, supplied each of the weekly winners with a DSC P200.
The next round in PopPhoto.com's College Photo Contest is slated to start during the early part of the fall semester. Stay tuned to www.PopPhoto.com for more details.