The Photographer's Guide to TV
The best high-def sets for when you want to watch something great -- your photos.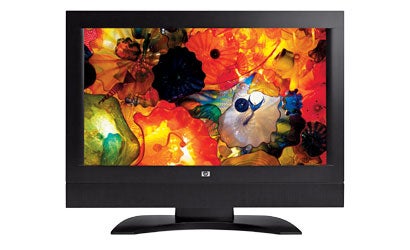 We may earn revenue from the products available on this page and participate in affiliate programs. Learn more ›
Shopping for a television is confusing enough without worrying about which one will be best for showing off you
While any high-definition TV will give you better picture quality than a standard TV, you should still be choosy, since not all HDTVs have the same resolution. Look for 1920×1080 pixels if you want the cream of the crop — that's more than five times the equivalent resolution of your old standard-definition TV. Also, make sure it has enough inputs for the sources you own or plan to buy, such as your cable or satellite box, a DVD, Blu-ray, or HDDVD player, laptop or multimedia computer, or memory-card reader.
Your Own NetworkHP MediaSmart SLC3760N 37-inch LCD HDTV
Got a home network? Or better yet, a wireless network? HP's 37- inch MediaSmart HDTV supports Wi-Fi 802.11n and wired ethernet networking, so you can view JPEG images from your home-office computer, or your Snapfish account, without moving your computer into the living room. It also plays MP3, WMA, and WAV music files, as well as various video formats, such as MPEG-4, AVI, and H.264. MP3 and video playback is courtesy of Windows Media Connect and is even compatible with copy-protected content from Napster and Rhapsody. There's only one HDMI input for digital HD sources, but a pair of HD component inputs takes up some of that slack, while the two S-Video and two composite video inputs accommodate non-HD sources. Some might balk at the 1366×768-pixel resolution, but for a 37-incher, that should be plenty sharp. Expect larger screen sizes with higher resolutions from HP this summer. ($1,500, street; www.hp.com)
Looking goodSony Bravia KDL-40XBR2 40-inch LCD HDTV
Style is one reason Sony's among the most recognizable brands in the world. Consider, for instance, the clear border around this 40-inch flat-panel's silver bezel. This LCD model also boasts 1920×1080- pixel resolution with progressive scan — the most you can expect of any TV today. Plus, while most LCDs serve up the color black as a washed-out gray, this Bravia produces great colors and deep blacks that come close to the deep, lush black you can get from the best plasmas. Inputs include three HDMI and two component, so your current gear should be covered. And with a 15-pin PC input, you can easily hook up a laptop or home theater PC for slide shows. ($2,395, street; www.sonystyle.com)
Bang for the buckPanasonic PT-61DLX76 61-inch DLP HDTV
Want a big screen at a good price? Your best bet is a rear-projection (RP) TV. This 61-incher costs under three grand, and uses Texas Instruments' DLP (Digital Light Processing) light engine to create its images. Like most DLP RPTVs, this set's DLP chip has 960×1080 actual pixels, but effectively doubles them by shifting them quickly back and forth for each frame it displays — a process called wobulation. The result: a 1920×1080-pixel, progressivescan display. Strangely, Panasonic caps the PT-61DLX75's 15-pin PC input at a resolution of 1280×1024, so if you plan to put on a slide show, stick with the built-in SD card slot or opt for a computer with an HDMI output. The rest of the inputs — including two each of HDMI, component, S-Video, and composite video — are plenty for most home theaters. And if you're tight on space, the 18.9-inch thickness is a godsend. ($2,995; www.panasonic.com)
Flat-out versatilitySamsung LN-S4096D 40-inch LCD HDTV
While many rear-projection TVs have card readers, it's hard to find a place for one in a flat panel. Samsung gets around that issue on this 40-inch set by including a USB port so you can connect a USB flash drive or memory card reader to bring up JPEGs and play MP3 music files. This LCD packs 1920×1080-pixel, progressivescan resolution, deep blacks, and a 178-degree-wide viewing angle. Its two HDMI and two component video inputs also provide plenty of options for HD sources, while the 15-pin PC input offers another option for slide shows from most computers or laptops. ($2,195, street; www.samsung.com)
Picture perfectPioneer Elite Pro-FHD1 50-inch plasma HDTV
Pioneer's Elite plasmas are truly elite. With 1920×1080-pixel progressivescan resolution, this 50-inch flat panel gives you a beautiful picture and a wide viewing angle. Like Panasonic's pro line, this Pioneer packs full RGB color controls, so you can calibrate it to match your computer. Instead of the usual 15-pin computer connection, this one has pro-caliber RGB+HV and DVI-D computer inputs, so you'll need an adapter to use it with your PC. ($5,500, street; www.pioneerelectronics.com)
Tech one lookSony KDS-R60XBR2 60-inch SXRD HDTV
Sony's rear-projection SXRD models use three LCoS (Liquid Crystal on Silicon) chips, one for each RGB color channel, to provide a stunning 1920×1080-pixel, progressive-scan picture without interpolation. Deep blacks and ample shadow detail? It's got 'em. For all your video and media-center computer sources, it has three HDMI (1080p) inputs, including one on the front for your new hi-def camcorder, as well as a 15-pin PC input. And at just 20 inches thick, it takes up less space than traditional CRT rear-projection units. ($2,895, street; www.sonystyle.com)