Photo Ops for November
Capture geese on the wing and aliens on the march -- where to go and what to shoot in November.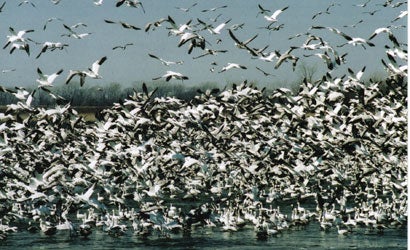 Take a GanderWhere: Squaw Creek National Wildlife Refuge, MO. When: Mid-November to early December. What: Snow and blue geese make dazzling mass flock migrations, often with 20,000 birds in the air at once. With its shallow marshes, Squaw Creek draws one of the largest groupings along their midwestern flyway. Tips: Water conditions determine where the birds will flock, so call the refuge in advance for locations. With hunting season on, the birds are very wary, so bring a zoom lens — 300mm, at least. Info: www.fws.gov/midwest/squawcreek; 660-442-3187. Autumn LeavesWhere: Arkansas Delta Byways, AR. When: Early to mid-November. What: Stunning foliage displays, with deep crimson blackgum and sweetgum, orange-and-gold sassafras and maples, and bright yellow hickory. Tip: Because foliage peaks at different times throughout the region, the state Parks and Tourism department posts spotters' reports online each Thursday. Info: www.arkansas.com/calendar/fall_foliage.asp; 800-628-8725. Doo Dah ParadeWhere: Pasadena, CA. When: November 18. What: Founded in 1976 to poke fun at the city's Tournament of Roses, this zany parade mixes satire with ingenuity — a fleet of pastel Edsels clears the way for stilt-walking, fire-breathing politicos, giant aliens, and cowboys on a motorized couch. Tips: The parade starts at 11:30 a.m., but come an hour early to Memorial Park Station for the chaos of setup. Then go to the corner of Raymond Ave. and Colorado Blvd. for a good angle as the parade passes by. Info: www.pasadenadoodahparade.info; 626-205-4029.