My Project: Stormy Weather
Jim Reed can't change the weather, but he photographs how it changes all the time.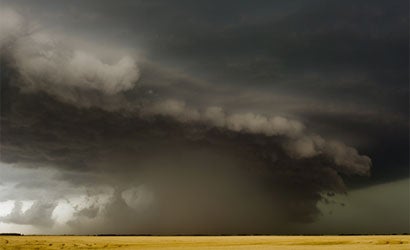 Jim Reed's weather obsession began while growing up in Springfield, IL, known for its blizzards and tornadoes. Raised an only child by his mother, he felt a need to protect them both. At age nine, he started shooting storms and keeping a weather journal. "When you're trying to stay safe, you're more aware of your surroundings," he says.
Today, Reed, 45, shoots weather full-time. He is on the road year-round as a freelance stormchaser for clients ranging from private scientific firms to The New York Times and National Geographic. He's fled Category 4 hurricanes several times — once, he even videotaped his goodbye to his mother under a carport as trees and homes were uprooted around him. His photographic specialties read like the departments of Hell: "Lightning, blizzards, floods, tornadoes." Yet he also loves capturing rainbows — "Every single one is different" — and thinks that serene subjects, such as fog, are beautiful.
Reed's personal project, begun 15 years ago, is documenting the changing climate over 30 years in 10-year intervals. He's most interested in the effects of global warming. "We're having more extreme weather now, more intense and more violent and frequent. There are changes we've never seen occurring," he says. "They can be survived meteorologically, but only if we're well informed."
He maintains that the scale of destruction in hurricanes such as Katrina in 2005 and Floyd in 1999 could have been prevented had residents accessed weather services directly. "I want to be a proactive voice that encourages people to pay daily attention to their climate."
Photographing it, he adds, is a good way to be your own forecaster — from everyday rain to severe storms. It's also a way to get incredible shots: Check out his tips below.
For more of Jim Reed's photography, visit www.jimreedphoto.com.
1 Start in your own backyard. Safety comes first, Reed says, and warns that tornado-chasing is not for beginners. Neither is lightning — pretty as it looks, it's never safe to be out in. Instead, shoot weather with dramatic textures and colors — like the sky just before a storm, or a thick blanket of fog, or rainbows.
2 Use filters. Reed's top three: Graduated neutral-density filter: "This balances your exposure of the sky with the ground," allowing you to maintain detail in both bright and dark areas. UV filter: Essential for shooting fog or snow. Also be sure to bracket, and watch the white balance — your camera will want to overexpose. Circular polarizer: This enhances colors in rainbows, sun dogs, and iridescence.
3 Pack a big card. 2GB at least. You don't want to run out of memory and miss a once-in-a-lifetime shot.
4 Hold steady. Be prepared for wind. Vibration-reduction technology helps, but you'll need a tripod.
5 keep informed. Get an NOAA weather radio. Starting at $25 (street), these tell you where to pick up unusual weather, and also warn you where severe weather will strike.