My Project: All In a Name
Photographer Gary Gladstone takes a road trip that proves it's all in the name.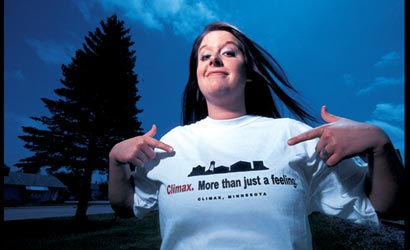 "Trying to put together a picture in 15 minutes and make a portrait in two hours was a challenge," says Gary Gladstone. For his books, Passing Gas: And Other Towns Along the American Highway and its recently published follow-up Reaching Climax (Ten Speed Press; $20, each), he traveled nearly 80,000 miles across the U.S., shooting over 115 small towns with names that range from ridiculous to unbelievable: like Gas, KS; Idiotville, OR; Big Ugly, WV; and Climax, MN. "Charging into town like a lone ranger, you don't know what you're going to find."
Starting out, Gladstone wasn't sure what to expect from residents who refer to themselves as "Goobertonians" or "Pee Weenians" — an ironic wit or grim sense of despair? As it turned out, he didn't have too much trouble getting subjects involved. "I'd engage these people in 15 minutes," he says. "They almost always got the idea. Everyone thought it was a humorous project."
Digging up a portrait subject in a small town you've never been to isn't even the hardest part. You have to pore through maps of tiny, out-of-the-way towns. Drive for five hours straight, eating nothing but snacks, until you roll up somewhere like Rabbit Hash at 3 p.m. And once you've coaxed someone into posing, you have to turn it into a portrait. Not just an ordinary portrait, but something that tells a story: about the town you're in, about its locals, and how this particular person feels about growing up in Boogertown.
Sometimes it's easy, like when Gladstone pulled up into Dickshooter, ID, and immediately saw the town's mayor riding on horseback with a rifle slung over his shoulder. "All I had to do was get out and load the camera," Gladstone says. Mostly, though, you have to be a little crafty — like when you're shooting someone without a studio setup in a fluorescent-lit hair salon, or when your subject goes to get lunch and never returns.
Above all, you need to be quick-thinking — especially if, like Gladstone, you're operating on a limited budget. From Pigs Ear to Prettyboy, here's how to make a road-trip photo album that really takes you there:
1) Don't just say, "Relax." As Gladstone says, "If you tell people to relax, they have no idea what you're talking about." Instead, to make nervous models at ease, try to put yourself in their shoes. What do they want to hear? Things like how great they look, and how amazing the picture will be.
2) Be spontaneous. "If you've got the light, get the shot," Gladstone says. Your potential subject might change his or her mind overnight or even in the time it takes to get a cup of coffee.
3) Have a plan. Going into the unknown unprepared can be intimidating, Gladstone admits. "I think, what the hell am I going to shoot? I have no idea how it's going to look." So he makes little pencil sketches of possible scenarios to shoot on a location. He's never used one, but having that emergency backup relaxes him and makes him feel more confident.
4) Improvise. When Gladstone found himself sorely needing a reflector, he went to Home Depot. Twelve bucks bought him some insulation, plastic wrap, rubber cement, and a can of gold spray paint — a little while later, he had his own homemade substitute.
5) Pack wisely. Some of his essentials are Limodyne battery packs (very reliable), road cones (for safety shooting on roadsides), a stepladder, and "snacks up the wazoo."