Mother's Day Gift Guide
Flowers are fine, but show Mom you really care with one of these nifty photo gadgets.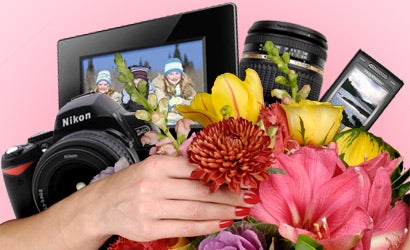 Here's a photography trivia question for you: What are the people most likely to buy a camera, take a picture, or print a photograph most likely to be called? Answer: "Mom." Market research confirms what you might already have noticed: Women buy the most cameras, and take and print the most pictures. And many of the women doing all that shooting are mothers.
But picture-taking mothers run the gamut, from pro and semi-pro photographers who happen to have kids, to occasional snapshot takers, to family photographers who wake up one day and realize they want something more than a point-and-shoot.
Whether your mother is the next Mary Ellen Mark or just likes to share family snapshots, you should be able to find something that she will enjoy — and that you can afford — among the following 14 selections.
Happy Mother's Day, mom!
Keep reading below, or Click Here to launch a slideshow of gift ideas for Mother's Day.
Nikon D40
If mom is feeling unsatisfied with her point-and-shoot lately and you want to go all out this Mother's Day, get her a digital SLR. This 6-megapixel model provides a good combination of manual and automatic shooting modes, and of course it's compatible with a wide range of high-quality lenses and accessories from Nikon and third-party vendors. Its very compact size and light weight make it a good choice for someone who's used to shooting with a pocket camera and doesn't have large hands. The D40 is also one of the most affordable digital SLRs around.
About $600 with an 18mm-55mm lens. Get more information on the D40.
Photo Postage Stamps
Numerous Web sites let you create and purchase U.S. or Canadian postage stamps that feature your own photographs. Stamp sizes vary slightly among the Web sites that sell them; their image areas generally measure 1.1×1.1 to 1.2×1.7 inches. Creating the stamps entails a straightforward process of uploading a photo, selecting an image border, and picking a postage value for each of the stamps to carry. Once you upload a photo, it appears in a stamp template so that you can rotate, zoom, or flip the image if necessary. Some sites also sell gift certificates.
Pricing varies according to postage value and number of stamps purchased. See the following sites for details:
http://photo.stamps.com/
http://www.zazzle.com/
http://www.yourstamps.com/
http://www.canadapost.ca/
Canon Selphy ES1
This 4×6 dye-sub printer is built for portability, with an integrated handle, an optional battery, and an internal paper and ribbon compartment. The ES1 creates smooth, detailed prints with vibrant colors, and Canon makes both color and black-and-white paper-and-ribbon packs for it. It can output photos on calendar pages, index sheets, and labels. In addition to memory card slots and a retractable mini-B USB cable for connecting to PictBridge-compatible cameras, the ES1 has a USB port for connecting a flash memory drive, a Bluetooth adapter for receiving camera phone images, or a PictBridge-enabled WiFi adapter to receive photos from a WiFi-enabled camera such as Canon's own SD430. The printer can also receive camera phone images directly via IR. There's a tilt-up LCD for displaying photos and making adjustments, including automatic dynamic range correction, numerous color effects, and redeye removal. Your mom will pay a relatively low cost for supplies too, at about 28 cents per print.
About $250
www.usa.canon.com/consumer
Sony Ericsson Cyber-shot K790
This 3.2-megapixel autofocus camera phone borrowed its design from Sony's line of ultracompact Cyber-shot cameras, and ended up with one of the best, most intuitive user interfaces in the world of camera phones. Turning the phone to a horizontal orientation and flipping its lens cover open transforms it into a snapshot camera. It has a bright Xenon flash instead of one of the less powerful LEDs commonly found on camera phones, as well as a Memory Stick Micro slot for saving images. Its PictBridge support will let your mom send photos directly to a compatible printer via USB, and preloaded blogging software will let her upload them straight to the Web. The K790's camera function includes a nice selection of automatic shooting controls, including Sony's BestPic mode for capturing a burst of eight full-resolution images. The device also runs a Java platform that supports numerous third-party mobile imaging applications, which your mom can load onto the phone if she gets bored with the built-in functions. The K790 also incorporates music and video players, a Web browser, and FM radio. Just make sure your mother's cell phone service uses a GSM network (if there's a SIM card in her phone, it's GSM). Cingular and T-Mobile both do.
$400 from Sony's Web site.
Crumpler 3 Million Dollar Home
Crumpler's camera bag designers eschew the typical black-fabric-and-zipper-tags look, taking a more stylish approach. The 3 Million Dollar Home shoulder bag has a water-resistant nylon exterior, external and internal pockets, and a padded brushed nylon interior with a configurable divider. It's sturdily constructed, but it has enough panache to replace a purse. It also won't announce to passersby that mom is carrying expensive camera equipment. The 3 Million Dollar Home is large enough to accommodate a compact SLR and comes in blue, red, black, and taupe. Crumpler makes Million Dollar Home bags in six other sizes, as well as a Brazillion Dollar Home.
$42
www.crumplerbags.com
Gitzo Traveler
These carbon fiber tripods are so compact and lightweight when folded up that they're easy to carry in a shoulder bag or even a large purse. The GT1550T and GT1540T Travelers weigh just 2.2 pounds but can support an SLR with a telephoto lens. Their legs fold 180 degrees to enclose the head when they're closed. That gives the five-section GT1550T and four-section GT1540T folded lengths of just 14 and 15.4 inches, respectively. Their twist-lock legs extend to bring them to maximum heights of 57.5 and 55.1 inches. For shooting close to the ground or making the Travelers even lighter, the center column can be reversed or removed. It also has a hook for attaching a weight to increase the tripods' stability. The GT1550T comes with a small ball head, while the less expensive GT1540T simply has a screw-mount platform for attaching a head or a camera directly.
GT1550T: about $640
GT1540T: about $560
www.gitzo.com
Vivitar 285HV
If your mom has an advanced camera but is still making do with a pop-up flash, the recently reissued Vivitar 285HV will give her a whole new take on flash photography. It's compatible with any camera with a hotshoe, and, unlike other flash units, it falls within what most people would consider a reasonable Mother's Day gift price range. Plus, it was a popular flash unit for decades before it was briefly discontinued, so it may be the same model your mom was used to using before she had to give up her photography hobby to change your diapers.
$90
Read a full review of the Vivitar 285HV .
Phanfare Lifetime Subscription Gift Certificate
The Phanfare Web gallery site takes the hassle out of creating and updating online photo albums by uploading images automatically from members' computers. It also archives all uploaded photos at full size, and they can be retrieved via the Web or sent to your mom on DVDs in case of a home computer disaster. Phanfare offers all the usual Web-gallery features — print and gift ordering, basic image editing tools, a selection of album styles — but also exceeds the offerings of run-of-the-mill competitors with advanced features such as video clip hosting, customizable slideshows with music and video that can be downloaded to run as screensavers, and photo sharing via RSS feed. Its album designs are attractive, customizable, and ad-free. Phanfare's automatic features and live phone support make it a good option for less computer-savvy mothers, while its advanced tools will accommodate mothers who are already at home on the Web. Gift certificates for lower-priced annual and six-month subscriptions are available, but a lifetime account will give your mom unlimited photo storage and sharing tools that she'll never have to renew.
$300
www.phanfare.com
LumiQuest Soft Screen
If your mom shoots with a digital SLR with a built-in flash, but an external flash unit is beyond the range of your Mother's Day budget, get one of these and slip it in a nice card. It's a diffuser that will take the edge off the pop-up flash. The 4×4-inch screen fits over the flash on most SLRs.
$13
www.lumiquest.com
Digi-Slave or Vivitar Ring Light
If your mother likes macro or still life photography, give her more creative possibilities with a ring flash. SR Electronics' Digi-Slave ring lights fit lenses with a wide range of diameters. They have variable power dials for controlling light levels, and can be turned on continuously or triggered to flash by a PC sync or hotshoe connection. The priciest Digi-Slave has two side lights on flexible arms. Vivitar's basic but very affordable 5000 Macro Ring Flash fits lenses with 49mm to 55mm diameters and is triggered by a PC sync connection. (Throw in a hotshoe-to-PC-sync connector if your mom's SLR doesn't have a PC sync port.)
Vivitar 5000 Macro Ring Flash: $70
SR Electronics Digi-Slave ring lights: $130-$400
www.srelectronics.com
Tamron 18-250mm f/3.5-6.3 LD AF Macro IF Di-II
This lens will bring a lot of flexibility to your mom's digital SLR, with its 28mm-388mm 35mm-equivalent focal length range and macro shooting capability. It's still compact and lightweight, with quick, quiet autofocus action, and it performed well in our lab test. Tamron makes the 18-250mm f/3.5-6.3 LD AF Macro IF Di-II with Canon, Nikon, Sony, Pentax, and Samsung mounts.
About $500.
www.tamron.com
See the PopPhoto Lab Test of this lens.
Fujifilm FinePix F40fd
Mothers who take lots of snapshots in the subdued light of the living room should be pleased with the results they get from this 8-megapixel pocket camera. Its image quality remains high even as its light-sensitivity setting rises toward ISO 2000 to capture low-light shots without a harsh flash, and when the flash is turned on, its Intelligent Flash system does a good job of setting the right level. If your mom isn't sure which approach will work best, she can use the dual shot mode to capture one photo with flash and another without in a single press of the shutter release. The F40fd's face-detection system also works well, adjusting focus and exposure to capture good-looking shots of people. This camera even has infrared image-transfer technology to send shots to other IR-Simple-compatible devices. The F40fd has a 36mm-108mm (35mm equivalent) f/2.8-5.1 3x zoom lens and a 2.5-inch, 230,000-pixel LCD. It comes in blue, silver, and gunmetal gray.
About $275
www.fujifilm.com
Olympus Stylus 770SW
If your mom is an outdoorswoman, this 7-megapixel model may be the pocket camera for her. She can take it diving down to 33 feet below the surface, drop it from a 5-foot height without breaking it, and use it as an LED flashlight to find her way back to camp. And if you look incredulous when your mom tells you about her mountain-climbing and diving exploits, she can set you straight with the depth and altitude EXIF information that the 770SW's manometer records. The camera offers 27 shooting modes and light-sensitivity settings as high as ISO 2500. The Stylus 770SW has a 38mm-114mm (35mm equivalent) f/3.5-5.0 3x zoom lens, sensor-shift optical image stabilization, and a 2.5-inch, 230,000-pixel LCD. It comes in blue, bronze, and silver.
About $350
www.olympusamerica.com
PF Digital eStarling 2.0
This wireless digital picture frame has its own e-mail address for receiving photos to display. The eStarling 2.0 is equipped with an internal WiFi antenna so that it can connect to a home wireless network to receive images that are sent directly to it from an e-mail account, a camera phone, or another eStarling frame in a remote location. The frame can also receive images via an RSS feed and publish images it has received on the Web. The frame features a 7-inch widescreen LCD, memory card slots, and 128MB of onboard memory.
$249
www.estarling.com