Lensbaby Tutorial
Limit your focus with a Lensbaby, and you'll transform the world around you.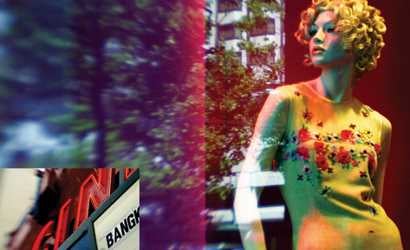 "I think people have moved away from the joy and beauty of manual photography," says 44-year-old Heather Champ, whose Lensbaby is her most-used optic.
While most photographers shooting with a Canon EOS Digital Rebel XTi employ all of the optical technology at their disposal, Champ prefers this simple lens that's mounted in a flexible housing with a bellows. A Lensbaby tilts, compresses, and expands, giving a new meaning to "manual photography."
With a Lensbaby, you move the lens barrel around to select a point of focus. Aperture is determined by a flat ring you stick to the front of the lens. The results have a sharply focused "sweet spot" surrounded by blurred, colorful backgrounds. And with Lensbabies ranging in street price from $96 to $270, they've captured the imagination of photographers since their introduction in 2004.
A photo enthusiast for more than a decade, Champ is a San Francisco resident who works as a community manager at Flickr.com, and she finds the Lensbaby look inspiring.
"You can direct the eye, using stationary objects and all the objects around it, to engage and make the composition interesting," she says. "Your subject is static but surrounded by the implication of movement."
Saturday mornings, she wakes up, puts on her iPod, and roams the city with a Lensbaby mounted on a DSLR, set to manual mode. (Depending on the model, you can shoot only in manual or aperture-priority.)
Choosing the best point of focus and aperture takes concentration. "It makes you think about your images," says Champ. "You're more involved in the process. I take 5 to 10 shots of the same image, moving the focal point to see what works."
This go-slow approach has helped her see her city anew. For example, there's an artist who paints landscapes on cassette tapes and glues them to walls around the city. "I never would have noticed it if I hadn't taken time to stop and photograph," she says. Here are some of Champ's Lensbaby tips. (Check out her photography at www.hchamp.com. For more on the lenses, go to www.lensbabies.com).
1. Understand aperture. The wider the aperture, the more pronounced the blur as the sweet spot shrinks. Shoot the same subject at different apertures.
2. Shoot stationary. Moving objects are tough to compose with a Lensbaby's selective focus, whereas it can make static subjects dynamic. So stick with stationary or slow-moving subjects, such as architectural and landscape details, street art, and patterned objects.
3. Practice in bright light. "It's very hard to focus in low light," Champ says, so teach yourself in daytime.
4. Then bring on the night. Nighttime's colorful lights produce bright streaks and interesting shapes. Lensbaby's Creative Aperture Kit ($10) lets you make custom-shaped apertures, allowing you to experiment even more.
5. Be patient. "Don't expect to put it on and immediately take great photographs," Champ says. The Lensbaby can be tricky to maneuver and hold in place, and it takes practice. To master it, Champ says, "shoot continuously and often."