I Hope Wherever You Are, It is Always the Golden Hour
Readers share their thoughts on the passing of Herbert Keppler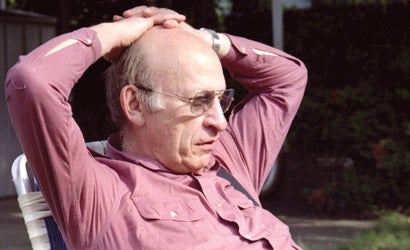 Over the past week, we have received a vast amount of email, forums postings, and blog comments from readers wishing to share their thoughts on the passing of Herbert Keppler. We've collected a selection here, along with some quotes from longtime friends, writers, and journalists posted around the internet. Please visit our forums or Burt's Speaking Frankly blog to leave your own tribute to Herbert Keppler. We've lightly edited some comments for spelling and punctuation on these heartfelt messages from friends and fans.
"Thank you, Burt. You taught me the little bits of arcana, about little-known pieces of gear, about little used techniques. You gave me a history of the art. Thank you, and Godspeed."
-Pop Photo Forums
"[He is a] man who influenced a multitude of photographers and others will be greatly missed."
-Pop Photo Forums
"Herbert Keppelr has been my photo icon since 1975 when I first read his column in Modern Photography. I exchanged a letter with him in the early 1980s, and found him to be a real, down to earth person. He will truly be missed, and never forgotten."
-Pop Photo Forums
"He was such an inspiration to budding photographers. His writing style is unique, unpretentious and easy to understand. Each month, when I get my Popular Photography, I read his column first. I will miss him immensely."
-Herbert Keppler's Speaking Frankly blog
"Fair Winds and Following Seas, Burt"
-Pop Photo Forums
"His column has been my favorite in Popphoto. May his legacy live on."
-Pop Photo Forums
"Mr. Keppler's column opened my eyes in the world of photography. I will miss his unique ideas that I used to look forward to when I received a new issue of PopPhoto. My condolences to his family and friends."
-Pop Photo Forums
"I too will miss his monthly column. Truly one of the great ones. I have never been one to get autographs or worship the famous, but I felt gratified to have had one of my questions (about the old Rollei factory in Singapore) answered personally by Mr. Keppler. [I'm] also glad now that in the thread where we listed our favorite photographers, I chose Keppler as mine."
-Pop Photo Forums
"I have followed Mr Keppler's articles since I started back in photography in 1974. In those days he was with Modern Photography. Maybe three or four times I didn't agree with his ideas, but I never read one of his articles without finding food for thought. Usually I was enlightened or inspired or enthralled. He was a giant who walked with other giants in photography. I just can't imagine opening a copy of PP&I and not turning to his article. The first two I always look at are his and Time Exposure. Then I could see what else was of interest. I am very sad to hear he has left us. I add my own condolences to the family. They will be in my prayers."
-Pop Photo Forums
"I will never forget how Burt Keppler gave me my first big break in the photo industry, and how he opened many doors for me during the time we knew each other.
I am honored to be able to say that I called him Burt."
-Mason Resnick, Adorama News Desk.
Read his full tribute
"I began my interest in photography in 1956 (at age 10). I don't recall exactly when I started subscribing to both Popular Photography and Modern Photography, but I do recall that Herbert Keppler's columns were always a favorite of mine – from the first time I read them. Like many others, I gained much insight and found food for thought from Mr. Keppler's writings. He will be missed. My sympathy and condolence goes out to his family and friends."
-Pop Photo Forums
"I began reading Modern Photography in 1961, and Herbert Keppler's column, "Keppler on the SLR," was the only reason I made the move to buying my own single lens reflex as soon as I did. His columns were always informative, yet written in a down-to-earth style that I always admired. My deepest condolences to his personal and professional family."
-Pop Photo Forums
"I can't remember not reading Mr. Keppler's column. It was always the first thing that I read when Modern and then Popular came. His column was always down to Earth and free of pretense, and always informative. I will miss him."
-Pop Photo Forums
"The thing that I've always admired about his columns is his 'insider' perspective. No matter how much you know about a brand, or thought you knew, Mr. Keppler always had something interesting that, I dare say, no one else knew. His constantly sharing of these tid-bits was a monthly present. He will be missed by all who read his work and admired him personally."
-Pop Photo Forums
"My condolences to his family here at POP and his family back home. What a great loss to the photographic community. He will be missed."
-Pop Photo Forums
"I'm one of those people who reads a magazine from front to back, no deviations, no jumping back and forth. With one exception – Herbert Keppler's column always was first. It was always like a conversation with a friend and he'll be sorely missed. My condolences to his family and those others who knew him personally."
-Pop Photo Forums
"My heart is very saddened by the new of Burt's death. I was an assissant secretary to Burt at Modern Photograhphy many years ago. He was the sweetest, most kindest man I have met, and over the years, I have thought of him often. I'm just sorry I didn't get to see him again since he left MP. You will always be in my heart– Kathy Knauer" Speaking Frankly Blog
"Mr. Keppler's inside straight was my favortite part of the magazine. His articles were the reason I became a subscriber so I wouldn't miss one. To his family you have my prayers."
-Pop Photo Forums
"Mr. Keppler was the first author of a book on photography I ever read. As a boy in the 1950's, I borrowed his "Keppler on the Single Lens Reflex" from the library and hogged it for a whole year.
-Pop Photo Forums
"It was his column in Modern Photography that I always read first, and to this day I love his irascible style and pragmatic viewpoints. I only regret that I never met him in person. May your Soul rest in peace, Mr. Keppler."
-Pop Photo Forums
"I can't express how my heart sank reading this post. Who can ever hope to replace him, I don't envy that person."
-Pop Photo Forums
"We only met Mr Keppler a few times, but we enjoyed our conversations with him immensely, and found him to be a warm, generous person with a genuine passion for photography and the photographic industry and a wealth of knowledge and experience. His passing is a real loss for the photographic community."
-DPReview
"Readers in Brazil will miss him and his articles a lot. He was the best!"
-Pop Photo Forums
"The news hit me in the face like a brick. He will be missed."
-Pop Photo Forums
"In September 1968 I started my journey into photography at age ten. I remember reading Herbert's articles in Modern Photography. I will miss his wit and knowledge and the contribution he made in the field of Photography."
-Herbert Keppler's Speaking Frankly blog
"As with many others, my introduction to serious photography began with reading both Modern and Pop back in the spring of 1975. Burt's column was the first (and frequently the best) reason for me to open the pages, even if I wasn't particularly motivated to read a magazine that day. His knowledge and humor were a huge influence on me, and I know that I will miss him and his contributions.
I got to meet Mr. Keppler back in June of 2006, when I visited the Pop offices in Manhattan. He was a very kind, courteous and welcoming gentleman with a very modest attitude. He was a true gentleman, and I will miss seeing his insights in print every month.
Lovers of photography were enriched by Burt Keppler and his contributions. We are all made a little poorer by his passing."
-Pop Photo Forums
"Rest in Peace Mr. Keppler. It is a sad day indeed for photography. I'll miss his thoughtful critiques of photography and its companies, his simple, yet elegant explanations of photography and, in general, him."
-Pop Photo Forums
"I've been reading Burt's columns since I first got interested in photography around 1971. Even at my then-young-age, I recognized a no-nonsense, nuts & bolts kind of guy who had a unique way of combining the art of photography with the equipment — he was always about getting a picture, was never snobbish, and would use any piece of gear as long as it made the photo he wanted. He was, and always will be to me, the model of what a "photo enthusiast" should be.
It's hard to imagine that after reading his thoughts every month for 36 years that there won't be any more. He'll be greatly missed at my house…but has left a legacy that will long outlive his mortal body.
Thanks, Burt."
-Pop Photo Forums
"Throughout my photographic life, he has always been an inspiration and source of direction. Goodbye to one of the greats."
-Herbert Keppler's Speaking Frankly blog
"This is sad news. I used to read Herbert's articles every month in Pop Photo. I will miss his insights and the wisdom of his experience and talent."
-Pop Photo Forums
"Wow. I don't know what to say. I just came in from taking pictures with my old 35MM Contax, and this hits me. I'm at a loss for words, other than to say that I was truly inspired by him. The world is truly a little less of a place with his passing.
I hope only comfort upon his family and pray that they will know that there are a great many people who also mourn his passing, and respect his wisdom and art.
Just sign me: A true fan."
-Pop Photo Forums
"Sad, sad news! I began reading Herb since the mid 70's and in the beginning I followed everything he wrote. Over the years, I don't always agree with him but I always enjoy reading his column. His passing is a great loss to us all."
-Pop Photo Forums
"There's nothing I can say……………………………………………"
-Pop Photo Forums
"I am so sad. I will think of Mr. Keppler every time I look through the "Fisheye" lens that he loved so much and wrote about in the last column. His columns were always something to look forward to no matter how badly my life was going at the time."
-Pop Photo Forums
"Burt Keppler was one of those people I always felt like I knew. It would have been a singular pleasure to meet such a friend to us photographers in person. God be with you and your family."
-Pop Photo Forums
"Mr. Keppler has been a key source of information and inspiration for me for many years. Though I know him only through the pages of Modern and Popular Photograhy, I never missed a single column. I am truly saddened by his passing. Thank you for years of inspiration."
-Herbert Keppler's Speaking Frankly blog
"Goodbye, H.K. Thank You."
-Pop Photo Forums
"I first read Mr. Keppler's columns as a teenager and really liked them because they were full of practical, down-to-earth stuff I could understand and put to use. I continued reading his columns through the years and always appreciated his honesty and forthrightness about the good, *and* bad products within the photography industry. His wisdom will certainly be missed and I wish to express my condolences to his family. Bon voyage."
-Pop Photo Forums
"My sincere sympathies to Mr. Keppler's family and friends. His passing
marks the end of an era for PopPhoto; he was the last of the old guard at
PopPhoto who showed me how to enjoy photography when I was young."
-Pop Photo Forums
"Mr Keppler…thank you. I hope wherever you are, it is always the 'Golden Hour'."
-Pop Photo Forums
"I've enjoyed reading his columns since the 80's when he was with Modern Photography. He will be sorely missed. Rest in peace my friend."
-Pop Photo Forums
"While his contributions to the photo-imaging industry will live on, Herbert Keppler, the man, will be sorely missed."
PhotoReporter
"It seems I have been reading Herbert Keppler's photographic writing all my life – I will be 70 this year – and I seldom came away disappointed with the experience. It was as though I had a wise uncle to guide me in my photographic development. The news of his death is shocking. I will miss him as I would miss a beloved member of my family. My thoughts and prayers are with Mr. Keppler and his family today. May there be SLRs in heaven."
-Pop Photo Forums
"I was reading Mr Keppler in Modern Photography days, then in Pop and had the chance to meet him at Photokina in 1989– if memory is not at fault. His energy and openness to everybody was impressive. The world has lost a good soul, photography has lost a Friend. But his work and articles will prevail, that's a legacy we still can share. Be in peace wherever you are Mr. Photography."
-Pop Photo Forums
"Who's going to tell us about the old days now? Recently I've been wondering what to do with most of 11 years of PopPhoto issues – I guess I'll wade through them and read Herbert's columns."
-Pop Photo Forums
"Like others, I have read Keppler since the early 70s while he was still with Modern Photograpy. I was chagrined when all of a sudden he disappeared from its pages (maybe I missed an announcement), but soon learned that he had moved to Popular Photography, as I then did in terms of subscriptions. Again, like others, his was the first column/article that I turned to when a new issue arrived. When he wrote about an issue relevant to me at the time I took it as gospel since it was not filled with the normal obligatory superlatives, but with the raw facts, both good and bad. I knew that I could depend on what he was saying. And I too received personal responses from him to questions/issue that I addressed to him. Although my more recent queries were sent via email, he continued his hard copy responses. With his passing so passes an era in photography. I will miss his presence immensely."
-Pop Photo Forums
"I have been a reader of Mr. Keppler's writings since I was a teenager. He could always be counted on for down-to-earth, usable advice and a balanced perspective. I loved reading "Hurrah!" when something pleased him. PopPhoto, with all due respect to a fine magazine, just will never be the same."
-Pop Photo Forums
"It never occurred to me that I'd read Herbert Keppler's obituary one day. He was always "there," every month, like a fixture. I am stunned to hear that he is gone. He was a wonderful man, a mentor to me and certainly many others. Although I never met him, I always felt as if I knew him well. I supposed that was his writing style; it always seemed as if he were inviting you into his living room to chat about cameras once again. We will miss you, Mr. Keppler."
-Pop Photo Forums
"Having read Modern Photo and now Pop Photo for years I grew to really admire Mr. Keppler. He was the type of guy you wanted to be friends with. He will be sorely missed."
-Pop Photo Forums
"For those of us who have read and learned from Herbert Keppler, it is sad news indeed. His many insights and entertaining discussions of photography issues inspired his many readers, and he cannot be replaced. With digital photgraphy still in its infancy, there are so many technological strides yet to be made. We can only hope that he'll be looking down and taking notes on the industry he has covered so well for so many years. "
-Pop Photo Forums
"After reading Herbert Keppler's column for almost 40 years, first in "Modern Photography" and later in "Popular Photography," future editions of "Popular Photography" just won't be the same without him. I'll miss him exceedingly."
-Pop Photo Forums
"I first had reason to write to this fine gentleman while residing in Papua New Guinea. Delivery of mail from the USA was quite poor and many issues of Pop Photography never reached me. I made several attempts at getting replacement copies but it was as if the subscription dept was unmanned. No replacements, no message, nothing. I admired Mr Keppler's tell-it-like-it-is style, his lack of froth and bubble and straightfowardness that radiated through his column. I wrote Mr Keppler explaining my predicament. Within a few days every missing issue of POP, over a dozen in total, was in my post box along with a kindly handwritten note from my new "friend". Yes even the little things were important to this busy man."
-Pop Photo Forums
"Dear friends of PopPhoto:
From: Argentina, an advanced amateur photographer.
After many years as an enthusiastic reader of Modern Photography, many years as subscriber to Popular Photograpy & Imaging (today via the Internet) I always search as first option Keppler's column. This new year did not come with good news, I'm very sad with the transition of my idol. I'm sending to all members of my magazine my condolence for that BIG person that you've, we've lost."
-Pop Photo Forums
"Burt Keppler was my real Uncle. I am the daughter of Louise's brother , George. I have known and loved Uncle Burt most of my life. He was always such great fun and we were always thrilled when he came to visit. I have tons of great memories and will miss him terribly. It makes my heart soar to read all the wonderful accolades about Burt. How luck we were to have been blessed to have Burt in our lives!"
-Laura Starr, Pop Photo Forums