How to Build a Website with LiveBooks
LiveBooks software makes it easy to create and maintain a Website that's worthy of your photography.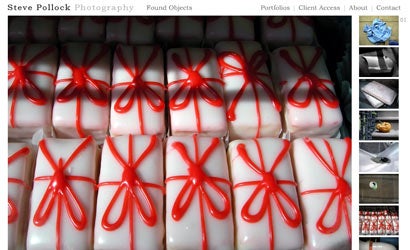 For up-and-coming photographers like the top assistants profiled in the Sept/Oct issue of American Photo, a Website can be a powerful promotional tool — or a total embarrassment. Ample time, money, and Web design skills are usually needed to build and manage a site that provides a satisfying online experience for visitors yet does justice to your work.
Fortunately, you need only small measures of those commodities to establish an impressive online presence when you use LiveBooks 5.0 software. Some of the photographers whose sites are now LiveBooks-based include Bill Owens and Maki Kawakita. The Magnum Photos agency and Fraenkel Gallery are also using LiveBooks for their Websites.
LiveBooks is actually both a product and a service, which together help you create a visually attractive,
Flash-based Website that's easy for visitors to navigate and simple for you to update. Setting up and
maintaining my own Website took just five basic steps: designing the site; preparing the images; importing the images; taking the site live; and updating the site. Site design is certainly the most important of these.
With LiveBooks Lite and Pro packages (see sidebar, next page), you work directly with a designer to customize your site. If you're not already set on the look you want, the designer will point you to existing LiveBooks sites from which you can cherry-pick the elements you like, including font styles, color choices, title placements, and names of menu items. These sites have a clean, distinctive design that sets off images elegantly, without the fussy clutter that often plagues photographers' websites. Using this approach, I was able to establish the overall look of my site in about an hour.
If you have an existing Website, you can carry over as many of its features as you like. With the less expensive LiveBooks Folio package, you're offered a selection of design styles to choose from, and further customization is billed at a modest $75 an hour.
Once I decided on a design strategy, I e-mailed my requirement to the LiveBooks Web designers. It took them only a few days to create a password-protected preview site for me to inspect. This made it easy to distinguish between my more inspired choices and others that needed further refinement. Meanwhile, I chose several dozen photographs to upload.
Visit Steve Pollock's LiveBooks site at www.stpollock.com.
For the most part these were horizontal images that would be displayed singly onscreen. Maximum image size for these images is either 500×750 or 562×920 pixels, depending on which level of LiveBooks service you've selected. In our experience, the larger images looked very impressive onscreen. Vertical images can be displayed singly or side-by-side in pairs.
Image preparation is simple. Using any recent version of Photoshop, you only need to set height (usually either 500 or 562 pixels) and resolution (72dpi). Then you use Photoshop's "Save for Web" feature to create a JPEG file of the correct size (90- to 110K for a horizontal, 50- to 60K for a vertical). I found that some images required modest increases in color saturation and/or sharpness for maximum impact on the Web.
The next step is to use LiveBooks' proprietary EditSuite software to upload the prepared images to your site. This is done simply by clicking on the desired images, then on "up-load." With my high-speed cable-modem connection, the image files uploaded very quickly. The uploaded images appear as thumbnails on an onscreen "lightbox," arranged in "libraries" that you've identified by subject, theme, date, or whatever other method you choose.
To create a portfolio, you drag these thumbnail images from a library into a portfolio. When you're satisfied with the arrangement, you save the web-book as an online portfolio. To take your Website live, you provide LiveBooks with a URL and site registry information. (The company offers Web hosting at $7.50 a month.) Within 72 hours, your new site will be up and running. If you have an existing site, it will be replaced by the LiveBooks version without any interruption.
Once your site is operational, you use the same up-load/library/portfolio method to update it.
In fact, I found the process to be a lot of fun, almost like an online game. This ease of use should
encourage LiveBooks users to keep their Websites up-to-date — the key to maintaining their value in
an ever-changing photographic world.
LiveBooks Packages
Folio: One Web portfolio holding up to 64 images; maximum size 750×500 pixels each; $950
Lite: Three Web portfolios holding up to 64 images each; maximum size 750×500 pixels; storage library holding up to 1000 images; ability to add text to images; bio page; $1,950
Pro: All "Lite" features plus virtually unlimited number of portfolios holding 64 images each;
maximum size 920×562 pixels; clients can be allowed to download low-resolution images; $3,900 (upgrade from Folio or Lite, $1,900)