High Fives: Backpacks
Take your gear off the road with camera backpacks that cost $100 and under.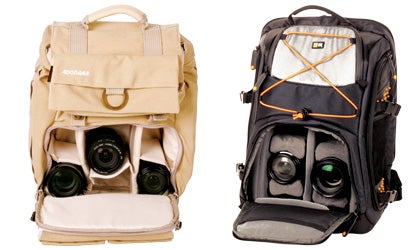 1. Adorama Slinger Graphic Backpack
$90, direct
www.adorama.com
A retro-style canvas bag that's all about pouches, this pack sports seven exterior spots for gadgets big and small. Brass clasps and hasps shut some; others use Velcro and zippers. You can combine the two interior compartments with a quick zip. A flat pocket (roughly 13.5x10x1.75 inches) fits some 15-inch laptops. The shoulder straps are comfortably padded, and a D-ring cinching waist belt keeps the load steady.
2. CaseLogic SLR & Computer Backpack
$100, street
www.caselogic.com
The top compartment of this well-designed bag will hold a pro-level DSLR and midrange zoom, while the bottom holds more lenses and accessories-join them for bigger gear. Flush against the straps is a pocket for a 15-inch laptop. Side wings hold batteries, filters, and other gadgets. A rigid base helps it stay upright, and a bungee on the front can tie down a jacket or a small 'pod. Tiny zips in the straps can fit only a few dollars or a spare memory card.
3. Kata DPS DR-467 Digital Rucksack
$80, street
www.kata-bags.com
You can spot your gear easily against the saffron lining of this divided pack. The bottom pouch folds out 45 degrees for quick access, and the wedge-shaped pocket on top can hold more gear, a windbreaker, or even lunch-but these can't be joined to fit big glass. A flat rear pocket holds a 17-inch laptop. Three gadget pockets and a zip-to-hide water bottle pocket add to functionality, as do D-rings on the shoulder straps, a sternum stabilizer, and a luggage trolley strap.
4. Lowepro Flipside 300
$57, street
www.lowepro.com
A single compartment fits a pro DSLR with a big tele, along with a few more lenses, strobes, and gadgets. For security, the zippers are under the shoulder straps, so no one can sneak into the pack when it's on your back-perfect for keeping your gear safe in the dodgiest settings. There's no laptop slot on this sleek bag, but the front has clips and a pocket for a compact tripod.
5. Tamrac Aero 80
$90, street
www.tamrac.com
A pared-down version of Tamrac's Adventure 9, this pack has combinable top and bottom compartments and a 17-inch laptop slot. The shoulder straps will hold two accessory add-ons, and three external mesh pockets fit a strobe, water bottle, a few energy bars, and such. This model foregoes the Adventure's waist belt, sternum support, and useful battery-and-memory-management pockets; but the four internal gadget holders will keep small gear from bouncing around.