Happy Accidents
Liad Cohen shares some of his tips on how to get great lomo photography.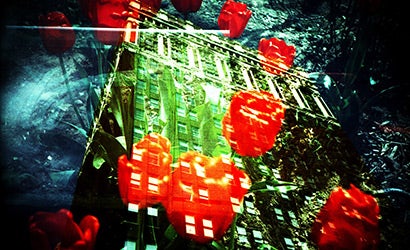 "The idea of lomo is that everything is interesting and worth shooting, because the cameras yield suchinteresting results," says 36-year-old Liad Cohen, a band manager in New York.
Lomo, or lomography — shooting with cheap snapshot cameras — is known for its dreamlike aesthetic, with opticaldistortion, supersaturated colors, exaggerated vignetting, streaks from light leaks, and unpredictable outcomes. Itseduced Cohen in 2004, and he now owns 40 cameras and shoots anywhere from one to 10 rolls a day.
"I'm constantly framing the world — transforming it into cross-processed rectangles, imagining what it would look likelayered with other things," he says. "It's all become the subject matter of a lomographic dream I'm living in." He makesdouble- or triple-exposures without composing the images in advance. "I like the stream-of-consciousness," he says. "Itcaptures photos the way I wish my mind captured memories."
Tips
Shop around. The Lomo LC-A ($250, street) is a classic. Others street for less than $100. Some have a special feature, such as a built-in wide-angle lens. The medium-format Holga ($20, street) is a favorite for its fisheye vignetting. Visit the Lomographic Society International for info on cameras and forums.
Cross-process. Cross-processing slide film, or having it developed in the wrong solution (for most slide films you would use C-41 — ask at your darkroom) will supersaturate the colors and heighten the contrast. Color effects vary with different films, Cohen says. Cross-processing Fujichrome Astia or Sensia gives you a red effect — Provia and Velvia have a green one. Konica films give you yellow; Kodak, blue
Go multiple. Cut your exposure in half for double exposures, or into "thirds" for triple exposures — with ISO 100 film, bump the ISO setting in the camera up to 200 or 400. If it doesn't allow you to adjust ISO, use a smaller aperture (f/16 rather than f/11 at 1/125 sec on a sunny day). For cameras with no manual settings, throw caution to the wind
Shoot color. Hues willl be exaggerated, especially if you cross-process. Cohen likes flowers, store windows, people in bright clothing, and blue skies with white, puffy clouds
Layer wisely. "Avoid shooting open skies on the first layer — that blows out the frame," Cohen cautions. A bright, flat surface looks better on top of an action-packed scene: to combine an exposure of a city street and a beach, shoot them in that order.
Shake some action. Try shooting while in motion or from unusual angles. "I hold the camera over my head, or put it on the floor and shoot," Cohen says.
Have fun. It's the flaws that make lomo images. "The more you beat up a Holga, the better the pictures. Don't be afraid to drop the camera a few times," Cohen says.