Give Dad a Photo Makeover for Father's Day
Forget a tie; follow these tips to make Dad look his best.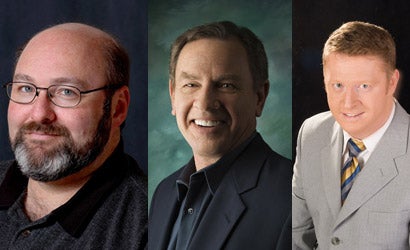 He'll likely be the last to admit it, but your dad cares about looking good as much as anyone else. So this Father's Day, rather than giving Dad another gift that will just collect dust in his closet, give him a photo of himself looking his best. And don't worry if you aren't an image-editing wiz, all of these tricks are in-camera.
If he's losing his hair (or if it's already gone) . . .
To diminish the appearance of a receding hairline, don't light the top of his head. Instead, aim your main light, so it hits his face no higher than his forehead.
If he's totally bald, position the camera low (at eye level or lower) or crop out the top of his head entirely. Or let the crown of his head fall into shadow. A good way to get this effect is to use a snoot, focusing the light at his face. Soften the light with diffuser.
If he has large features . . .
To minimize prominent features, such as a big nose, light his face evenly, so the nose doesn't cast a visible shadow. If there is a shadow, try placing a reflector very close to his head to minimize it. Experiment with different angles, depending on which features you are trying to deemphasize and the symmetry of Dad's face he might look better at a 45-degree angle or straight on.
If he has a double chin . . .
Have your father move his shoulders back and his head slightly forward, not only this will improve his posture but it will also help eliminate the appearance of a double chin. Shooting portraits from a high angle can also be very flattering, and bringing the light above his head to throw a shadow under his chin will also minimize the impact of those multiple chins.
If he's gained a little weight . . .
If you are taking a full body shot and Dad's figure isn't what it used to be, have him turn his body partially toward the camera and put his weight on his back foot. Also tell him to separate his arms from his body, it keep him from looking like a blob. To make a broad face look less so, set your main light at a 45-degree angle to your dad, and have him turn his face slightly toward the light, which will illuminate only part of the face. Pull the camera back a little — a tight crop will only exaggerate the roundness you are trying to control.
Photo examples:
To draw focus away from a bald head, shoot low and avoid lighting the top of the head. Illuminating only part of a face can be flattering for all face types, especially broad faces. Trying to conceal a double chin? Shoot from a high angle and have Dad look up.