Fighting AIDS Through Photography
To honor World AIDS Day, Dec. 1, PopPhoto.com would like to recognize some of the individuals and institutions working to fight the global AIDS crisis using photography.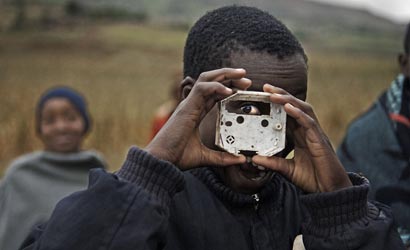 Since it was first recognized in the early 1980s, AIDS has caused the death of more than 25 million people. Today, it is estimated that close to 40 million people worldwide are living with the disease, many without access to reliable medical care.
On World AIDS Day, Dec. 1, organizations internationally will be holding events to pay tribute to those who have died or are struggling with the disease today, and to raise awareness and support for a greater global response.
In honor of the event, PopPhoto.com would like to recognize some of the individuals and institutions working to fight the global AIDS crisis using photography. It may involve going out and documenting the reality of AIDS in Africa, as do Kristen Ashburn and Steve Simon; or it may involve putting the camera in the hands of those who have been affected by AIDS or HIV, as does Picturing Hope. On either side of the lens, their work is an inspiration to all photographers who want to make a difference.
Read about their efforts and view photos on the ensuing pages.
Steve Simon first went to Africa in 1992, when he was asked to travel to Zambia along with several photographers documenting the work of CARE, a medical NGO, along with a Toronto-based collective of photographers called Photosensitive. Though the trip only lasted a week, he says, "The people and the place really struck a chord with me and I knew I wanted to come back." Three years later, he was traveling through Ethiopia and Mozambique, shooting independently, before going to Lesotho, a small landlocked country within the borders of South Africa, to shoot stills of a documentary titled Tšepong: A Clinic Called Hope, on a group of Canadian medical workers treating AIDS victims.
A publisher at Charta Books saw Simon's images and suggested that he produce a book on the subject. And so, not long afterwards, Simon returned to Lesotho for a full five weeks, working with various NGOs and visiting with patients and their families to fill in the cracks of what was soon to be Heroines & Heroes — a work that is dedicated not only to showing the reality and magnitude of AIDS in Africa, but also the grace, strength, and determination of those who are living with and fighting the disease.
"The word pheello is a Sesotho word meaning 'perseverance,'" Simon writes in the introduction. "Persevere is what the heroines and heroes in the fight against AIDS do." The book is organized in a way that shows the cycle of the battle, beginning with the reality of living with the disease, the reality of death, and, last, the next generation — potentially the one that, with the right kind of global support, could potentially defeat it.
As Simon points out, helping to get this kind of global support going can be as small as holding the government accountable for putting the right funds and programs in place where they're needed. Which is why Heroines & Heroes closes with a section titled Call To Action: How You Can Help, listing humanitarian and educational organizations and programs nationwide.
Steve Simon will be giving a special presentation of the book on Dec. 1 (World AIDS Day) in New York City (Barnes & Nobles, Chelsea, 675 6th Avenue; 7 p.m.).
"I began this project to give a voice to the people behind the statistics," 33-year-old Kristen Ashburn says of her upcoming exhibit, "Bloodline," a collection taken from her work documenting the AIDS crisis in sub-Saharan Africa. An enormous task to undertake, for a region where the statistics are daunting — according to the World Health Organization, 24.5 million people in sub-Saharan Africa today are infected with HIV/AIDS; 2 million people died of the disease in 2005 alone, and approximately 12 million children have been orphaned as a result of it. In Botswana and Zimbabwe, the percentage of adults living with AIDS is 25 and 20 percent, respectively — figures that are similar to many countries in this region, the most affected by the AIDS pandemic and also facing the greatest shortages of health care and adequate medical facilities.
The images in "Bloodline" are selected from a body of work taken over the past five years. Ashburn began the project without any prior experience or assignments shooting in Africa; shortly after graduating college, while working as a studio manager in New York, she saved money for airfare and a few weeks of traveling, and has not stopped since.
"I knew that I wanted to involve myself in photojournalism," Ashburn explains. "For me in particular, the AIDS crisis was compelling, and if I was going to spend my resources and time and energy on something I wanted to make sure it was a subject I was committed to." Interestingly, the project is entirely self-sponsored; she has never been sent to Africa on assignment (though her work shooting internationally has since been featured in magazines such as Time and Newsweek, among others). Her work was entirely funded through prodigious grant writing and prize money earned through honors such as Canon's 2004 Female Photojournalism award (and, most recently, the Getty Foundation Grant, which allowed her to complete the project).
"It was a true labor of love and dedication of wanting to focus on this issue and this crisis," Ashburn says.
"Bloodline" opens Dec. 1 at 401 Projects Gallery in New York City, at a fundraising event co-sponsored by DKNY Jeans and hosted by Iman, Lenny Kravitz, and Zoey Kravitz, that will feature a silent auction to raise money for Keep a Child Alive and Mashambanzou Care Trust, two NGOs dedicated to fighting the disease in Africa.
Also set to coincide with Ashburn's exhibit is a round-table discussion between photographers and editors and writers in the media world titled, "AIDS and Photography: What More Can Pictures Do?"
The images will be on display through Jan. 14, 2007. For more information, visit www.bloodlineproject.com.
Picturing Hope
"Firstly, I want to be independent. Then I want to be useful to the society and share my knowledge with those who are deprived of it. I want to gain respect in the society. This is what I always dream about."
-Rajesh, age 12
Growing up with HIV is a difficult struggle to understand and communicate for those in a fully supported environment, one that has access to medical care, a supportive community, and counseling. Children growing up HIV positive in third-world countries — who often do not have a supportive community, and who frequently don't have adequate health care — face a lonelier battle in coping with the disease, which is in many ways more difficult for them to express.
It was with this task in mind that Craig Bender first formed the NGO Picturing Hope, which uses photography both as a way of giving these children a medium of self-expression and of giving them a forum by which they can open up to one another as well as the world around them. Bringing together groups of HIV-positive children/adolescents in five different countries — Burkina Faso, India, Malawi, Romania, and Tanzania — the NGO first introduces photography as a discussion tool, and then gives (donated) cameras to the kids, so that they can go out and shoot for themselves. Being able to talk about their pictures with each other makes it easier for them to talk about the pictures with the larger community around them. Most of all, it gives them a way to understand themselves.
Picturing Hope has put an exhibit of these photographs together, entitled "Through Their Eyes." A collection of images from the kids in the program, ages 10-18, shows the difficulty of living with the disease as much as it reveals an often-astonishing maturity. Over the past year the exhibition has traveled around the world, and beginning on Thursday, Nov. 30, it will be on display at the Hokin Gallery at Columbia College in Chicago.
An official opening, including a discussion with three of the photographers and Bender, will take place on Friday, Dec. 1. For more information on the program, visit www.picturinghope.com.