Emerging Crossover: Fashion as Fine Art
With the ascendancy of photographers raised on fashion-as-fine-art, magazine images are heading for museum walls.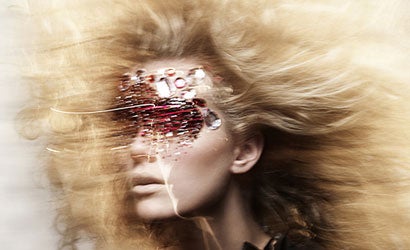 Just before his death in 1955, famed American photographer George Platt Lynes destroyed countless negatives and prints, terrified that his legacy would be tarnished if the public got their hands on them. Lynes achieved international fame for celebrity portraits and shots of ballet dancers, but he was convinced history would deal unkindly with him for his oeuvre of male nudes — and fashion photographs.
The fine-art community in those days wasn't as accepting of fashion work, says Brian Paul Clamp, who owns ClampArt gallery in New York. "If you did commercial photography, you would go to great pains to keep that from a fine-art dealer," Clamp explains. "Or if you were looking for gallery representation, you wouldn't want them to know about it."
But that attitude has atrophied in recent decades, especially under the influence of photographers who grew up oblivious to differences between fashion and fine art. "Younger photographers aren't worried about that distinction," Clamp says.
Now fashion photography can help a fine-art career, and vice versa. In fact, an increasing number of gallery shows are coming from fashion sources. One prime example was the Click Chic exhibition organized this fall by Dan Halm, the external relations coordinator at New York's School of Visual Arts. By highlighting the works of six graduates who use fashion photography as a legitimate outlet for formal experimentation and social commentary, the show in many ways announced the arrival of a truly genre-less approach to gallery-worthy photography.
"If you look at these [photographers] outside the context of a glossy magazine, they have the same formal training, the same interests, that fine artists have," Halm says. As he sees it, the breakdown of those boundaries is creating a new golden age in fashion photography.
Halm and Clamp believe the recent surge in outside-the-box fashion photography has its roots in the 1980s. "Advertising changed in the '80s," Clamp says. "Advertisers were no longer peddling products; they switched into the realm of ideas." The effects of this shift can be seen in the increasing number of "fashion" images that show little or no clothing. For instance, Guy Aroch, who has shot for Interview and Nylon, often shows only a model's head or lips. Halm adds that savvier consumers have also helped drive innovative fashion photography. "We're a smarter culture with fashion," he says. "We pay attention to it more. There's a reason Anna Wintour is known to everyone."
But while the '80s and early '90s are often touted as fashion's glory days, many young photographers (and their sage supporters) believe the art has moved past that era's sometimes shallow images. Sarah Silver, a 31-year-old photographer who was included in Click Chic, says several photographers made good money in the 1980s with "beautiful images that don't say much." In today's media-savvy market, that won't cut it — even for catalog work. Instead, photographers at all levels are expected to have a personal vision and something to say with their images, no matter where they will end up. "It's easy to make slick, beautiful images," Silver says. "But to be unique — that's when you get discovered."
In one of Silver's contributions to Click Chic, a woman wearing a jeweled red mask pulls at her neon yellow outfit, shrieking. To emphasize the model's movement, Silver used "shutter drag" to create the sensation that the image is shaking.
In the photo, which appeared in the German fashion magazine Lush, Silver explores the concept of masquerade. "She took on the qualities of this made-up, fictitious character," she says. The cartoon Spy vs. Spy inspired Ryan Michael Kelly's image where a woman is held from behind by a masked figure representing her shadow. "I try to keep the images deep but simple," he says.
These young photographers have a growing number of role models in professional photographers who are successful in both the fine-art and fashion realms. David LaChapelle began his career in fashion photography and moved into celebrity portraiture, with a recent show at Tony Shafrazi's Chelsea gallery; Marilyn Minter, famous for her highly sexual photography, recently shot an advertising campaign for Tom Ford.
Still, Halm says that archaic views on fashion are bound to persist. A few fine-art photographers will always eschew commissioned fashion work, considering it impure and aesthetically limiting. That doesn't seem to bother photographers like Silver. "There are probably a lot of people who don't think fashion photography is art," she says. "But we fashion photographers don't care about those people."