Editor's Choice 2008: Video
This wide-ranging array of new hardware and software allows you to shoot, edit, and view (through media receivers like Apple TV) your own pro-quality video.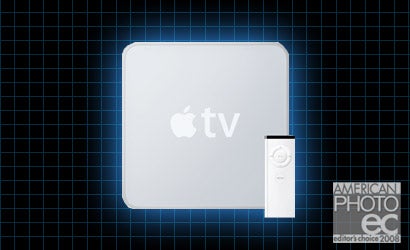 Today's multimedia world, together with its shrinking budgets, has placed a new demand on many still photographers: Shoot video too. Of course many studio-oriented photographers have already crossed over, shooting TV commercials, music videos, and the like. Photojournalists are now following suit, not just shooting raw documentary "footage" but also producing their own short films to complement their still work. Art-minded photographers often enrich their imagery with video too. Luckily, there is an array of new products available to shoot, edit, and view your own pro-quality video.
Video Product of the Year: Apple TV media receiver
Having taken a big bite out of the music industry with its iTunes online music store, Apple quickly moved into the entertainment world with the release of its Apple TV. This elegant media receiver's first version let users transfer movies and TV shows rented or purchased from the iTunes store from a Mac or PC to a high-definition TV, over a wired or wireless home network. Version 2.0 of Apple TV's firmware (a free download for previous purchasers) boldly unleashes that same box from your computer: Now all you have to do is turn on your TV to directly access iTunes' music, movie, and TV offerings, which include 720p-resolution high-def flicks with Dolby Digital 5.1 surround-sound. Videos can also be streamed directly from YouTube, letting you view the latest "viral" clips in the comfort of your living room.
The new Apple TV still streams video, music, and photos from any computer on your home network, storing them on its 160 GB hard drive. And when hooked up to an HDTV via an HDMI or component-video connection, it will scale home movies and digital pix to 720p or 1080i high-def resolution. The receiver automatically seeks out pictures located in a networked Mac's iPhoto library, as well as images stored in a PC's My Pictures folder (JPEG, BMP, GIF, TIFF, and PNG formats are all supported). Photographers can also access shots from online Flickr or .Mac accounts by typing in an account name using the receiver's remote control and onscreen keyboard. What goes into Apple TV also easily comes out: Movies, TV, music, or podcasts that you download can travel the other way on a network by syncing them up with your computer's iTunes library. From there, they can be uploaded to an iPod or iPhone for outings into the iWorld. About $330 (160GB) or $230 (40GB).
Other Top Video Products:
Canon XH A1 HDV camcorder
Compact and light yet packed with advanced features, this high-definition camcorder straddles the professional and high-end consumer markets. Its pro credentials include three 16:9 CCDs that capture red, green, and blue information separately, for more faithful color, recording in 1080-line resolution on standard miniDV tape. In addition to its eye-level electronic viewfinder it has a swing-out, 2.8-inch, wide-screen LCD display, and both can be used at the same time so your director (or anyone else) can look on while you're shooting. The XH A1's 20X image-stabilized zoom can be focused manually, and its power-zooming speed can be adjusted to your preference. Its range is comparable in 35mm terms to 32.5-650mm, though the optional 0.75X wide converter starts it out at close to a very wide 24mm. You can even shoot stills, in video color space if you like, at resolutions up to 1920×1080 pixels, saving them to an onboard SD memory card. But the new model's best feature may just be its price, a deal for such a maxed-out high-def camcorder. About $3,300.
Sony Handycam HDR-CX7 camcorder
Shooting high-definition video doesn't have to mean lugging around bulky camcorders. This lightweight Sony fits snugly into one hand and can be stowed in a jacket pocket. It uses AVCHD compression to record a full hour of 1080-line video, in highest-quality mode, saving it to an 8GB Sony Memory Stick Pro Duo — no tape transport or hard-disk drive to weigh you down. Along with high definition, the new camcorder's CMOS image sensor captures 6.1-megapixel stills, with both photo and video capture benefitting from built-in optical image stabilization. As with other Sony Handycam models, external control buttons are kept to a minimum, with most functions controlled on the 2.7-inch LCD touch screen. Rounding out the HDR-CX7's features are HDMI output and a 10X Zeiss optical zoom. About $1,100.
Stewart Filmscreen StudioTek 130 G3 projection screen
When you're using a digital projector to blow up video or stills to a really big size, the resulting image quality depends on the quality of your screen. This screen enjoys a reference-quality reputation, ideal for low ambient light environments. The StudioTek 130 G3 delivers a 30-percent brighter picture than a standard matte-white screen surface, and its material has been reformulated for use with new high-res video front projectors. Available in sizes up to 40×90 feet, the screen can be paired with a fixed or retractable ceiling mount, as well as variable masking systems for display in different aspect ratios.
LG BH200 Super Blu HD DVD/Blu-ray disc player
Blu-ray and HD-DVD computer drives capable of burning high-def video to disc are few and far between, and prices for them remain sky-high. But when, not if, you do add one to your Mac or PC, you'll still need a capable stand-alone player to watch those discs on HDTV — and instead of choosing one warring format over the other, why not buy a machine that handles both Blu-ray and HD-DVD? LG's BH200 Ethernet-ready Super Blu is one of the few players available that do this. And its playback compatibility extends to both audio CDs and regular DVDs, which get upconverted to 1080p high-def video. About $1,000.
Netgear EVA8000 Digital Entertainer HD media receiver
This is a non-Apple solution for pushing videos, photos, and music around a wired or wireless home PC network (802.11g and b). It shares many of Apple TV's features — including high-def video support, iTunes music compatibility, and the ability to stream media from YouTube or Flickr — but lacks Apple's built-in hard drive. Your PC fills in for the drive, so you have to keep it running. Unlike Apple TV, the Netgear EVA8000 can tune in Internet radio stations. About $350.
Canon REALis SX7 LCoS video front projector
This powerful digital projector has the portability needed for on-the-fly photo presentations but can also do double duty as a home entertainment projector. That's because its 275-watt lamp and LCoS (liquid-crystal-on-silicon) light engine produce an impressive 4,000 ANSI lumens of brightness, while its 1400×1050 pixels render videos, photos, and graphics with a high degree of detail. It isn't just for video and data display, though. The SX7's sRGB and Adobe RGB color space modes also make it a good choice for digital photographers who want big-screen slideshows of their still images. About $6,000.
Velbon Video DV-7000 tripod
When you're shooting video on a tripod — and you should try it sometime — you need a model with a head that rotates for smooth horizontal pans and tilts for vertical adjustments. This one does both, giving you the flexibility required for fluid, pro-style camera moves at a very affordable price. The DV-7000's secure quick-release platform lets you quickly remove or mount the camcorder as you shoot. Sturdy aluminum legs and heavy-duty rubber feet provide stability, at maximum height, the 7.5-pound tripod stands 64 inches, and it can support cameras weighing up to 10 pounds. Yet when fully retracted it measures just over 27 inches, making it ideal for videographers on the move. About $110.
Pinnacle Studio Ultimate 11
Pinnacle's Studio series of integrated video editing/DVD authoring programs have long provided PC users with a powerful, user-friendly tool. Studio Ultimate 11 looks to be the best one yet. A fresh interface provides easy access to clips and video effects for drag-and-drop insertion on an editing timeline, and can be configured for wide-screen monitors. Input from high-def HDV and AVCHD-format camcorders is supported, and it can even import pictures directly from digital cameras. The incorporated video effects toolkit includes everything from green-screen compositing to the "Ken Burns" pan-and-zoom effect. The audio effects include Bias Soundsoap to eliminate noise from video and audio-only tracks. There's even a music score generator. About $130.
Apple Final Cut Express 4
Apple's pricey Final Cut Studio is an industry standard for video post-production on the Mac. But even serious videographers will find that Final Cut Express 4, an affordable, stripped-down version, contains more than enough features to produce professional results. In addition to video and 99 audio tracks, the package offers compositing, color correction, and animated title and motion graphics. And it supports high-def input from HDV and AVCHD camcorders, as well as standard miniDV models. (Final Cut Express 4 is a Mac-only application, and it requires OSX 10.4.10 or higher.) About $200.
Vegas Movie Studio Platinum
PC users looking to do advanced video editing have many affordable, feature-packed software options to choose from. Somewhere near the top of that list is Vegas Movie Studio Platinum. This program's clean interface makes assembling clips and layering effects a simple drag-and-drop process. It supports high-def video from both HDV and AVCHD cameras as well as standard-definition models, and it includes compositing and color-correction tools. But as good as Vegas Movie Studio's video editing features are, its audio side really stands out: It's bundled with more than 20 high-quality DirectX sound effects, and it also supports VST plug-ins and 5.1-channel Dolby Digital soundtrack encoding. About $120.
By Russell Hart
One of the problems with video, in our admittedly photographic opinion, is that it makes just about everything sharp in the scene you're shooting — the indirect consequence of a camcorder's puny image sensor, which is often way smaller than a 35mm frame. The smaller image area requires shorter lens focal lengths to produce equivalent angles of view, and shorter focal lengths inherently produce increased depth of field — more depth of field, meaning front-to-back sharpness, than you may actually want. And that in turn forces a sort of realism down videographers' throats. As photographers, especially coming from 35mm (or full-frame digital SLRs) and larger formats, we appreciate the isolating, often atmospheric effect of shallow depth of field. (Of course you can also achieve this when you're shooting 35mm movie film.)
But it turns out that you can "fake" shallow depth of field in video very nicely with a small-chip camcorder if you use Adorama's ingenious Pro Optic Depth of Field Adapter. Created by photographer and filmmaker Winston Vargas, the device mounts on the camcorder's lens, in front of which it places a Mamiya 645 lens. The Mamiya lens projects the subject's image onto a ground glass inside the Pro Optic, with the help of a supplementary lens (also inside the Pro Optic), the camcorder actually shoots the ground glass image rather than the subject itself. Most camcorder models have sufficient close-focusing capability to do this, but the Pro Optic incorporates a supplementary lens to ensure it.
Here's why this works. For a given angle of view, the image-forming lens (the Mamiya) is much longer than the camcorder's lens — a normal lens for the 6×4.5cm format being 80mm as opposed to video's 6- or 7mm. (That's an estimate, cause we're not videographers.) The result: You get much shallower depth of field at a given aperture. You can even use the camcorder's controls to zoom into the ground glass for a tighter shot.
The Pro Optic actually keeps its ground glass vibrating whenever you're shooting. This prevents the latter's texture (needed for conventional manual focusing) from making the image appear "grainy." And you can use whatever Mamiya lens you want (Adorama sells them used), including telephotos that have even shallower depth of field. The drawback is that the lens must be focused manually. Focus puller!