Editor's Choice 2008: Ultrathin Compacts
These clever, stylish models are more than fashion accessories, their take-anywhere slimness a great photographic advantage.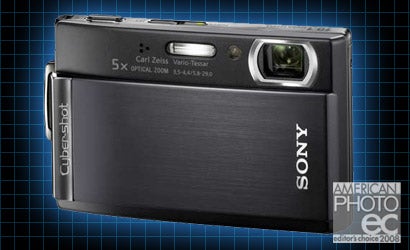 We may earn revenue from the products available on this page and participate in affiliate programs. Learn more ›
When point-and-shoot cameras dispensed with film they started slimming down, and some of the biggest losers yet are this year's ultrathin winners. The Casio EX-S10, for example, looks more like an elegant business-card case than a camera. And that, along with their pocket portability, explains these models' popularity: They are as much fashion accessories as photographic instruments.
We could quibble that the image quality of ultrathins doesn't always measure up to bigger compacts (the tradeoff of their smaller, more noise-prone image sensors) or that these tiny cameras can be a challenge to operate even for the small-fingered. But the up side is that you can stick an ultrathin in your shirtpocket wherever you go, whether to a party or on the grand tour. Just don't forget to color-coordinate it with your outfit.
Ultrathin Compact of the Year: Sony Cyber-shot DSC-T300
Sony's top ultrathin takes the recent craze for smile detection technology to a new level. Not only will it trip the shutter when it detects a smile in your subject, but it can even be set to fire in response, specifically, to adult- or child-sized smiles. When it does fire, the T300 adds face and smile detection information to the photograph's metadata, which allows you to search and organize your pictures by (what else?) faces and smiles. And get this: The Smile Tool turns unsmiling expressions into grins after the fact. Should it be renamed Prozac Mode?
The form and function of the new Cyber-shot should bring smiles to the faces of many photographers, if not their subjects. The 33-165mm (35mm equivalent) f/3.5-4.4 lens never protrudes from the svelte metal-clad body; instead it's situated vertically inside the camera, looking forward by means of a periscope-like reflex mirror. A huge 3.5-inch touchscreen allows users to change settings and select autofocus points with a fingertip, and even jot messages on photos with a stylus. The Easy Shooting mode enlarges menu text for easier reading. If you've made changes to settings but are still worried about getting the shot right, Intelligent Scene Recognition automatically takes a second picture when you release the shutter, using the settings it considers best for the situation.
The T300's Dynamic Range Optimizer is now more like the version on Sony's digital SLRs: It can be set to a Plus mode that analyzes separate areas of the frame to bring up shadow details or suppress highlights as needed. When the camera is used in Sony's compatible underwater housing, an underwater mode makes the appropriate settings for the blue-hued environment.
In playback, the camera can output 1080i high-definition photographs to an HDTV. In-camera slideshow creation tools let you add a special effect that — you guessed it — zooms in on faces. And fashion-forward photographers will certainly smile at the T300's choice of finishes, which include red, black, and silver.
At a Glance: Sony Cyber-shot DSC-T300
• Zoom range: 5X • Resolution: 10.1 megapixels • LCD screen: 3.5 inches • Top firing speed: 1.6fps • Top sensitivity: ISO 1600 (3200 at reduced resolution) • Image stabilization: Yes (lens-based) • Price: About $400
Other Top Ultrathin Compacts:
Canon PowerShot SD950 IS Digital Elph
If the Canon PowerShot G9 were a big, powerful sedan, this new Digital Elph would be the sport coupe version. It shares the same 12.1-megapixel sensor and Digic III processor as the bigger model, but is dressed in a sleek titanium-clad body that fits in a shirt pocket. Its smaller form factor is achieved with a more compact lens, a 35-133mm (35mm equivalent) f/2.8-5.8, yet the SD950 IS still manages to squeeze in an optical viewfinder — now almost unheard of in slim cameras.
The camera's image stabilization is Canon's latest three-mode version, which gives you a choice of always on, activated at the time of the shot only, and panning stabilization. Its face detection can apply red-eye correction on the fly. Besides standard 640×480 video at 30fps, the top Digital Elph can shoot higher-resolution movies at 1024×768, albeit at 15fps. Numerous image adjustments include skin-tone optimization, and the camera has Canon's effective panorama-assist function.
At a Glance: Canon PowerShot SD950 IS Digital Elph
• Zoom range: 3.7X • Resolution: 12.1 megapixels • LCD screen: 2.5 inches • Top firing speed: 7fps • Top sensitivity: ISO 1600 (3200 at reduced resolution) • Image stabilization: Yes (lens-based) • Price: About $335
Casio Exilim EX-S10
Casio bills its EX-S10 as the world's smallest and thinnest 10.1-megapixel point-and-shoot — and given that the company pioneered impossibly thin compacts, we have no reason to doubt it. (How thin? A hair over half an inch.) The camera's designers managed to fit a flat-retracting 36-108mm equivalent f/2.8-5.3 into the S10, and it shoots 30fps video up to a wide-screen 848×480 pixels. (The S10 uses a video format that can be played back, with sound, on iPods and other portable media players.)
The new Exilim doesn't have image stabilization, but it does have motion sensors. It uses them for its Auto Shutter function, which determines not only when faces are smiling but also when camera shake is at a minimum. Only then will it take the picture. (This mode also works for automated self-portraits.) Casio's included Data Transport software lets you convert computer files from programs such as Word, Excel, and PowerPoint into JPEGs, then transfer them to the camera. (Suggested conversion: travel guidebooks.) A cool stainless-steel, the EX-S10 can be had in red, blue, silver, and black finishes.
At a Glance: Casio Exilim EX-S10
• Zoom range: 3X • Resolution: 10.1 megapixels • LCD screen: 2.7 inches • Top firing speed: 4fps • Top sensitivity: ISO 1600 • Image stabilization: No • Price: About $250
Best Buy: Nikon Coolpix S700
This brushed-aluminum beauty offers the highest resolution of current Nikon ultrathin compacts, 12.1 megapixels, along with a big LCD screen, optical image stabilization, and an assortment of useful Nikon image fixes — all for well under $300. That, to us, is a deal. The 37mm-111mm (35mm equivalent) f/2.8-5.4 zoom is pretty fast for this class, at least at its widest angle of view, and the S700 helps it keep straight lines from bending with a Distortion Control function that uses software to correct any barrel distortion.
Other in-camera fixes include red-eye correction and D-Lighting, the latter improving shadow detail as needed without shoving highlights over the edge. If you fill up (or forget) your memory card, you can fall back on the S700's built-in memory, an unusually generous 52 megabytes. That's good for a few dozen shots if you reduce resolution to five megapixels. This little camera can also capture in big-screen 16:9 format.
At a Glance: Nikon Coolpix S700
• Zoom range: 3X • Resolution: 12.1 megapixels • LCD screen: 2.7 inches • Top firing speed: 1fps • Top sensitivity: ISO 1600 (3200 at reduced resolution) • Image stabilization: Yes (sensor-based) • Price: About $265
Pentax Optio S12
The most pixel-packed Optio to date, the 12-megapixel S12 offers the latest version of Pentax's pioneering Auto Picture mode. This feature analyzes shooting conditions, then automatically sets the scene mode (portrait, action, landscape, etc.) it thinks is best for the subject. For those who want more creative control, the S12 has manual exposure and priority AE modes plus a green button that can be programmed to access the functions of your choice.
The Optio S12's zoom is a 37-111mm (35mm equivalent) f/2.8-5.4, and the LCD has a very wide 170-degree viewing angle, making it easier to share pictures. And the camera has face detection, of course — in this case of a sort that teams up with automatic Dynamic Range Adjustment to maintain good exposures when the people in your pictures are backlit. This all-purpose yet pocket-sized camera records sound with its 30fps VGA video, and can even be used as a voice recorder.
At a Glance: Pentax Optio S12
• Zoom range: 3X • Resolution: 12 megapixels • LCD screen: 2.5 inches • Top firing speed: 1.5fps • Top sensitivity: ISO 3200 • Image stabilization: No • Price: About $250