Editor's Choice 2008: Advanced D-SLRs
Though different in many ways, the Canon EOS 40D and Olympus E-3 tie for first in this competitive category.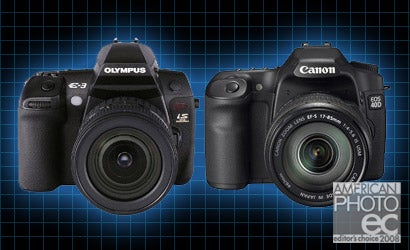 We may earn revenue from the products available on this page and participate in affiliate programs. Learn more ›
Canon's latest mid-tier D-SLR stands out as the most well-rounded model in this increasingly competitive category. Other cameras in its class offer unique assets, but the 40D shoots the fastest, focuses most ably in low light, and produces the best image quality at high ISO settings. Backed by the most extensive professional lens system of all the mid-tier models featured here, it's also, surprisingly, the least expensive.
Co-Advanced D-SLR of the Year: Canon EOS 40D
Canon's latest mid-tier D-SLR has fewer megapixels than some of its peers, but it's our top choice for both fast-action and available-light shooting. Indeed, in our recent field test pitting the 10.1-megapixel Canon EOS 40D against the considerably more costly 12.3-megapixel Nikon D300, the 40D excelled on several important counts. These include shooting speed (at 6.5fps, it's slightly faster than the 6fps Nikon minus battery grip); image quality at high ISO settings up to ISO 3200 (the 40D is slightly noisier than the D300 but superior to every other APS-C-format D-SLR); and autofocus (its nine cross-type focus points track moving subjects just as fast as the D300's more advanced 51-point array).
While similar in size and form to its predecessor, the 8.2-megapixel EOS 30D, the EOS 40D borrows many of its abilities from the EOS-1D Mark III, our 2007 Professional D-SLR of the Year. These include 14-bit RAW capture, which delivers a fuller tonal range; DIGIC III image processing, which further smooths those tones; a three-inch, 230,000-pixel LCD screen with a wide viewing angle; a Self Cleaning Sensor Unit backed up by software-based dust erasure; Highlight Tone Priority mode, which improves highlight detail by about a stop; high-ISO noise reduction; and interchangeable focusing screens.
The EOS 40D is also Canon's first mid-tier model with Live View, which allows you to view and compose your subject right on the LCD. (The screen even displays a real-time histogram.) And unlike its higher-end siblings, the 40D can be focused in Live View mode simply by pressing the AF-On button.The camera's sturdy magnesium-alloy body has excellent ergonomics as well as weather-protected battery and CF card compartments. Plus, its large, bright viewfinder (which covers 95 percent of the subject) is well-suited to low-light viewing and focusing.
At a Glance: Canon EOS 40D
• 10.1 MEGAPIXELS/CMOS IMAGE SENSOR • 1.6X FOV CROP • 3.0-INCH LCD SCREEN • 3FPS • IMAGE STABILIZATION: IN-LENS • ABOUT $1,150 • Accepts more than fifty compatible Canon EF and EF-S optics, most of which incorporate Canon's ultrafast, super-smooth Ultrasonic Motor (USM) autofocus; nearly twenty have built-in Image Stabilization (IS), which lets you shoot safely at shutter speeds up to four stops slower than usual. It's also the only camera in its class capable of transferring images wirelessly to a computer up to 500 feet away.
Co-Advanced D-SLR of the Year: Olympus E-3
Though we had four long years to think about what we'd like in a successor to the Olympus E-1, the generation-skipping Olympus E-3 still defied our expectations. It is a much more sophisticated camera than it really had to be, offering many pro-level features not found on other models in its class. In fact, the E-3 has a degree of complexity that gives it a steeper learning curve than its competitors. The menu system, because it has to pack in so much, is partly to blame. Once we set things up to our liking, though, the E-3 proved highly responsive. Its image quality is excellent where it counts, the Four Thirds format notwithstanding — just a bit grainier than par at ISO 1600 and above. More significant, we made fewer adjustments to the E-3's output than we typically do with other D-SLRs.
A magnesium-alloy chassis protects its inner works; ample gasketing makes it the most dust- and weather-resistant model here. Its viewfinder is bright and has enough magnification to make you forget that this is a Four Thirds-format D-SLR. And while the E-3's LCD is a bit small, that's because it accommodates the hardware needed for full articulation — which lets you angle it for viewing from a wide range of positions for Live View shooting. Photographers who've never tried composing onscreen should give it a chance, because it lets you make pictures you couldn't have taken through the optical viewfinder.
The best new thing about the new model is its autofocus performance, the chief beef against the E-1. We were floored by the speed of the E-3's 11-point AF system, which snapped to it in single-shot mode — with none of the vexing searching that slowed down the E-1 — and challenged Canon's EOS 40D in continuous-AF focus tracking when light was good. The 11 focus points are all cross-type, making them better able to lock onto both horizontal and vertical detail. The EOS 40D's nine focus points, and 15 of the 51 focus points in the Nikon D300, are also cross-type, but they're sort of bunched together in the middle of the viewfinder. The E-3's points are spread more widely and evenly, allowing it to focus off-center subjects consistently. Speaking of focus, the phenomenal pro-quality lenses Olympus is making for the E-3 are half the reason we've chosen it as Co-Advanced D-SLR of the Year. Who can argue with the range of an ultrawide rectilinear 7-14mm f/4 zoom, the equivalent, in 35mm, of 14-28mm? Or with the speed of a 14-35mm f/2, a stop faster than its popular full-frame equivalent, the 28-70mm f/2.8?
At a Glance: Olympus E-3
• 10.1 MEGAPIXELS/LIVE MOS IMAGE SENSOR • 2X FOV CROP • 2.5-INCH LCD SCREEN • 5FPS • IMAGE STABILIZATION: IN-BODY • ABOUT $1,700 • Olympus addresses the 'tunnel vision' that often plagues Four Thirds-format viewfinders by giving the E-3's finder the highest magnification of any D-SLR (1.15X), regardless of price. You get an eyeful when you look through the E-3 — a frame at least as wide as, and, due to its squarer shape, a little taller than those of its competitors. What's more, it has the 100 percent subject coverage you'd expect from a professional SLR.
Other Top Advanced D-SLRs:
Best Buy: Pentax K20D
We loaned the Pentax K20D to a friend who owns its predecessor, the Pentax K10D, and he said 'It feels like my camera.' That's true, because Pentax is sticking with the formula that beat the K10D's midtier competitors in last year's Editor's Choice. Like its predecessor, the K20D has a stalwart polycarbonate-over-alloy body with more than 70 weather seals; the same excellent handling and menu logic; the largest viewfinder in its class thanks to 0.95X magnification; encyclopedic customization capability; and in-camera image processing options. Its dust-removal system is backed up by onscreen dust mapping for manual sensor cleaning; its sensor-shifting image stabilization adds another stop of handheld range to the K10D's three with any K-mount lens ever made.
Look closer and you'll notice that the LCD screen has grown from 2.5 to 2.7 inches — and is now capable of Live View operation, with mirror-flip, single-shot focusing activated by the AF thumb button. The new display even permits color tuning along with the usual brightness adjustment, for a closer match with your own computer screen.
The biggest upgrade, though, is the 14.6-megapixel CMOS image sensor the K20D shares with its twin, the Samsung GX-20. The Samsung-made chip captures over 40 percent more data than the K10D's 10.2-megapixel CCD, with equivalent or better noise performance and a top sensitivity of ISO 6400. Yet continuous shooting is still 3fps, with bursts of up to 38 JPEGs, 14 PEF, or 16 DNG RAW files. (A 21fps setting fires continuous bursts at 1.6 megapixels.) Other improvements include a PC socket for plug-in flash; a built-in interval timer; and a user-selectable dynamic-range boost. Even the 18-55mm kit lens is sharper than before.
At a Glance: Pentax 20D
• 14.6 MEGAPIXELS/CMOS IMAGE SENSOR • 1.5X FOV CROP • 2.7-INCH LCD SCREEN • 3FPS • IMAGE STABILIZATION: IN-BODY • ABOUT $1,150 • Affordable but weather-sealed like a pro camera, this upgraded successor to the Pentax K10D has Live View capability and an all-new image sensor (the first CMOS type in a Pentax) with the highest resolution of any digital SLR using an APS-C-sized chip.
Sony Alpha 700
Its number is a nod to mid-tier Maxxum 7-series film SLRs, but the second model in Sony's D-SLR line is more than a step up from the Alpha 100 that won last year's Entry-Level Camera of the Year. Like that model, the Sony Alpha 700 is an abundance of camera for the money. Ergonomically, mechanically, optically, and operationally it is just what we like in an SLR. An aluminum chassis and magnesium-alloy outer panels make the A700 relatively heavy, the better for steady shooting and hard knocks. Its contours are more squared-off than on a typical SLR, which makes for a more secure grip. It has in-camera image stabilization, retooled to compensate for higher frequency vibration such as hand tremors. Its bright, high-magnification viewfinder is an exhilarating change from the tunnel vision of some other models with APS-C-sized sensors, while its three-inch high-res LCD looks as sharp as any we've yet seen on a D-SLR.
Functions can be set with pushbuttons that eliminate the need to scroll through the menu; one button brings up the A700's Quick Navigation screen, allowing fast adjustment of many functions with a single controller.The Alpha 700's new 12.25-megapixel CMOS image sensor actually reduces noise before the signal leaves the chip, technology that saves power and is designed to improve high-ISO performance. A built-in HDMI terminal allows direct viewing on HDTV, the first in a D-SLR along with Nikon's D300. The Sony A700 even rejiggers Minolta's pressure-sensing grip, originally designed to provide a bigger head start on focusing: Eye-start AF isn't activated unless the grip is being squeezed. That way the camera doesn't focus aimlessly as it bounces against you, ready for your next shot.
At a Glance: Sony Alpha 700
• 12.3 MEGAPIXELS/CMOS IMAGE SENSOR • 1.5X FOV CROP • 3.0-INCH LCD SCREEN • 5FPS • IMAGE STABILIZATION: IN-BODY • ABOUT $1,250 • Despite an abundance of features for its price, the Alpha 700 makes it easy for you to navigate and adjust important settings — all of which are clearly indicated on its crisp LCD screen.