Checkrated Shopper: The Case of the Missing Warranty
Helpful advice for the next time you're in the market for a digital camera or lens.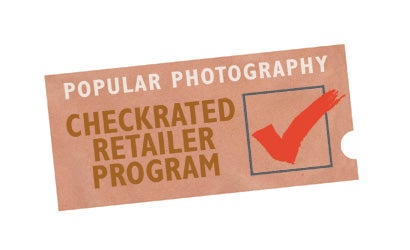 You've unpacked your latest purchase and checked the contents once, twice and then a third time. Where's the warranty!
You call the dealer and are told that your amazing bargain is, in fact, a grey market product and does not come with a warranty from the official U.S. Importer.
Holy Megapixels!!
No one ever told you that your were buying a grey market camera or lens. Your next step is a call to Popular Photography wanting to know why we don't do anything about such sleazy practices and implying that we either don't know what we are doing or don't care about our readers or both.
But then we check and find out that the purchase was made on the internet and that in several cases, the retailers were either former advertisers in Popular Photography or never were advertisers. So…what's the answer?
Learn about Pop Photo's Checkrated Retailer Program and how it can help you in your buying decisions.
To begin with, technically, the Checkrated code applies ONLY to ads published in the magazine. This is the only area over which we have control. A Checkrated advertiser can do anything he wants on his web site and we can only try to persuade him to behave. As a practical matter, however, we can generally get the retailer to agree to exchange a grey market item for U.S. Warranty merchandise with the customer paying the price difference. However, such an exchange can often involve added shipping and handling charges plus a restocking fee.
(This is why despite our strong recommendation that you buy U.S. Warranty products — particularly with digital cameras and lenses — we may suggest that the reader keep his grey market items and follow our advice on how to buy the next time he goes to market. The items are identical to U.S. merchandise and most products from major manufacturers have good marks for reliable operation.)
Here are our recommendations on how to avoid having to search for a missing warranty.
First, buy from the printed ads in the magazine. If you read the small type at the bottom of the ad, chances are you will see a line about advertised prices being valid for international merchandise and items carrying a U.S. Warranty may be additional. This gives you the choice of buying either grey or U.S. Warranty products.
Second, compare prices. If you find an amazingly low price for any product you want to buy, be warned: a very low price usually indicates a grey market product.
Third, if you have any questions about anything, don't hesitate to call or e-mail Popular Photography. Be sure to include a telephone number so we can call you back to discuss your purchase. You can reach us at 212-767-6048 and talk to a live person. (If you call and there's no answer, leave your telephone number and we will call back as soon as possible.)
By the way, selling grey market products is not illegal. It is a way of undercutting the prices that official importers have to charge in order to pay for the extensive service facilities that they maintain. This is why certain companies flatly refuse to service grey market products or even provide the materials needed for third party service firms to service their products. This is also why we strongly recommend getting U.S. Warranty products to benefit from factory authorized service facilities.
The next time you are in the market for a camera or lens, remember that although the initial grey market purchase may save you money, the missing warranty can more than cancel out the savings should you ever need service.