Beauty And The Beast
How one photographer captures the magic and majesty of wildlife.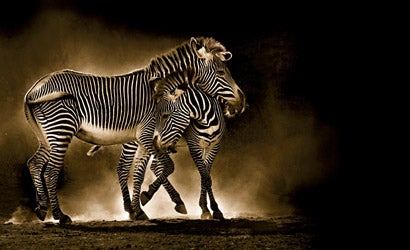 One look at Spanish photographer Marina Cano's animal portraits might convince you that she's brought a menagerie into her studio. Her images are so exquisitely wrought — from the composition to the lighting to the gestures and expressions of her subjects — that they seem almost like celebrity portraits or fashion photography.
Indeed, Cano uses a handful of the same portrait techniques studio photographers use to flatter the human beast.
Cano, a 44-year-old flautist and semiprofessional photographer from Cantabria, a coastal province in the north of Spain, is working on her first book of photos. It's a series of wildlife portraits made in Europe's largest wild animal preserve, the 1,850-acre Cabarceno Nature Park. With nearly 120 species roaming in relative freedom, it's less than 8 miles from her home in the provincial capital of Santander. Most of the images published here are from that project.
Want to bring her technique to your own wildlife photography? Here's her advice.
Don't stop the crop
"The challenge for wildlife photographers is to focus attention on animals," says Cano, "and one way to do it is by erasing everything that's not the animal."
Empty skies, pointless background detail, and black shadows in the foreground contribute nothing essential and should be eliminated — just as many portraitists do in pictures of people.
"The experienced eye instantly sees what adds to our understanding of the animal," she says. "What doesn't should be mercilessly cropped away."
Search for shadows
Another way to draw attention to your subject: Just as many portrait photographers do, place the subject against a dark background. In a studio, you do it with black seamless. In nature, Cano does it by carefully selecting a camera position that provides shadows immediately behind the animal.
The main lighting should be soft but bright and, to avoid distractions, the background should contain no element in a contrasting color or brighter than the subject. Often, this kind of lighting occurs early in the morning or late in the afternoon, when sunlight is softer and shadows longer. Sound familiar? Again, a technique lifted from location portrait photographers.
The problem with this technique? Darker animals will often fade into the background, losing their shape or contouring. But just as a portraitist would rim light a dark subject posing against a dark backdrop, Cano "rescues" dark-hued subjects by looking for h2 backlight that will highlight their outer edges, as she did for the zebras on the opening spread and the pelican on the last page.
Be patient and persistent
Because animals pose a unique set of problems, not all of Cano's techniques originate in human portraiture. For one thing, she can't direct her subjects. "I spend many pleasant hours watching and waiting for animals to assume the right body language against the right background in the right light," she says. "A photographer may get lucky and produce a fantastic picture by chance, but to get a collection of successful animal portraits, it's necessary to return again and again to your subjects."
It's rare to find a camera-ready animal either in nature or zoos. "Usually something must be altered to produce a pleasing image," Cano says. "Successful wildlife photographers learn to analyze a scene for what needs to be 'fixed.'"
Often, the problem is a factor that you can address, such as lens selection, camera position, focus, or exposure. Other times, it's something outside your immediate control, such as dim or contrasty lighting, bad weather, overly bright or cluttered backgrounds, or an uncooperative subject.
When any of these occur, cut your losses, pack up your gear, and return another day.
Splurge on the lens
Using a Canon EOS 30D ($800, street), she finds its 8.2MP resolution adequate for her needs. She wanted a full-blown professional lens, though, and paid over $500 more for her glass — the Canon 100-400mm f/4.5-5.6L EF IS ($1,310, street) — than for her camera.
"The lens is your most important tool. It should be sharp, very fast-focusing, and light yet very sturdily built," she says. She also appreciates her zoom's image stabilization, since it often frees her from the encumbrance of a tripod.
Fine-tune in Photoshop
Cano edits all her images in Adobe Photoshop CS3, often using the Contrast and Levels tools. "I first make a careful selection of the animal, extracting it and dialing up brightness and contrast to make the subject stand out from the immediate background," she says.
To isolate the main element even more, she usually selects parts of the background and works the areas of light and shade independently. "Light areas usually need to be toned down," she explains, "and dark areas, because shadows can often shift slightly blue, need to be balanced with the color temperature of the main light falling on the subject."
Cultivate a style
If you're going to take wildlife pictures that will never be viewed together as a collection, your style can be all over the map. You can crop loosely or tightly, print dark or light, make large or small images, use white borders, black borders, or no borders at all. It won't matter.
But if you want to show your work collectively, as a slide show, gallery exhibit, or (as Cano is doing) as a book, you will achieve a more profoundly satisfying impression by sticking to a uniform visual style.
Cano's photography has a coherent, cohesive vision that unites her animal portraits. Extremely tight crops, black, featureless backgrounds that blend into black borders, and often dramatic backlighting — you can identify a wildlife photo as hers from 100 yards away.
Love your subject
Cano attributes her success to the fun she has photographing wildlife. Fascinated by animals, she uses the camera not so much to make beautiful pictures but as a means of holding onto magical moments she's witnessed.
"If you're motivated by this kind of passion, you aren't weakened or put off by adversities. The failures don't matter to you and you never get bored," she says. "Photographers usually say that they 'capture' images, but for me the opposite is true — my 'models' have captured me!"
Visit photo.net for more of Marina Cano's wildlife portraits.